The plant grown on the island is believed to be among the most potent of healing herbs. Now, two of the Stelios Award winners are reconciling the island's hurts through this herb finds ALIX NORMAN
"Herbs are herbs," says Yioula. "The lavender that grows on this side of the green line is exactly the same as the lavender that grows on the other. And the incredible healing properties of any herb are never dependent on which side of the island you're from!"
Recent recipients of a Stelios Bi-Communal Award, both Yioula Papakyriakou and Mariam Gokcebag are committed to promoting peace on the island. But the remarkable duo have chosen an unusual vehicle for their efforts: the herbs of Cyprus, lavender in particular.
Prized for its properties for close on three millennia, Cyprus lavender has long been a plant revered. The Phoenicians and peoples of Arabia valued the herb for its delightful aroma and medicinal properties, the ancient Greeks employed the oil as a cure for everything from insomnia to backaches, and even Cleopatra – according to legend – included lavender in her seduction rituals. Now grown all over the world, the plant originated in the Mediterranean. So it's entirely appropriate that Yioula and Mariam, both experts in local herblore, should have chosen the healing properties of lavender as their vehicle for harmony.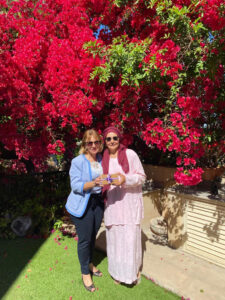 "We promote peace through knowledge, getting people from both sides to connect, respect nature and embrace the healing properties of the herbs of Cyprus; to live in harmony and create together in a world without boundaries and limiting beliefs," explains Yioula.
Yioula (the Director of the Troodos Network of Thematic Centres) and Mariam (herbalist, author, and founder of Mariam Herbs) have spent the last decade putting this shared ideology into practice with any number of ventures designed to benefit all the peoples of the island.
"We cooperated on the EU project Medicinal & Aromatic Routes across Europe," Mariam recalls. "We've mapped the herbal gardens of Cyprus on behalf of the Deputy Ministry of Tourism. We've organised any number of Herbal Workshops on both sides of the island, during which participants were given their own healing toolkit…"
The pair have also organised distillation seminars to create public awareness of the healing properties and uses of local herbs; organised excursions that cross to both sides, including a number of herbal workshops in Mariam's hometown of Lefka, which overlooks Morphou Bay; and participated in several peace and conflict resolution seminars alongside other island NGOs.
In Nicosia, the duo have held fascinating herbal walks through Athalassa Park; in the north, they've been instrumental in aiding the development of the Palm Tree Thematic Centre; and in Platres, the two have worked side by side in the fields, harvesting the village lavender (widely believed to be the most potent on the island) by hand.
"From the very start," says Yioula, "we were like sisters. In 2012, I was in the middle of organising the first Aromatic and Healing Herbs of Cyprus Conference and Exhibition, when I received a beautiful book on the healing properties of Cyprus herbs, containing recipes our two communities had in common. It spoke to me," she reveals. "And I simply couldn't wait to meet its author…"
Although the two had both been educated in London, their paths had never crossed. "I was born in Baghdad, Yioula in Limassol," says Mariam. "But from the moment we met, we knew our shared love of nature and of Cyprus had made us twin souls. I feel that our meeting was blessed with the aromas of Cyprus; especially lavender, the herb that is both business and passion for us both.
"Working together for the last 10 years, creating lavender products, national seminars, and experiential workshops for people across the island has been an incredible experience," Mariam adds. "We bonded from our first meeting!"
Mariam's expertise in herbalism, Yioula's ability to make great things happen, and the pair's common desire to help and educate locals on the marvellous herbs of Cyprus have secured a coveted Stelios Bi-Communal Award, for which both are eminently grateful.
"Stelios Haji-Ioannou has, for many years, generously supported bi-communal initiatives, demonstrating his love and deep concern for an island devoid of discrimination," says Mariam. "It's an ideology we share completely: through herbs, we're hoping to heal the island – both of past hurts and current prejudice."
But the pair's venture goes one step further – through lavender, they're also helping people on both sides of the divide heal their own ills, be they physical, mental, or emotional.
"We chose lavender as our main herb for the sake of quality over quantity," explains Mariam. "This 'Queen of Herbs' is at its most potent on the island of Cyprus: a hardy, fragrant plant that has long been used as a disinfectant, antiseptic, and anti-inflammatory. It's a treatment for sunburn, indigestion, and heartburn; a panacea for headaches, migraines and motion sickness; and an aid to sleep and relaxation," she adds. "There's very little this plant can't do!"
With the recent €20,000 grant, Yioula and Mariam will now be able to extend their healing activities even further. The purchase of an essential oil distiller will enable Mariam to offer live distillations and nutritional advice at the Forest Park Hotel. Yioula will be organising workshops at the Cultural Centre for Arts and Crafts in Platres. And the duo's lavender product line will be extended and upgraded, thanks to the creation of a certified laboratory and improved eco-friendly packaging. There's also a short film on the uniqueness of Cyprus lavender in the offing, which will spread the healing even further afield.
These remarkable accomplishments, are all, says Yioula, "down to our friendship. We may be from very different backgrounds, but Mariam and I are a living example of what can be achieved with creative cooperation. From the very start, we embraced both our similarities and differences. We've learnt from each other personally and professionally. And we've built a bi-communal business on the strength of our mutual understanding. I like to think," she concludes, "that we are sisters in healing."
For more information visit the Facebook pages 'Lavender Thematic Center-Platres' or 'Mariam Herbs'