In a man born to be a creative, THEO PANAYIDES meets a costume designer for whom the flow never seems to ebb, someone who uses humour to fight against feeling oppressed
It's rare to find someone – let alone a renowned 78-year-old art director and costume designer – still living in the house where they grew up, but the smallish two-storey place in old Nicosia is indeed Stefanos Athienitis' family home, now inhabited by himself and two rowdy dogs named Ringo and Pingo. Just down the road, a five-minute walk away, is Bastione, his pet project outside of showbiz – a wildly popular piano bar which he co-founded in 1986 and ran for decades, going there most nights (often late into the night) to chat with customers. Most of his life has been lived right here, within a 500-metre span.
Then again, the life has also been expansive, peripatetic. He might've been based in this tiny corner of the old town but he also ventured far and wide, more so than most people – both in the practical sense of the work taking him to many productions in many locations (he's worked in theatre, film, TV, even fashion) but also in the broader sense, the life of the mind. Stefanos might've been physically here as a child, wedged between the monks' cells of the old Archbishopric and the ladies of the night on Pentadaktylou street – but his imagination was miles away, often infused with some Greek melodrama or Biblical epic he'd been to see at the cinema, filling the bathtub with water to stage naval battles or else working on the costumes he'd make for the neighbourhood girls in the shows they put on. His mum had been instructed not to give away any old clothes – and he'd cut up her hand-me-downs to fit his friends, stacking burlap sacks and empty produce crates to create a makeshift stage. He's never wanted – or tried – to do anything else in life, except what he ended up doing.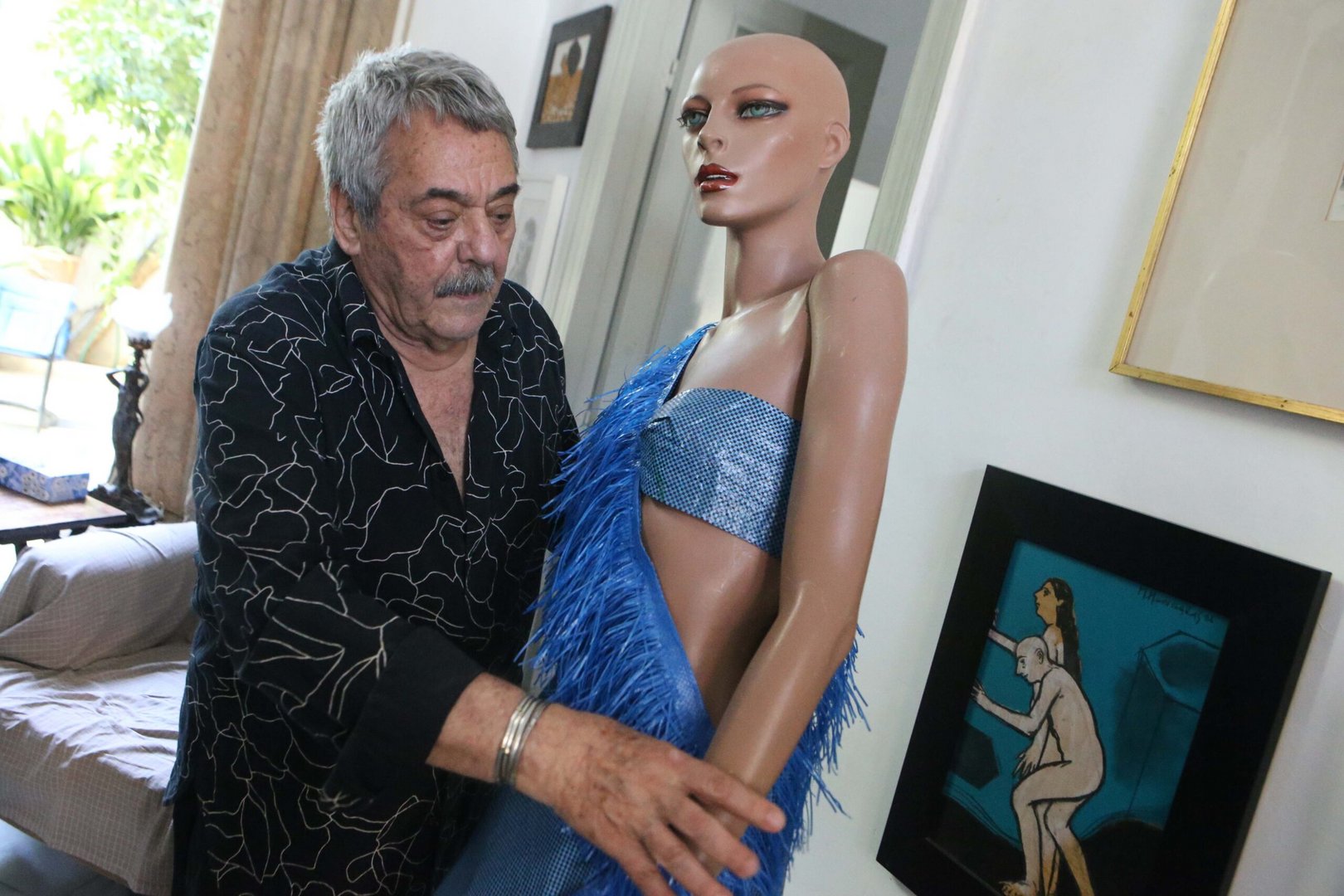 "I think we're all born to be who we are," he says. "We don't become it, we're born it." His parents never tried to derail him, though it was far from an artistic family; his dad was a merchant, having arrived from Athienou (hence the surname, changed from the original Messios) and gone into business. Maybe it was because Stefanos was the youngest of three, benefiting from the benign neglect that's often the fate of the youngest; maybe it was because his brother Stavros had already shown signs of picking up the torch, commercially speaking (he still runs the family's successful fruit-and-nut business). Or maybe it was just because the boy was so obviously "somewhere else," as he puts it, painting and playing and dreaming for hours on end.
He tells an intriguing tale from Eoka days, when he was about 14. The family were involved in the national struggle; his older siblings sometimes doubled as couriers, carrying small duct-taped messages to Eoka fighters, and the house in Nicosia offered shelter to two wanted men for a few months (the men slept in a back room, with access to neighbouring yards so they could jump out at a moment's notice). One night, while his parents were out, Stefanos was busy painting when there was a knock at the door and the sound of English being spoken. Thinking fast, the boy rushed to warn the Eoka fugitives, then back to open the door: "It was a patrol," a British officer and a couple of soldiers.
This was actually quite a hairy moment – because, though the fugitives had gone, even a cursory search of the house would reveal the two mattresses in the back room, raising suspicion; but in fact the officer was struck by Stefanos' paintings, already quite accomplished after years of practice. "'You paint?' he asked. 'Yes,' I replied – and he kept the others in the hall, didn't let them come any further. He was looking at the paintings, making comments… I guess he must've been an art lover too". It was a stroke of luck, one of the times (there have been others, he tells me) when he's felt like he must have a guardian angel looking out for him – and in fact there's also a postscript, because years later (around 1959, just before independence) "an Englishman suddenly appeared, in civilian clothes". It was the same man, no longer military and clearly taking a stroll through the old town; he stopped in front of the house, and – not recognising Stefanos, or perhaps he did and didn't say so – asked: "Did an artist used to live here?".
It's a cute story – but it raises an interesting point, too. Did he actually have artistic people in his life, apart from teachers? Friends, kindred spirits? Someone to make him feel less alone in his odd obsessions?
Stefanos smiles: "I didn't care if I was alone," he replies. "Truly, I didn't. I had my own world, and my own – stubbornness, let's call it". Things moved fast, single-mindedly. At 16, he failed the fourth form at school and convinced his parents to let him go to Athens to study set and costume design (at the time, an enlightened law allowed 'talents' to pursue their studies even without a high-school diploma). One way or another, he never looked back.
We're interrupted by the dogs, who've been out for a walk with a helper named Ali – and now return in a riot of excitable barking, clambering over me and prompting much irate fussing and scolding from my host. Stefanos is twinkly, with his small round glasses and bushy moustache, and extremely solicitous; he's laid out quite a spread, coffee and syrupy sweets and a bowl of pistachios (from the family business), and regularly breaks off his stories to implore me to eat a little more, like a maiden aunt. The solitary boy is only one side of his personality, to be balanced against the bar owner holding court at Bastione (well-known singers like Elpida and Lia Vissi sang at the piano; customers would come all the way from Greece for a taste of the famous chicken pie). "There's one thing I don't want. To be oppressed, or to oppress others," he explains. Once that demand has been fulfilled he's actually very sociable, even exuberant. "I think there were actually quite a few times when I succeeded [at getting work] because people liked me."
And why was that?
"Well, first of all, I have my own particular sense of humour."
What kind of humour?
"A lot!" he replies, and laughs. Like many theatre people he enjoys banter and teasing, the kind of camaraderie that comes from long hours at work. I ask about Peter I, a splendid CyBC period drama from the mid-90s – Stefanos' costumes are particularly striking – and he talks about the shoot at Kolossi castle, filming after the tourists had gone for the day. He and his team drove back and forth, setting up around lunchtime, then the actors would arrive a few hours later, they'd shoot till the wee hours, pull down the sets and start again the next day. "It was so exhausting you became weirdly relaxed, so you'd laugh at anything." One night he played a joke on one of the cast, a lovely actor (he was also a poet, recalls Stefanos), giving him a hat to wear with an absolutely enormous red ribbon. "Don't you think it's a bit much?" asked the actor politely. "I beg your pardon! Do you know how much research I've done on these costumes?" replied Stefanos indignantly. He performs the indignation, wheezing with laughter at the memory of rehearsing the scene at midnight in Kolossi, the poor actor looking like a fool and everyone stifling their giggles.
The sense of humour is important – rather like the jocular way he keeps begging me to have a bite of food during the interview – in keeping things light, avoiding the 'oppressive' feeling that blocks his creativity. He may be a little shy; he's visibly nervous during a CyBC tribute (a half-hour episode of Paraskinio) from about three years ago, unaccustomed to the spotlight, and recalls his surprise and exultation at winning the Cyprus Theatre Organisation's lifetime-achievement 'Grand Prize' in 2012. Yet he's also, once he's feeling light and unoppressed, one of those artists whose creative flow never seems to ebb.
He's done everything, not just sets and costumes but shop windows, fashion sketches, interior design. For a while he owned a boutique (ST, off Makariou) where he designed and sold his own clothes. He's decorated the interiors of shops and restaurants, even a hotel in Larnaca. He shows me one of his current projects (the small house is dotted with mannequins), haute couture made from plastic bags and other recyclables. How do the ideas keep coming? "Look," he explains, "I might be with you right now, but also thinking about a project I'm doing." Part of his brain will be joking and chatting – but a secret part is always at work, the solitary side that's become less apparent with age but still there, humming away beneath the surface.
It's served him well, over the years. "Everything I imagined happened, Theo. Maybe not to the extent that I imagined, but…" He shrugs affably. "I had dreams, for instance, when I was a student in Athens and going to see Katina Paxinou at the National Theatre, or Elli Lampeti, and I sat there with my mouth hanging open, and I'd say 'Will I ever manage to…?'" – he breaks off, as he often does when telling a story. "Well, I did manage. I worked at the National Theatre, I've done two productions there. I'm happy". He was lucky, of course – like he says, he's often been lucky – in belonging to his particular generation, the ones who emerged in Cyprus "just when everything was having to change"; a new country needed new theatres, new creatives, a new TV station. That said, he didn't work for a whole year after coming back from Athens in 1964. There were no jobs for art directors or costume designers, no-one else doing this kind of work.
The work is everything, that goes without saying – and he's stubborn, despite his good humour, telling tales of clashes with (unnamed) actors who wanted him to change the design of this or that gown; he stands his ground. The work is the work, he's never compromised – but the life has been good too, he assures me, the nights at Bastione, customers coming in for coffee at midnight and staying till four (he'd stay with them, then go to work the next morning; "It was a crazy time"), lots of fun relationships though admittedly he's single now, living with Ringo and Pingo.
"Sometimes when they say 'Why did you never get married?'…" he muses vaguely, then shakes his head. "You have to be honest with people, that's what I think. Whenever I was in a relationship, I was honest enough to say – you know, when someone offers you so much, you need to be open with them too, and let them know how much you can offer. How much you can be oppressed – and how much you can't be. Because we [in Cyprus], we treat marriage, you know…" – he makes a box with his hands, as if to say 'like a cage'. It's a telling admission, taking us back to the solitary boy who found school rules oppressive – he'd sneak out to the movies anyway – and didn't mind being alone, in his own world. You could almost say he's married to this house, and this neighbourhood (though he also has a bigger place, a former olive press outside Nicosia), a constant factor across his eight decades.
He'd observe the locals as a child, the monks and yogurt sellers and the local characters; he mentions some of them – 'Blu-Blu' who wandered around in a shabby coat after a love affair gone wrong, 'Demetrakis from Kyrenia' who ended up in the mental hospital – and I realise they were often quite tragic in their way, solitary men without the compensation of his own creative ferment. Stefanos Athienitis does have a certain darkness to his makeup, like all artists – but he's also much-loved, jocular, a stranger to depression even now, pushing 80. "I'm an optimist," he says. "I'll get up in the morning and say 'Thank God I'm alive'. Or else I get up, take a look at my face in the mirror and say 'Wow, you look terrible today!'. And I laugh". He does laugh, surrounded by his dogs and his memories – though also the ladies in recyclable duds, his new idea. Not over yet.