Nicosia is a quiet, empty town every August and for those who want to avoid the crowds and slow down, it is a rather fitting place to be. Though many shops, bars and restaurants close and the masses seek cooler weather, Nicosia's cultural life still has a couple of things going on to entertain those staying inland.
Back for another summer is the latest edition of Lefkosiazo Festival that since July has been enriching the capital's cultural agenda. Live music nights and outdoor summer cinema evenings make up the festival's programme this year and just before it wraps up at the end of August, two more events will take place.
President of the Cultural Committee of the Municipality of Nicosia Leoni Orphanidou explains that an effort is being made to show "acclaimed and successful films". This year so far the films such as West Side Story, No Time To Die, A Star Is Born and Marry Me have been shown, while the films Lion King and Eiffel will follow In addition, Orphanidou added that the films are aimed at the general public, suitable for all and are free to attend.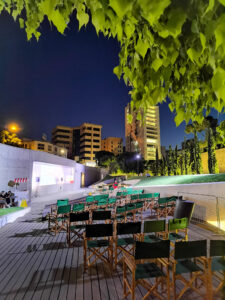 As for the response from the public, Orphanidou spoke of great enthusiasm. "Last year, when the problem with the coronavirus pandemic was more intense, the theatre was full. The same is happening this year. It's something the world needs," she says.
And so, as the 2022 Lefkosiazo festival comes to its end, it presents two more summer cinema evenings. On August 24 at the amphitheatre of Eleftheria Square, the 2019 film Lion King will be screening at 9pm. The film is a remake of Disney's iconic 1994 original and brings back the adventures of Simba, Nala and their friends under the direction of Jon Favreau.
Then on August 31, the last day of the festival, the 2021 film Eiffel will be shown, a French romantic drama directed by Martin Bourboulon. The film follows Gustave Eiffel who having just finished the Statue of Liberty, is at the peak of his career. When the French government asks him to design something spectacular for the 1889 Paris World Fair, Eiffel simply wants to design the subway. Suddenly, everything changes the day he crosses paths with his love and their forbidden relationship inspires him to change the Paris skyline forever.
With this amorous film, Lefkosiazo wraps its events and its organisers prepare to begin planning the next edition. "We will definitely continue the festival," Orphanidou says, "which has become a cultural tradition and we are happy that more options for summer cinema have been added". She also notes that ways of enriching the festival are being considered, until then it is time for a movie night in downtown Nicosia!
Lefkosiazo Festival
Outdoor summer cinema. Lion King. August 24. Eiffel. August 31. Amphitheatre of Eleftheria Square, Nicosia. 9pm. Free