Luxury hotels designed exclusively for adults are increasingly popular these days, as more individuals recognise the benefits of spending a few days on vacation relaxing in a soothing and serene setting.
The modern world is not always black and white; rather, one can paint it any colour they desire. Jade, a colour associated with wellbeing and proximity to the sea, also stands for Protaras' picture-perfect surroundings and the scene for an alternative retreat experience.
Although the "adults only" concept emerged in Spain at the end of the previous decade, Cyprus has embraced the allure of a vacation focused on privacy and uninterrupted relaxation. With just one market to concentrate on, hoteliers are finding it easier to meet customer expectations, improving guest ratings as a result.
"Creating products that are solely for adults allows us to spend more time with our guests, thereby providing a more personal and luxurious experience," said George Papastavrou, manager of Sunrise Jade hotel in Protaras.
"Whether you are planning a romantic trip for two, a weekend escape, or a holiday for some much-needed seclusion, Sunrise Jade is a heavenly hideaway that welcomes its guests into a world of understated luxury."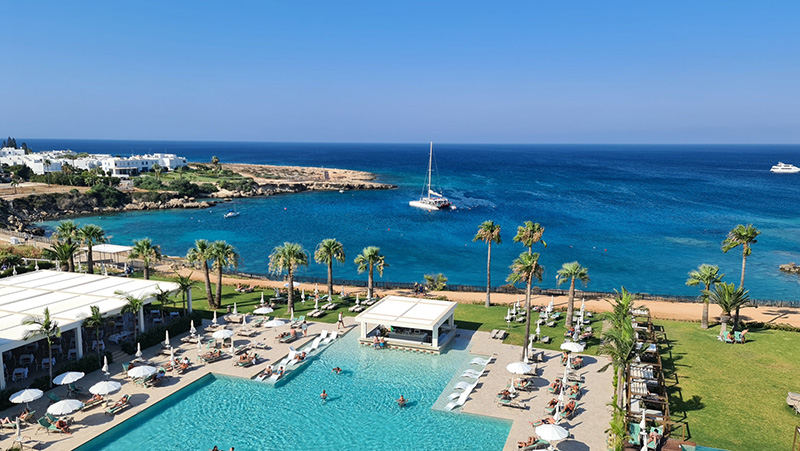 Since it first opened its doors in 2019, the upscale Sunrise Jade had been on my list of must-visit hotels in Cyprus. On my continual quest to delve into the island's epic hotel scene, I discovered a shimmering jewel with unparalleled views of the Mediterranean, minimalistic and high-tech functionality that does not detract from style and intimacy, and a gastronomic experience that stretches beyond the resort's borders.
From the reservation process, to checking-in and arriving at the hotel room itself, my initial impression certainly influenced my perception of the hotel for the entire duration of my stay. The level of cleanliness, contemporary, generously sized deluxe rooms, and bathrooms with natural materials, twin basins and walk-in tropical rain showers were some of the first things I noticed.
"Building a strong level of guest loyalty starts by providing excellent service well before guests begin their stay," Papastavrou told Living. "While it is crucial to be friendly and welcoming to every guest, meeting each one's specific needs allows us to go above and beyond their initial expectations and leave a positive impression."
I observed George Papastavrou conducting his rounds several times throughout the day, happily interacting with his guests, while overseeing all the operations and day-to-day activities of the hotel. We eventually crossed paths at Sage International Restaurant where I was treated to a wide selection of international dishes, including traditional zucchini fritters, scrumptious, crispy fried calamari, and a fragrant seafood risotto that captured the flavours of the Mediterranean.
As a technology-focused hotel that offers both speed and reliability of Wi-Fi, mobile key room access, and other in-room technology, Sunrise Jade has also put its best foot forward in terms of sustainability, influencing and transforming current ethos and practices.
"The products we use in our hotel directly impact the overall sustainability efforts of the entire Sunrise Hotels Group," Papastavrou said. "Buying locally sourced ingredients and selecting socially conscious materials is not just a trend but a way of operating for our hotels in today's market."
While no hotel can change the course of global warming on their own, "every little bit helps". Sunrise Jade has incorporated towel and sheet reuse programmes as part of its efforts to be "green". including conserving resources such as energy and water, recycling, and managing food waste.
"We have ensured that every member of our team is on board with the overall sustainability efforts of the hotel," he added.
The positive and engaging guest experience extends itself outdoors, relaxing by one of the hotel's two chic swimming pools, sipping a summer cocktail at the Spearmint Pool Bar, or reading a book on one of the water-submerged sunbeds. Those who feel the inescapable need to dip their toes into the Mediterranean, Sunrise Jade provides easy access to a secluded sandy cove a few steps from the resort.
The Jade Spa by Elemis is the essence of peace and tranquillity. "Our spa offers renowned treatments and therapeutic products that have been specifically designed to offer a unique experience using powerful massage sequences and the most potent actives available in the world," Papastavrou added.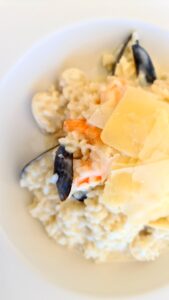 Gastronomy is an integral part of Sunrise Jade's culture and has certainly strengthened its identity in the region. Aside from Ginger, its own Asian fine dining establishment located on the upper floor of the hotel, Sunrise Jade provides a rich culinary adventure at any one of the Sunrise Hotel Group's well-known nearby restaurants serving a variety of cuisine ranging from Mediterranean-inspired dishes, traditional Cypriot cuisine, Greek, Brazilian, and American classics, to tasty waffles, sandwiches, and ice-cream served at the adjacent Patisserie Amelie.
Sunrise Jade is an adult only oasis of laid-back luxury, whose stylish and top-notch facilities make it sparkle like a shimmering seaside jewel.