A new arrival to the island is a global authority on everything automotive. And now she's bringing her expertise to the drivers of the island. Alix Norman finds out more
"I was running a course for car dealers in the UK," says Alix Capper-Murdoch, "and met an opinionated salesman. 'Women!' he said. 'They don't know anything about driving!' Well, you can imagine how I felt!"
One of the world's foremost automotive journalists, 44-year-old Alix has been a stunt car driver (working with Kanye West and Jackie Chan, among others), a Formula 1 commentator and FIA official, and has founded the Maserati Trofeo Middle East (the first manufacturer-backed racing championship in the region). She's hosted several motoring shows, judged for Autocar M.E. magazine, been a senior official for Race and Rally Control at circuits around the Middle East, and worked as the official commentator for GP2 Asia and Speedcar. So it's a very unwise person who challenges her knowledge of cars!
There's little Alix doesn't know about the automotive industry – and on a global scale. Within the last couple of decades, her job has taken her from the frozen tracks of the Arctic Circle to the sand dunes of the Middle East, from the ice-covered streets of Finland to South Africa's Kyalami Grand Prix Circuit. And, though she's just settled permanently in Cyprus – buying a house near Larnaca, which she and her husband have filled with rescue animals – she's still jetting around the world in pursuit of automotive excellence….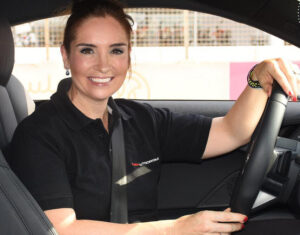 "We moved to Cyprus from the Middle East in late 2019," Alix reveals. "After years, quite literally, on the road, I needed a base." Already, Alix has settled in to her local community, meeting and making friends all over the island, be they human or otherwise.
"Since arriving, I've adopted nine cats and one dog, and work closely with those in the area to ensure animals aren't being mistreated; animal welfare is very close to my heart," she says. But Alix is also passionate about helping people. Especially women. "Working in a largely male-dominated sector, I know only too well that female drivers and buyers can be sidelined. So wherever I go, I work hard to help other women overcome such stereotypes."
As part of her local efforts, Alix currently represents Cyprus on the Women's World Car of the Year panel; one of roughly 60 female judges from over 50 countries. She's also the founder of Miss Auto Know, a regional website that includes "training courses designed to develop the skills, knowledge, and behaviours of dealership staff in the car, motorcycle and leisure vehicle markets." It's through these courses that she met the opinionated salesman…
"He clearly didn't know what he was talking about," says Alix. "These days, more and more women make the final decision on the purchase of a family car. And, worldwide, 74 per cent of car buying decisions are driven by women. Now, I'm not sure what the stats are for Cyprus," she adds, "but I can tell you that women use their cars far more frequently than men."
While men usually drive to the office and back, Alix explains, woman not only drive to work, but also tend to take on the lion's share of ferrying the family and running errands. "Generally, women undertake shorter but more frequent journeys," she continues. "Which means an increased risk that something might go wrong…"
Fortunately for Cyprus, Alix is set to bring her successful Women at the Wheel course to the island. "It's a comprehensive driving course for women that offers the opportunity to learn new skills in a safe environment, and how to save lives, time and money on the road."
Already, the course has taken place in Saudi, the UAE, and Italy. And in the next year, Alix hopes to bring it to Cyprus. "We'll look at everything from the psychology of driving to avoiding risk," she says. "We'll learn confidence-instilling tips and tricks; cover the basics of car maintenance; and delve into the function of everything from your car's latest safety features to the best way to wear a seatbelt!"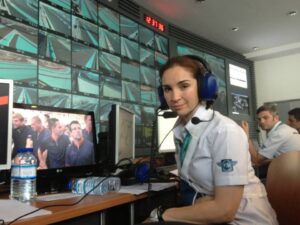 Women at the Wheel also incorporates local driving culture: "The different characters, vehicles and rules that constitute the culture of driving in your particular region or country," says Alix with a wry smile. "And we also cover aspects of driving that tend to fall more to women: caring for the kids while they're in the car; how to help the younger learn road safety techniques."
Practical training is, of course, a large part of the course, and Alix teaches participants everything from vehicle handling to emergency braking. "If you think about it," she acknowledges, "most people will never get the chance to practice emergency braking until they're in an accident. By then, it may well be too late…"
The Cyprus iteration of Women at the Wheel may still be in the works, but Alix is already in talks with sponsors (including various European manufacturers and the FIA, the governing body of motor sport and association for road safety worldwide) and is confident the course will launch locally before too long.
"The island is in the perfect location," she suggests, "and we have an incredible diversity of road types on which to practice: the rough tracks of the Troodos mountains, beautiful old roads along the coast, purpose-built racetracks and official circuits…"
Of course, there's a lot to be done in the meantime, all fitted around Alix's ongoing travels. Just back from Saudi, where she attended the first women's rally in the world, she's off to the UK in late August to test-drive for Aston Martin. But helping her local community, and especially women, will always be close to her heart…
"The fewer stereotypes about female drivers, the better," she concludes. "The stats prove men are far more likely to engage in risky behaviours, such as not using a seatbelt, driving under the influence, and speeding. And almost twice as many men as women die each year in road-related accidents. So when that salesman told me women didn't know anything about driving, I took him aside for a few quiet words. He won't," she concludes, "be making that mistake again!"
For more information, visit https://www.missautoknow.com/