Patna was the home of Vātsyāyana – the author of the Kama Sutra. Little is known of this monk, other than that he intended the book as more of a philosophical text, rather than a sex manual. But we do know he was in the right place at the right time: in the past, Patna was known for producing many of the world's greatest scholars…
Mathematician and astronomer Aryabhatta, philologist Pāṇini, strategist Chanakya, and revered poet and playwright Kalidasa all hailed from this northern city on the banks of the Ganges.
Today, Patna is a centre of worship for Buddhists, Hindus, Jains, and Sikhs, and boasts many important pilgrimage sites. But it's now renowned for its burgeoning IT sector…
Patna boasts the longest free wifi zone in the entire world. Stretching over 20 kilometres across the city, it's a huge draw for tech companies, who have rushed to the city within the last decade. And what's fueling the thousands of programmers is local foods such as litti chokha – a distinctly regional dish made of whole wheat dour balls dipped in ghee and stuffed with mashed veggies, herbs and spices.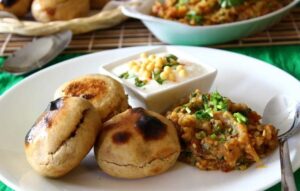 Also on the local menu is chana ghughni. Usually served alongside chuda ka bhuja (crispy, flattened rice that's roasted in mustard oil), this dish is a popular evening snack consisting of chickpeas fried with onion and spices. You'll definitely find momos on every table: this steamed dumpling is covered in rice flour and stuffed with lentil paste and pickles for a uniquely local taste. And if you're looking for a quick bite between programming jobs, it's khajuria all the way – the most commonly prepared snack in the region, this deep-fried concoction of wheat flour and jaggery is an on-the-go favourite.
Another for the sweet of tooth, lavang latika is a popular dessert that originated in Bengal but is now incredibly popular in Patna. Crisp on the outside and soft of the inside, this nut-stuffed pastry is coated in sugar syrup and cloves and enjoyed at many local festivals, especially Diwali. Or, just as sweet but packed with everything you need to keep going, there's tilkut. Made from nuts, jaggery, sugar, and sesame seeds, this is the original energy bar.