Simple hand-made pots and a love of all things green brought two old friends back together. ALIX NORMAN meets them
"We're not selling pot!" laughs Lorraine. "It's pots, plural! Pots we've made by hand, and filled with little succulents. It truly is the simplest thing. But a wonderful way to find a spot of creativity in our lives and bring a little more greenery into the world…"
Brit Lorraine Hall and Slovakian Zlata Miltiadous are an oddly charming pair. Lorraine is outgoing, bubbly, the owner of a successful wedding photography business. Zlata is quieter, more creative, a stay-at-home mum to her Down syndrome daughter. But they have known each other for years, "from long before we had families and settled down," says Lorraine. "We've been friends since we were wild young things working in Napa!"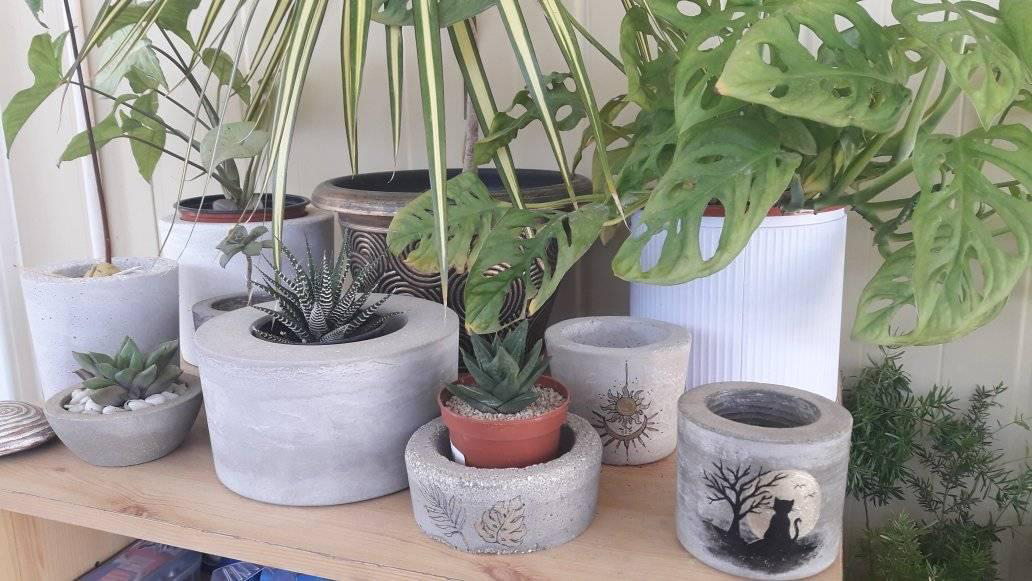 "But then we both moved away from Ayia Napa, grew up a little, and had families," Zlata continues. "And we lost touch for a while. Until, in February 2020, I realised we'd ended up in the very same village, literally round the corner from each other in Liopetri!"
Fifteen years on, in the middle of a worldwide pandemic, the two rekindled their friendship. "It was 2020, we were in the middle of lockdowns, and stuck in a tiny village," Lorraine recalls. "And yet here was one of my oldest friends, living practically next door. It did make me happy! At the time, I wasn't working, because who wants a wedding photographer in the middle of a pandemic? And Zlata's daughter wasn't at school, so she was a 24/7 stay-at-home carer. And honestly, if it wasn't for each other and our new venture, we would have gone stir crazy!"
Bursting with ideas, Lorraine and Zlata hatched a plan to save their sanity and spend time together. Lorraine had an extensive garden and a passion for plants. Zlata had always been creative – "I grew up under Communist rule," she reveals, "and though I'd always wanted to attend art school, it wasn't allowed" – and loved crafting. By combining their talents the two realised they could enjoy each other's company, and do something purposeful…
"When we became The Pot Ladies, we didn't think we were starting a business!" Zlata smiles. "We were just trying to keep busy and useful at a time when there was nothing to do and nowhere to go. And making pots gave us a great excuse to meet up, albeit outside and at a safe distance!"
"You couldn't go out and buy anything at the time," Lorraine continues. "So we just did what we could with stuff that we had. It was very Pinterest-inspired! A bit of cement we had lying around, bowls and cups as moulds, potting soil from my shed, and little succulents I'd grown myself. We honestly had no thought of selling anything we made; it was purely an excuse to enjoy each other's company and do something productive!"
Throughout the lockdowns, Lorraine and Zlata kept making their little pots, passing them on to friends and family. "Coming up with the designs, using what we had, and creating something minimal but beautiful with a close friend added so much joy to a dark time," Lorraine recalls. "But it wasn't until the lockdowns were over that the business really took off…
"When the kids all went back to school, my son needed a gift for his teacher. So I sent in one of our little pots, complete with mini succulent and a tiny sign reading 'Thanks for helping me grow'."
The gift was a huge success. "News travels fast in Cyprus," laughs Lorraine. "Friends got to hear about our pots, and wanted similar presents for their kids' teachers. The word was out, and we began to get orders from people we didn't know. And suddenly we were a business!"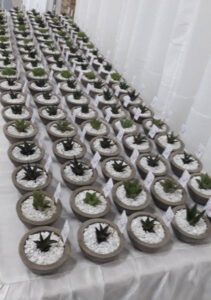 Lorraine created a simple Facebook page promoting the duo's wares, and orders flooded in. "45 pots here, 60 pots there, 90 pots for something else… People were ordering our little handmade pots by the dozen, not just as gifts for teachers, but for their own homes, as decoration for their businesses, as presents at christenings and weddings!"
Even when measures eased and both Zlata and Lorraine were able to return to their former lives, the pots remained in demand: as thank yous and congratulations, birthday and name day gifts. The duo have also included bigger pots and plants now, with cheese plants or dracaena. But it's the tiny iterations that are still the best-sellers.
"We seem to have struck a chord with a lot of people," says Lorraine. "At Christmas, we sold loads of our seasonal designs through Facebook. This May, we had an order for 110 pots for a café. And right now we're working on a big order for a baptism – always a favourite; it's nice to receive something living, something personal that celebrates new life. And succulents are so easy to care for: just a spot of water twice a year and you're done!"
As the horticultural expert, Lorraine sees to the actual potting and plant choices, mixing the right soils for each plant. "Some prefer more acid soils, others need a little less acidity. We always ensure our cement pots are lined with sealant to protect the plant, and that all our materials are environmentally friendly." And while Zlata designs and makes the pots, Lorraine is more involved in delivery, dropping off orders while ferrying her kids round the island.
"I'm still amazed that we started a successful business from nothing," Zlata muses. "I mean, this was never about the money – a large part of our profits goes to the Pancyprian Down Syndrome Association. It was more about friendship, and doing something a different with our time."
"It's wonderful to know we're bringing a little joy, a spot more greenery into the world," Lorraine concludes. "I think being The Pot Ladies has given us both a purpose beyond our daily grind. It makes us feel we're doing something worthwhile. And, of course, it's a great way to enjoy spending time with your closest friend."
For more information, visit the Facebook page 'The Pot Ladies Cyprus'