On Saturday, October 8, the Limassol-based company Praxis Tech, in collaboration with NGO SaveYourHoodCY, hosted a successful beach clean-up at Karnagio Beach in the Limassol district. This was the first of many upcoming events by Praxis for their #PowerYourPlanet campaign, where they aim to become an eco-friendly business that supports the natural world around them.
Taking part in the event were 43 team members, armed with empty bags, gloves, and three-foot beach-clean-up tongs. They were dispersed in four groups, spending hours combing the beach for trash. After retrieving 411 bags of waste, all of which were sent to be recycled, the team regrouped for an eco-friendly party, using all sustainable and recyclable materials!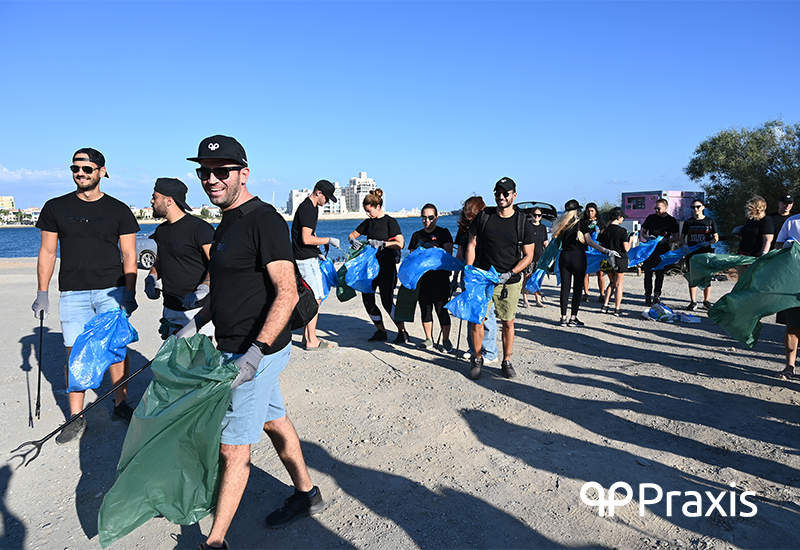 Following the sorting, the team found some of the most common objects recovered were discarded coffee cups, sweet wrappers, plastic bottles and cigarette butts – indicating how our current population is polluting the environment. More interesting finds included rugs, mattresses and even half a boat!
Founder of Praxis Tech, Amit Klatchko, commented that: "each of us has the power to make our world a greener place, and every little action goes a long way. We founded the company on the premise that we can Power Your Payments. But, if we want to survive, now is the time for Praxians and everyone else to Power Your Planet.
Klatchko went on to say that: "although our main aim is to unify payment mechanisms across the globe, ensuring a seamless flow and global accessibility – none of that means anything if we're destroying the planet at the same time. Sustainability in business and sustainability in everyday life should go hand-in-hand. After all, we all share the same home".
Praxis is a software development company, providing financial software to merchants, with products designed to increase transaction success rates, improve payment flow, and create a seamless payment experience for customers, regardless of where they are in the world. The company believes "sustainability means active responsibility" and is making efforts daily to consciously become environmentally friendly.
Find out more about Praxis Tech's #PowerYourPlanet campaign here.