Happy Halloween! And welcome to the world's most haunted city! According to Condé Nast Traveller, Edinburgh is the spookiest place in the world, simply racked with things that go bump in the night. And, given that some of the food is also downright scary, it's the perfect place to look at…
These days, Edinburgh is known for its fringe festival and the Harry Potter books. It's even been named 'Best City in the World 2022' by Time Out, and welcomes almost 5 million visitors each year. But Edinburgh's bright present is at odds with its darker past…
Recognised as the capital of Scotland since at least the 15th century, this city was once the site of many a ferocious battle, burning and beheadings. And the many causalities of these bloody conflicts apparently still walk the night… Arguably the most famous is the Grey Lady of Edinburgh Castle who weeps her way through the halls.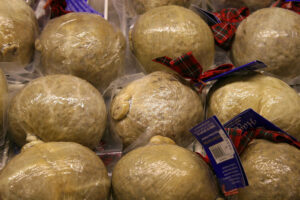 A little less horrifying (though possibly just as scary for non-locals) is the food. Edinburgh is famous for its haggis – a mix of oatmeal, offal, entrails and internal organs (usually bovine) all cooked up and served in the stomach of a sheep. Stornoway black pudding, another traditional local dish, consists of sausage, onion, spices, oatmeal and a large helping of pig blood. Even the local porridge can be a trial for the unadventurous: it's more usually oats in water rather than milk!
There are, of course, any number of wonderful dishes attributed to the region: smoked salmon, cullen sink (a hearty soup made with smoked haddock, onions and potatoes), and partan bree (a crab broth with rice and cream) to name a few. For afters, there's the Tunnock teacake: a crunchy biscuit covered in melt-in-the-mouth meringue and drizzled with chocolate; or the cranachan, a layered dessert made from whipped cream, honey, toasted oatmeal and fresh raspberries.
Of course, if you do happen to see a ghost or two, it won't be food that settles your stomach. As paranormal sightings ramp up over Halloween, any visitor to the world's most haunted city will be incredibly thankful for a measure of strong whisky!