There are only two islands in the Mediterranean that are bigger than Cyprus. The largest is Sicily. But in second place, just ahead of us, is Sardinia… Actually, Sardinia is 2.6 times the area of Cyprus, and although Cyprus has Sardinia beaten in terms of height (Punta La Marmora, the highest point, is 100 metres short of Troodos) the Italian island takes the prize for depth: at 450 metres from base to top, the Su Gorropu canyon is among the deepest in Europe!
However, there's one aspect of Sardinia that's not just surprising – it's world beating: age. In 2004 the island was declared the planet's first Blue Zone – a place in which longevity is the norm, and a large part of the population reach 100 years of age.
Initially, researchers put this down to a specific gene (the M26 marker; linked to exceptional longevity) which, due to the island's geographic isolation, has remained relatively undiluted. But over the years, studies have suggested there's a great deal more behind the renowned Sardinian durability: strong family values (which lead to lower rates of depression and stress); a culture of walking (five kilometres a day is purportedly pretty normal for rural residents); and a generally positive outlook. But what's making the real difference isn't genes, community, or exercise. It's food…
Along with an abundance of fruit and veggies, specific dishes that might be benefiting the locals include snails (usually simmered with a spicy tomato sauce or sautéed with oil, garlic, parsley, and breadcrumbs), lobster, and burrida (catfish marinated in vinegar and cooked with walnuts).
For breakfast, there's often pardalus (a small puff pastry filled with a mix of ricotta, saffron, and lemon). For lunch it might well be fregula (a uniquely Sardinian pasta that's similar to couscous, and often served with clams) or culurgiones (buttery ravioli filled with potatoes, pecorino, and mint). And for special occasions it's porcetto arrosto all round: suckling pig roasted in a herb-filled pit and enjoyed with a glass of high-flavonoid Cannonau wine.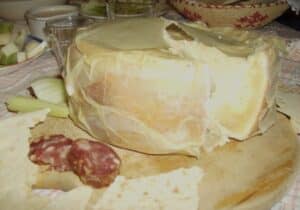 But if there's one food that deserves particular mention, it's casu marzu. Made from pecorino, this runny cheese sees fly larvae deliberately introduced to promote fermentation. Although outlawed by the EU due to the health risks of eating live larvae, casu marzu is still made – and enjoyed – by many Sardinians.