PAUL LAMBIS meets a well-known psychologist using science to delve into human stories
Dr Linda Papadopoulos is one of the UK's most recognisable and respected psychologists, and a regular commentator on psychological issues in broadcast and print media. Through her work, Dr Linda explores the many sides of human psychology, from anxiety, body confidence, relationships, and cyberbullying to attitudes in the workplace and everything in between.
Born in 1971 in Toronto, Canada to Greek Cypriot parents, her impressive career as a research scientist and practicing psychologist has led to her work being published in prestigious academic publications and a successful media career.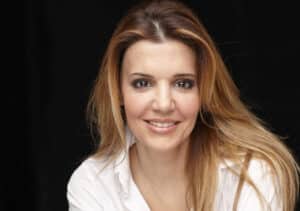 What many might not be aware of, is that Linda never started out wanting to be a psychologist. "I thought I wanted to be a writer, since I love stories and writing," she said. "I took an intro course in psychology when I was at my first year in university and after the first lecture, I was besotted."
Linda quickly saw the connection and realised that her passion for stories and her desire to become a writer were both related to her interest in human experiences. "I discovered there was a discipline that would allow me to delve into those human stories and use science to understand how those stories came about," she added.
Her immediate interest in psychology prompted her to change her major within the first few months at university, and she never looked back. After completing her first degree, Linda was prepared to complete her training and PhD in Psychology in California, however cupid had other plans. "My husband, who was my boyfriend at the time, persuaded me to move to London and continue my training there," she told Living. "I remember how it was raining continuously, and I recall thinking at the time, if this does not convince him how committed I am to our relationship, then I do not know what will," she said.
According to Linda, moving to London was the best thing that could have happened to her and her career. "I do believe that circumstances and even countries sometimes choose you. I have been in the UK ever since, and I love my time here."
Linda is credited with creating several effective programmes, including the Programme in Counselling Psychology at the London Metropolitan University. She received the title Reader in Psychology in 2001 in recognition of her distinguished record of original research at the level of a full professorship. In addition to her academic research, she was invited by the British government to conduct a review on the sexualisation of young people and its connection to domestic violence, which was published in 2010. The publication of the review received positive attention from politicians, stakeholders and the media.
In addition to her clinical and academic work, Linda is often enlisted to consult large corporations who want to utilise her research and academic background to effectively conduct studies and analyse quantitative and qualitative data. "One of the things that I like most about corporate work is that I am able to take what are often complex, theoretical concepts in psychology and discuss them in a way so that people are able to understand and benefit from them practically," she said. "It is psychology in action, an area that I absolutely adore."
Dr Linda Papadopoulos has received numerous accolades and distinctions in a variety of psychology related fields over the years. Her books and research articles in the field of Psychodermatology, exploring the link between the skin and the psyche, are considered seminal in the field.
She has become one of the most well recognised faces on British television appearing in a variety of psychology shows and has fronted factual segments on popular morning shows on ITV and BBC. Linda also runs her own podcast, which discusses a range of emotional and social issues and offers coping mechanisms. "Through my podcasts, I can respond to inquiries from people who do not have direct access to me. It is a fantastic instrument for interpersonal sharing."
With a prolific and distinguished career that she loves, and which keeps her very busy, Linda values her free time with her husband and their daughter. "My family, and the profound and meaningful relationship we share, is what keeps me in balance."
To maintain a healthy lifestyle, she advises "working hard and playing hard." It is crucial to constantly have events in your calendar to look forward to, whether it is catching up with a friend over coffee or travelling to see our extended family in Cyprus.
"As a psychologist, you realise that everyone is fighting an internal struggle. If we all just made a little more space for one another and had a bit of good will when someone is not smiling and having a bad day, this will create ripples of positivity."