Earlier this month, over 300 officials from 40 countries gathered for a successful Rotary Institute event in Limassol, for the first time in the history of Cyprus Rotary, within the framework of the Zone 21 Institute. Specifically, Rotarian dignitaries from Europe, the Middle East and Africa (EMEA) participated in the November 9-13 Cyprus event.
The Institute tackled critical and current issues such as Disease Prevention, Basic Education, Environment, Girls Empowerment, Diversity, Equity, Social Inclusion and Partnership Development. At the same time, participants were able to discuss and network, as well as exchange ideas and information about the developments, initiatives, and priorities of Rotary International.
The choice of Cyprus as host of the Institute, as well as the presence of Rotary International President Jennifer Jones was of particular importance, placing Cyprus Rotary, and our country at the forefront of Rotary around the world.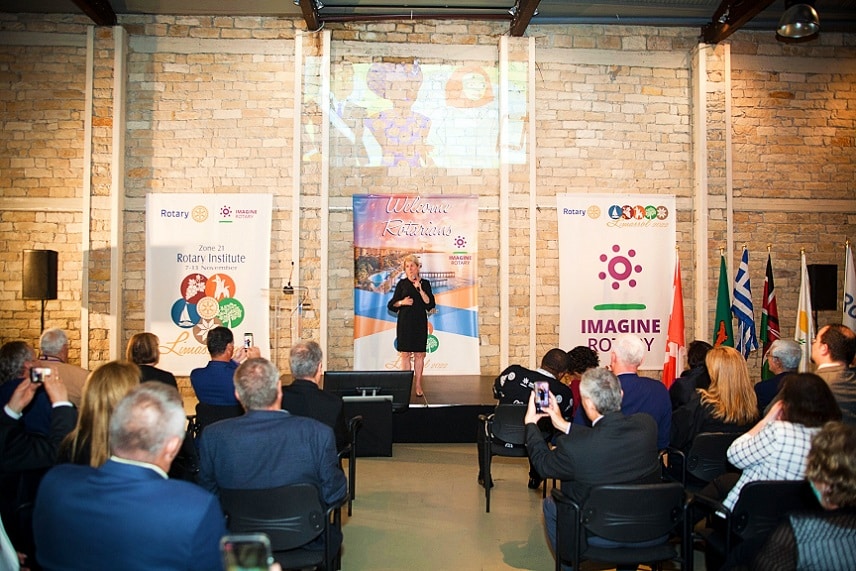 On her visit to Cyprus, RI President Jones noted that: "the institute was such a wonderful opportunity to connect with friends from more than 40 countries.
"Many of these countries are from conflict areas, and it punctuates so profoundly how we build world peace through understanding," she continued.
"Every time we attend a meeting like this, we leave with more friends than when we arrived. The heart of Cyprus touched each of us, as the Rotary family is alive, and well-rooted on this island."
In the framework of the work of the Conference, Jones, together with Cypriot and foreign delegates, had the opportunity to visit the fire-ravaged mountainous area of ​​Larnaca, specifically the village of Ora, where they planted trees.
"The heart of Cyprus touched each of us who attended, and the Rotary family is alive and well on this island nation," commented the RI chief. "Our visit to Ora village to see the work of our Rotary family in helping to rebuild following the fires was incredibly impactful."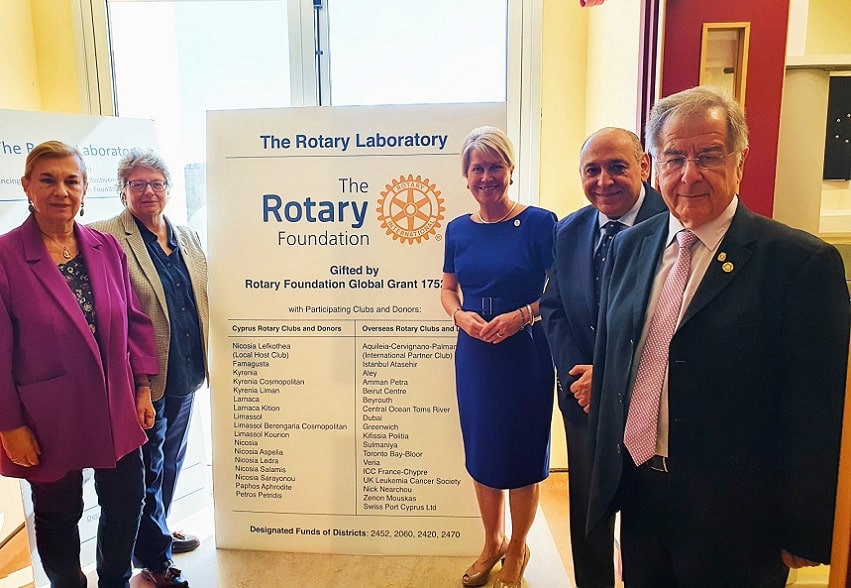 Equally important was the visit to the Karaiskakio Foundation, which is actively supported by the Cyprus Rotary.
Recently, the Rotary Clubs of Cyprus, in collaboration with other Rotary clubs abroad as well as the Rotary Foundation, purchased equipment for the Children's Cancer Diagnostic Laboratory, worth 400,000 dollars.
The state-of-the-art laboratory determines the type of cancer in children and young adults and recommends treatment that minimizes collateral damage from cancer treatment. President Jones expressed her admiration and congratulated the Karaiskakio Foundation for its work and leading achievements.
Cyprus Rotary expresses gratitude for the opportunity to host the Institute of Zone 21, which offered participants the required inspiration to enhance their humanitarian action through targeted projects for the benefit of humanity.