In common with the rest of the world, Cyprus is facing soaring electricity costs, meaning we're less likely to use the heating this winter. But what does that mean for our pets asks ALIX NORMAN
In January 1964, the weather station in Prodromos saw the mercury drop to -12.8C. Widely recognised as the coldest temperature ever recorded on the island, it was an anomalous low that hasn't been seen for decades since. Thank goodness!
This winter won't be anything like as shocking, according to the Met Office. Granted, January is the coldest month, but it's just normal lows in the offing. What's different, however, is the expense of heating – with the energy crisis and rocketing electricity costs, most of us will be shivering rather more than usual. So will our pets. And, unlike us, they can't simply put on more layers to beat the cold. Or can they?
"So many people see pet clothes simply as cute," says Andrea Antoniou. "But that's certainly not their main purpose. Along with comfort and security, clothes for pets can provide much-needed warmth, especially for animals who are elderly, ill, or unaccustomed to colder climes."
Andrea is the founder and owner of Phanoo, Cyprus' own pet clothing company. A corporate lawyer with a side-line in entrepreneurial creativity, she is also a dog owner herself: mum to a little rescue pup adopted in March 2020.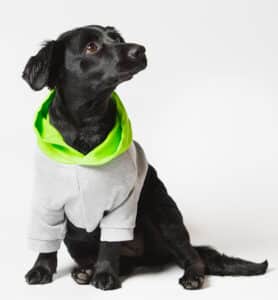 "During quarantine, I was scrolling through Facebook when I came across a post about an abandoned litter," the 32-year-old recalls. "Without thinking, I booked a vet's appointment and contacted the poster!" Within 24 hours, Andrea had her puppy. "She was a tiny scrap of fur, malnourished, riddled with fleas, and scared of everything. But she had such heart, such personality, that I instantly fell in love!"
The little short-haired mongrel was quickly named Phanoo. And within a few months, she'd inspired Andrea's new venture.
"I noticed she was happier when she was being held, being hugged," says the animal-lover. "It's something that's common with many rescue animals – they have a deep need to feel safe. But you can't walk round hugging your dog all the time, much as you'd like to. So I looked into other ways to make her feel safe, and came across the idea of pet clothes."
Like a weighted blanket for human anxiety, close-fitting pet clothes are proven to help many animals with stress. "Plus, they're also good for keeping your pet warm during the colder months," says Andrea. "It may seem strange to think of clothing for a furred animal, but along with elderly or infirm dogs, many short-haired breeds feel the cold quite strongly. So Phanoo was a candidate for dog clothes on both counts."
Sadly, little Phanoo didn't fit any of the pre-made clothes. "First, I ordered from Amazon, poring over the sizing charts but still ending up with an uncomfortably tight doggie t-shirt. Then I tried Etsy, and got a product that swamped her. And in both cases, I found the material wasn't appropriate for dogwear: neither soft nor breathable."
Inspired to create her own line of well-fitting, well-made, comfortable and breathable dog clothing, Andrea withdrew the entirety of her savings – "some €20,000!" she exclaims – and decided to launch Phanoo Pet Clothes. "It sounds simple when you say it," she acknowledges. "But in actuality, it was months of work. I spent hours speaking to dog owners and trainers; days researching fabrics and fit; and weeks putting together designs and samples."
Working closely with Marina Sophocleous, a designer and seamstress who shared her love for animals, Andrea gradually developed a line of pet-friendly clothing entirely hand-made in Cyprus. "From the very start, this was something that was incredibly important to me," she reveals. "Whether we like it or not, money is tight right now. So keeping it within our community, ensuring small local businesses and individual makers can profit from what we're doing, is crucial."
Fabrics, design, printing, making, and selling are all locally sourced. "Yes, it would cut costs dramatically if we used cheap fabrics from abroad and outsourced the sewing," says Andrea. "But I'm not running this business for profit, but for the love of Phanoo – my pet, my best friend, and my quality control all rolled into one!"
Every item in the brand is tested and re-tested by little Phanoo herself, along with a host of her doggie friends. "First, we look at comfort," says Andrea. "Can the dog move freely, accomplish all its doggie activities without being restricted by the clothing in any way? We also check to see if the item is comfortable over time: can the dog wear this for a day or more without any signs of discomfort? And by using pure cottons, we're ensuring the material is always breathable and safe for any animal to wear."
The clothing is also checked for durability, washed time and again to ensure it retains both form and colour; tested at different temperatures and against varying detergents and softeners. It's also designed to accommodate all sizes, from 3XS to 3XL, and modelled on everything from "the tiniest chihuahua we could find, to the largest German shepherd!" says Andrea. "And on occasion, we've even made bespoke clothes: recently, a customer asked us to make a D-shirt for her outsize Labrador – he loves it!"
Matching human clothes (mainly t-shirts) are also available for those who'd like to co-ordinate with their pet. But mostly, Phanoo focuses on dogs. "Warming pet clothes aren't necessary for every animal," says Andrea. "Though we still find many owners use our bandanas to help distinguish their pet or let people know how to approach their dog – we have a number that feature slogans such as 'In Training' and 'Do Not Pet' for dogs that require a little more space.
"And that's important because we, as owners, need to be ambassadors for our dogs," she adds. "Ultimately, our pets cannot speak for themselves; it's up to us to know what they need. Sometimes, that's a little space, sometimes it's a lasting hug. But it's always warmth, comfort and care. And that," she concludes, "is what Phanoo is all about."
For more information, visit https://phanoo.com or the Instagram account @phanooofficial