After feeling isolated in his youth a now island-based English Cypriot took to comedy to bridge the gap. PAUL LAMBIS meets him
Stevie Georgiou was just a child years old when he was "exiled" to Cyprus, when his British mindset was something out of the ordinary for the locals, "something extra-terrestrial." But he now classes himself as a magic melting pot of Brummie, Cypriot and working-class culture.
Born and raised in East Birmingham, Georgiou developed the love of comedy sketches while living in Cyprus. His satirical video blogs about growing up Cypriot have wowed his fans across the Greek Cypriot diaspora, particularly those from the United Kingdom who have identified with his Brit Abroad comic style, which serves as the foundation of his character.
"The character I portray in my videos is me," Georgiou explained. "I'm not really playing anyone but myself. If you use a character, you can only go so far; if you use yourself, whatever new material comes my way can be easily accommodated."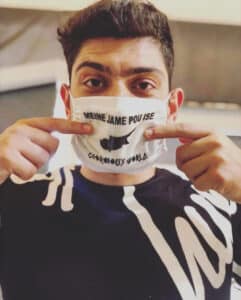 Georgiou moved to Cyprus with his family when he was 11 years old. "It was a crazy time to come across, especially because I was about to start secondary school in the United Kingdom."
Moving from East Birmingham, which has a population of over one million people, to Mazotos, a little village in Larnaca with a population of only 1,000 people, was a culture shock for Georgiou, who felt he stuck out like an alien when he wore headphones. "It was a complete nightmare, and it sent me a bit potty when I was a youngster."
According to Georgiou, his Brummie accent did not help him bridge the language gap with the local community, often leaving him feeling isolated. "It was a different kettle of fish," he told Living. "It was particularly challenging to mix with the younger generation, who preferred playing local village games including throwing little fireworks at Easter. I felt secluded. Cats were, believe it or not, my best friends at the time."
Georgiou gradually integrated into Cypriot society and chose to study media at a university abroad, where he focused on television and radio studies. When he returned, he intended to use his skills to make something from all the material he had accumulated over the years, drawing on his own experiences as a British Cypriot living in Cyprus and his everyday interactions with the local community. "Living in Cyprus provides a lot of content, especially when you are surrounded by a never-ending supply of entertainment," he said.
"Believe it or not, I was never interested in Cypriot comedy. I began creating more British-related videos, but one day I decided to give it a shot, and then it all kind of popped out of nowhere."
With Georgiou's World, his comedy videos incorporate his Britishness. "I needed to identify a niche in the market, and I recall after publishing my first video online, the response was incredible. It simply kind of went off on its own after that."
When it comes to the relevance of comedy, particularly during challenging times, Georgiou believes that humour can certainly affect the way we think and act. He feels that if he can make people laugh, it is a big accomplishment. "However, some people get outraged if I make fun of certain people or world events, especially when the world is going through a difficult time.
"I always encourage people to lighten up, enjoy the joke, but if they do not find me humorous, all they have to do is keep scrolling. In this world, I suppose, you cannot please everyone."
As part of his highly successful skit series, Georgiou illustrates the fact that British Cypriots have established their own dictionary, with certain words not really making much sense. "These words are a cross-hybrid of English and Greek Cypriot words generating a new language entirely. You cannot help but 'Cypriotise' things; it is in our DNA."
Although Georgiou's World touches on every issue imaginable, there is one, however, that Georgiou totally avoids. "I'm not interested in politics because people will hunt you down like a wild animal," he said.
Georgiou plans to do some stand-up comedy soon and intends to work with more comedians in the United Kingdom. He also plans to produce additional short films and develop Georgiou's World olive oil, which he believes "will be a hit."
"There is a lot currently brewing now. I am definitely taking Georgiou's World to the next level by adding more daily content, and I cannot wait to share it with my fans."