I must have walked the shopping streets of Larnaca hundreds of times. Knowing the little alleyways and back streets that connect roads is very handy because, who wants to go the long way round!? One of these little interconnecting alleys in particular has a little garden restaurant that I have walked past many a time thinking to myself I must try it sometime but of course I never did.
A few days before Christmas, doing the obligatory last minute shopping dash I felt I needed a break and with the weather being just right, I somehow remembered that little garden restaurant.
We made our way through the crowds and escaped in to the backstreets reaching our desired destination of Ithaki Garden restaurant. The bustling sound of Christmas shoppers was still audible but it wasn't disturbing but when focusing on the beautiful coloured flowers and greenery overhead, acting as an outdoor ceiling, everything else fading away. It really did not feel like I was in the centre of town. The brilliant white tables and chairs combined with various other decorations made it feel like an afternoon in late summer on a Greek island. I chose a table that was close to a small fountain shaped like a pot, pouring water in to a bowl as I found the sound of running water quite soothing.
It didn't take long for a menu to be placed in front of us, which had quite a lot on it. Salads, seafood, grilled food and even traditional dishes such as kleftiko. Definitely, something for everyone! The selection was almost a little overwhelming. It was tempting to order a meze but we didn't fancy such a large amount of food.
I finally decided on the sea bream. My partner went for the grilled octopus. My partner thought we didn't need a starter but, noticing that there was crispy feta cheese on the menu, I insisted!
Before long we were brought a few complimentary dips and some bread which were greatly appreciated, even more so because the bread was so warm and soft. Soon after, the golden, crispy slice of feta arrived. Covered with sesame seeds and drizzled with honey, it was asking to be devoured! I cut it in half so we could share and proceeded to thoroughly enjoy this perfectly cooked starter. It would be all too easy to devour it before you could blink but I ate it slowly as I wanted to appreciate the texture and the flavour.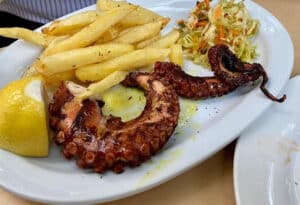 Our mains arrived around 20 minutes later. My sea bream was very large, and I was very impressed. However, what surprised us both was the octopus. We usually expect a few tentacles with charred ends but what my partner was presented with was a thick and succulent dish. It seemed as though the octopus tentacle had been cut in half to be cooked because the thinner end was not burnt or charred but had been taken off the grill before getting to this point. The octopus was lightly drizzled with olive oil and served with a juicy lemon.
My fish was soft and flakey. When drizzled with lemon, the flavour really came to life. The octopus was soft and the knife sliced through it with ease.
I'm glad I remembered this little back street restaurant and finally gave it a shot. It may very well become my lunch time pit stop when I'm out and about in town.
VITAL STATISTICS
SPECIALTY Mediterranean
WHERE Ithaki Garden Restaurant, Zinonos Kitieos 64, Stoa Kouppa, Larnaca
WHEN Tuesday-Sunday 11.00am-11.00pm
CONTACT 96 233690
HOW MUCH Dishes from €5-€15