By Andrea Kouyiali
Limassol has quite a bit of glitz and glamour and the exterior of Coya on the coastal road seemed to put it firmly in that category. So on a whim, we decided to go there to see what the restaurant that brands itself as Peruvian has to offer.
The interior is rather impressive. It seems to attract both people who dress up but also those who are very casual. With bright sofas, lots of plants and quirky lights, it's a pretty nice yet funky atmosphere, wrapped up with a DJ in the front – on a Monday night!
Unbeknown to us, Mondays are an all-you-can-eat Asian themed night. Oh. Just as well, because the food menu didn't seem to be too Peruvian heavy and had mostly Asian offerings to begin with.
The buffet had a different vibe all together. To start with, it felt a little bit like queuing up for food while attending a wedding. A bit of a jarring difference from the seating area to be honest.
But on to the food itself. The buffet starts out with a few sushi options served on a wooden platter. Admittedly it was rather underwhelming, which summed up quite a few of the dishes.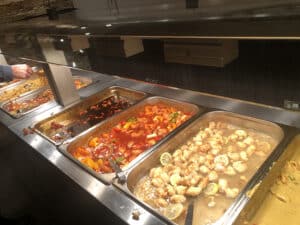 The buffet offers an array of 'classic' Asian options including vegetable rice, egg fried rice, lemon chicken, fried calamari, sweet and sour chicken, sesame chicken, black bean, noodle options, as well as duck, duck pancakes and salads.
While quantity didn't seem to be an issue, the flavour just wasn't all there. The noodles were surprisingly bland though they looked more appetizing than they tasted. They had the right texture, interspersed with ample vegetables that could be added on but there was just a glaring absence of flavour.
The lemon chicken sauce on the other hand did have a warm, zesty flavour which tied in quite well with the soft chicken, though contrary to the noodles, it leaned more towards the overpowering side. The calamari however topped the charts on the overpowering scale. It was far saltier than we expected and far more chewy that we would have preferred.
The duck was pleasant, well cooked and had a nice crispy texture to it, going well with the pancakes that were also quite enjoyable. The rice was what is said on the label, and was satisfactory enough. The sweet and sour chicken leaned more heavily on the sour.
After all that there is also a buffet dessert with ice cream options and a number of cakes including cheesecake and brownies available.
Overall, the restaurant seems to be quite a contradiction. Its décor and aesthetic put it in the finer dining category but the buffet style all-you-can-eat is a model that works for a more budget conscious crowd although the dishes and their presentation could go a long way in improving. It seems to struggle in finding a balance for flavour, going for either too little or too much.
Perhaps the a la carte dishes are crafted more holistically with better care than the buffet, which does very little to speak for it. Rather than encourage customers to scale up, it seems to sell an idea of a place one could go to fill up on a lot of food without it being particularly special.
VITAL STATISTICS
SPECIALTY: Branded as Peruvian though Asian would be more realistic
WHERE: Coya, Georgiou A 125, Limassol
WHEN: Daily 9am-12pm, buffet 7pm-11pm
CONTACT: 70 004010, coya.com.cy
HOW MUCH: All-you-can-eat €18.50 per person for Chinese and Sushi