Meat-free midweek meal
Vegan Fish Cakes
4 Sheets of Nori cut into small pieces and blended to make into a powder
3 large sweet potatoes, peeled, boiled and mashed
1 and a half cups of breadcrumbs
1 small onion chopped
2 cloves of garlic, minced
1 teaspoon of Himalayan salt
Pinch of black pepper
Method
Mix all together and make into circular patties
Cook at 160C for 20 minutes
Accompany with Cashew Garlic Cream:
1 cup of pre-soaked cashews
1/2 cup of water
1/2 lemon juice
1/4 teaspoon of Himalayan salt
1 clove of garlic
Blend until smooth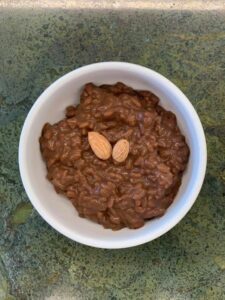 Vegan Chocolate Rice Pudding
Ideal for a healthy and yummy breakfast alternative or as a dessert
Brown Rice (1 cup)
Agave Syrup (2 tablespoons of more if you prefer)
Coconut Milk (2 cups)
Water (approx two cups)
Cocoa powder (4 tablespoons)
Method
Boil rice with water until soft. Then add coconut milk, agave and cocoa. Simmer for 15 minutes or until the chocolate rice is sticky.
Service decorated with almonds, seeds, berries or just dig in as is!
Cranberry Banana Smoothie
Great as morning breakfast, pick-me-up or healthy snack any time of the day! It's also a great way of getting antioxidants, omegas and lots of other nutrients into your diet.
One banana
Handful of frozen cranberries (can be fresh also)
1-2 tablespoons of agave syrup
1/2 teaspoon of cinnamon powder
1 tablespoon of sesame seeds
1 teaspoon of ground flaxseeds
1-2 cups of almond milk (depending on how thick you like your smoothies)
1/2 teaspoon of vanilla essence or splash of soya vanilla milk
Method
Blend all together and enjoy cold!
If you would like to receive more including a free recipe book and to get emails with healthy living tips, live zooms sessions and attend physical events at a discount, join FARAHS CLUB for just €1. https://www.farahs.club/products/subscription