The number of presidential hopefuls was whittled down to two on Sunday leaving Nikos Christodoulides and Andreas Mavroyiannis to battle it out in the runoff next week.
The results are a blow to Disy's Averof Neophytou who had eyed the top seat for months and battled in-house competition from Christodoulides.
Christodoulides secured 32.04 per cent of the votes, campaigning as an independent with centre parties backing him, and Mavroyiannis gathering 29.61 per cent with Akel's support.
Neophytou trailed behind at 26.11 per cent. He called his two main rivals around half an hour before the official results were out to congratulate them. A meeting at the presidential palace with President Nicos Anastasiades, House president Annita Demetriou and a handful of cabinet members followed.
In a statement at his campaign offices after the results, and amid loud cheers of support, Neophytou pledged Disy's unity would continue, and did not hesitate to make digs at his rival Christodoulides.
"We have got more votes than in the parliamentary elections. This was not enough though," he told reporters. "We thank those who trusted us and remained by the side of our historic party. They stayed with us despite efforts to break apart our party."
Neophytou also made a point of highlighting that his ambitions for president were not over.
Christodoulides was met with cheers and chants arriving at his campaign offices in Nicosia once the results were in, adding that society has embraced his proposals to take the next steps and move forward, away from the past.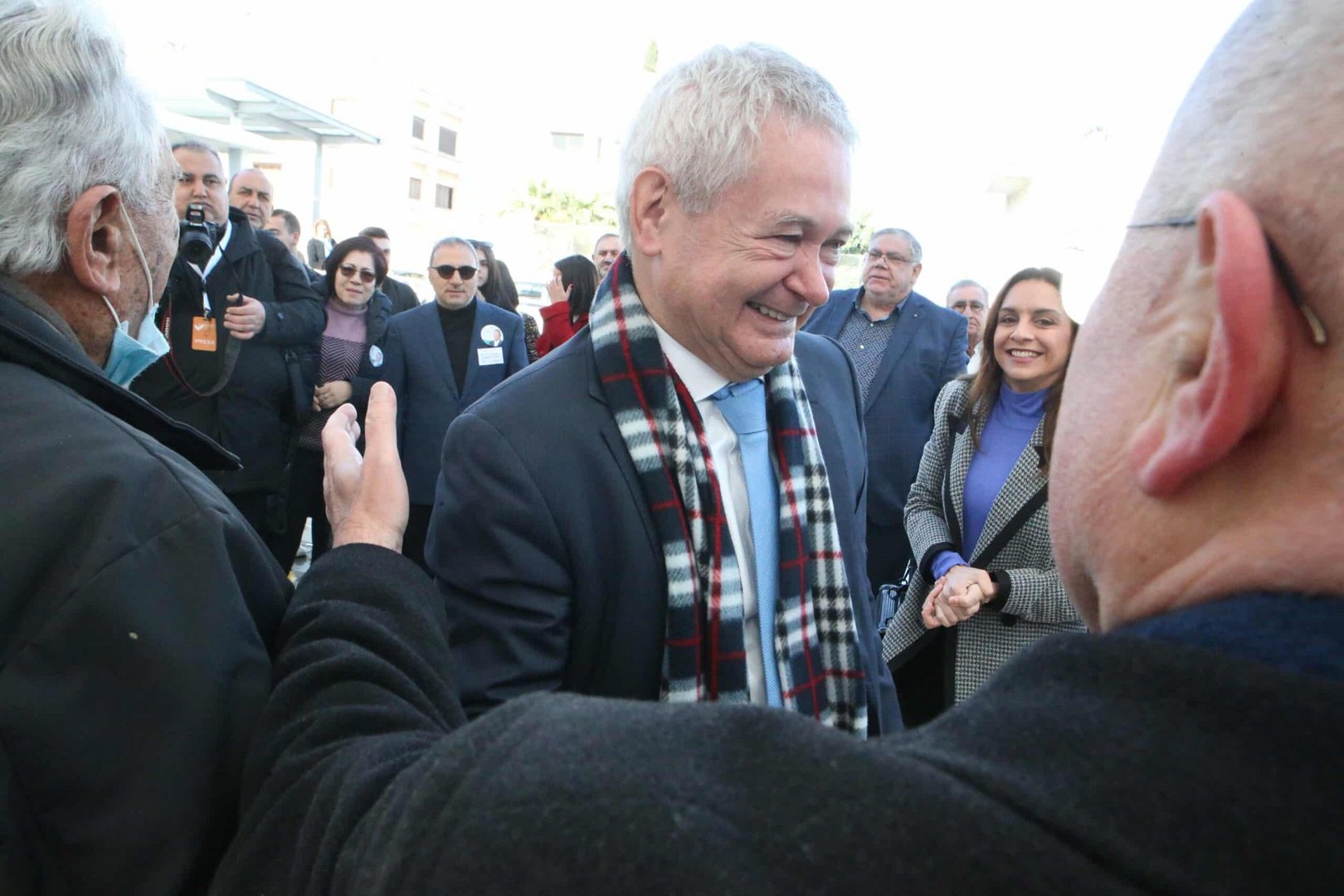 As the counts got closer to the end, Mavroyiannis was evidently relaxed and jovial, handing out zivania shots to those accompanying him at his camp. Asked if he would discuss collaborations with other parties, he said that could come on Monday, as the night was a time for counsel. Cheering once, it was evident he would be in the runoff, he pledged he was in it for the long haul and thanked all his supporters.
"In the efforts we began together, there is no one excluded. Our love for our country tears down our divisions and unites us. Our focus for a healthy, prosperous economy transcends all our differences."
A total of 404,403 people cast their vote, leaving 27.95 per cent of voters abstaining.
It did not take long for hints surrounding the horsetrading that was set to begin to start buzzing. Christodoulides made it clear he would start off on Monday asking Neophytou for a meeting, as well as Anastasiades.
Neophytou's stance remains to be seen as he had made clear during the election campaign that should Christodoulides become president, he would find Disy squarely as the opposition party.
Asked if he had reconsidered, Neophytou said the party has democratic principles and collective decision-making processes which would be respected and adhered to. "I am not like others," he hinted. "I have an opinion, but I respect the party's democratic process."
Elam's Christos Christou, which came in fourth place with 6.04 per cent, said the results cemented the party's place in politics and Elam's central committee would be convening during the week to decide on what it would do in the second round.
Independent candidate Achilleas Demetriades, who gathered 2.04 per cent, congratulated Christodoulides and Mavroyiannis, stressing he was here to stay in politics.
"I cannot tell you the format just yet," but time would tell. In the meantime, asked who he would back for the final round of votes, Demetriades said he would announce his decision at a press conference on Thursday at 10:30am. Commenting on the number of votes he got, he said "it could have been higher."
Exit polls had showed mixed results: four of them said the battle set to take place next Sunday would be between Christodoulides and Mavroyiannis. Though the Cybc exit poll gave Christodoulides a clear lead, it showed Mavroyiannis and Neophytou neck and neck, leaving the question over who it would be that would actually fight it out for the head of state.
The elections had a record number of candidates at 14, and was marred with a lot of in-fighting and accusations that the 'top three' candidates were all the president's men: Neophytou as Disy party leader, Christodoulides as minister and association and Mavroyiannis as chief negotiator for the Cyprus problem.