We visited Sumo Sushi & Bento on a particularly frigid weeknight, with the type of cold in the air that forces you to re-evaluate every decision that resulted in you being anywhere else other than the underside of a hefty blanket.
The Limassol restaurant, which finds itself on Makariou avenue, itself a welcome reprieve from the city's coast-dominated culinary offerings, appeared as an oasis of sorts. Its clean, uncluttered wood-laden interior was awash in the orange glow of its light fixtures, rendering most surfaces, including the various dishes we ordered, copper-coloured, offering a pleasing contrast with the stark, wintery night outside.
Indeed, my dining partner opted for the green tea to accelerate the warming-up process after we had been seated, while I went with a tried-and-tested bottle of Asahi Super Dry, the well-known Japanese beer. There are always different routes to the same destination, as you can see.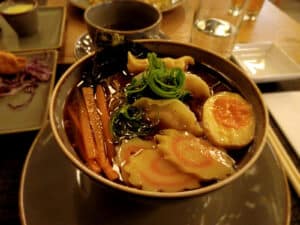 We ordered mains, starters and sides, and politely asked the staff to bring everything together or at least in the order and the speed at which it was prepared. We started with seared chicken gyoza, which are hand-folded dumplings with the aforementioned ingredient, and served with the restaurant's own gyoza sauce, usually made with rice vinegar, soy sauce, green onions, garlic, sesame oil, red pepper flakes, and ginger. These dumplings will certainly become a repeat dish when I revisit the restaurant. The flavour profile was spot on and the balance between the crispy exterior and the succulent ingredients within was practically perfect.
We also had deep fried calamari rings, which again, were simple and well-executed. These were served with wasabi-flavoured mayo which was a nice, rich accompaniment to the calamari. For the spice-averse, the wasabi was far from overpowering and only served to add more flavour rather than heat. We also ordered a single portion of vegetable fried rice, which also contained pieces of egg, and was more than enough to share between two, provided there are other dishes on the table.
The most self-contained dish we ordered was the gyoza ramen. This is a savoury ramen dish with soy-based broth soup, chewy soba noodles, pan-seared chicken gyoza coupled with crispy nori seaweed, tender kamaboko, freshly cut carrot and spring onion and a custom request of a shoyu egg. This was a big hit, especially on a cold night. We also ordered the California sushi rolls, which contained avocado, crabstick, cucumber and mayonnaise, all rolled inside out with sesame seeds. While far from authentically Japanese, this is a lovely dish and one I would recommend for those for whom sushi is a new experience and are somewhat coy about trying other versions.
For dessert, and although being well sated, we ordered some Mochi ice cream, meaning ice cream stuffed inside a Japanese rice cake made of mochigome, a sticky, glutinous type of short-grain rice. These come in various flavours but you cannot go wrong with the mango and coconut variants we picked. To top it all off, the service was cordial, polite and welcoming. Would definitely revisit for a reliable, solid venture into Japanese cuisine.
VITAL STATISTICS
SPECIALTY: Sushi, tempura, bento & other Japanese dishes
WHERE: Sumo Sushi & Bento, Cedars Oasis, Arch. Makarios III Avenue, Limassol
WHEN: Daily 12pm-10pm
CONTACT: 77 777866
HOW MUCH: €9-10 for sushi, €9-11 for rice, €12.50 for ramen, €3-5 for dessert