Thinking of buying a home in the UK? Try Lancashire! This north-western county has the third highest home ownership rate in the country, thanks to its real estate prices. Plus you get excellent universities, fast links to all the major cities, and incredible food!
Once, this Northern Powerhouse was the centre of the industrial revolution. Today, things are a little quieter – over 80 per cent of the county is considered rural (and beautiful, given its wild coastline, ancient farmland, and historic castles). And, it's believed that JRR Tolkien's Middle Earth was based on the stunning landscapes of Lancashire!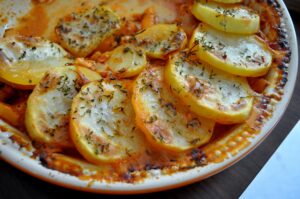 It's safe to say that Lancashire has the best of the Cs: cheap and cheerful, it boasts a charming combination of countryside and cities. And the cuisine isn't bad either! Lancashire hotpot is probably the most famed fare from this county. The ultimate comfort food, the baked mutton and potato stew originated with the cotton workers of the 19th century who would leave their hot pots in the oven all day, ready for shift's end. Often bulked out with cheap-and-cheerful oysters, the stew takes its name from its 'hodge podge' of scrappy ingredients.
The county has also given us several other notable foods, including Eccles cakes (currant-filled pies topped with sugar), potted shrimp (caught in Morecambe Bay, cooked in seawater, boiled in a mix of ginger, nutmeg and paprika, and then sealed with butter), and parched peas (a flavoursome concoction of carlin peas boiled overnight and then doused in malt vinegar).
We also get Lancashire cheese in three delicious varieties: creamy, tasty and crumbly. The first is matured for up to 12 weeks and is perfect for toasting; the second, matured for 24 weeks, has a distinctly nutty taste; while the third, a sharp and fresh flavoured cheese, is matured for just two to six weeks. Have a slice of any variety along with a dollop of Lancashire sauce (a sweet and spicy seasoning) and you've got snack that's been enjoyed locally for centuries. Or you could go the whole Lancastrian hog and add a little black pudding…