One more month full of cultural performances awaits at Rialto Theatre with April bursting with theatre productions and film screenings. After all, "April is the month with the most glamorous Film Festival in Cyprus," the theatre says, "and is almost here."
First to take the stage is a theatre production in Greek that was adored by audiences in previous showings. 5 Lesbians Eating a Quiche is a play by Andrew Hobgood and Evan Linder which has been adapted into Greek under the direction of Evita Ioannou. On April 3, after 23 sold-out shows in both Limassol and Nicosia, the 5 Lesbians are presenting one final show at Rialto Theatre just before their new run in Athens in May.
The play centres on five women who share a rather unusual passion for quiche, and gather in a church basement for the annual quiche competition. There, they will confront their greatest fears, as well as their sexual identity.
Then on April 6 and 7, The Oak Tree will be presented which is a rather different theatrical performance in that no rehearsals take place. Every actor's worst nightmare? It could well be so. Every night, a different guest actor will walk on stage without having rehearsed, seen or even read a word of the play they are going to present. Together with Marina Argyridou, the actors Andreas Koutsoftas (April 6) and Lia Haraki (April 7) will co-star in a daring theatrical challenge where the boundaries of reality are constantly blurred.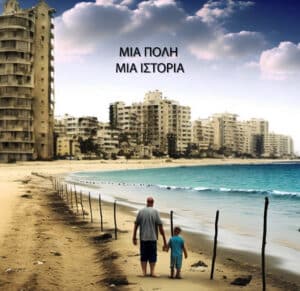 On April 8, Greek and Turkish Cypriot musicians will pay a tribute to Famagusta with a narrated musical performance chronicling its history. A selected repertoire of songs will accompany the narration through a heart-warming presentation of the history of Famagusta, reviving images and memories from the town.
The second Sunday of April will welcome another interactive soundwalk by Maria Varnakkidou and Konstantina Andreou. The Peripato event will take place at 11am outside the theatre on April 9, taking participants on a very different tour of the neighbourhood.
On the same evening, the play Before the German's Here will be presented twice. The performance is a modern stage play on Alzheimer's disease, directed by Costas Silvestros, who paints on a blank canvas the unique universe of his heroine. Acclaimed Cypriot actress Popi Avraam takes the lead, accompanied by upcoming young actor Andreas Koutsoftas, who plays multiple roles penetrating the heroine's daily life.
April 10's performance is a musical show presented by Radio station LOVE FM that has been embraced by Athens audiences at the legendary theatre Theatro Technis. Titled At Frynihou street…, Thodoris Voutsikakis converses with Neoklis Neofytides and Vangelis Machairas presenting an exquisite repertoire. Modern and classical Greek songs as well as inspirational songs from the Italian and English music scene are presented through a carefully curated performance.
Up next, on April 11, is a theatrical performance by Antilogos which is an adaption of the works A Report to an Academy, The Judgment and Metamorphosis. Red Peter, of Franz Kafka, speaks before a scientific conference and describes his former life as an ape. The play, though in Greek, will include Greek and Turkish surtitles.
Finally, between April 21 and 29, the 21st Cyprus Film Days International Festival will present an eclectic programme of films in Limassol and Nicosia including an international competition section (Glocal Images), world-acclaimed film premieres (Viewfinder), Cypriot productions, tributes and screenings for children and youth, as well as multiple other events, dedicated to fiction feature films.
April at Rialto
Tickets and more information at www.rialto.com.cy