Written by teenagers, a post-Covid version of Alice in Wonderland reveals the real issues plaguing the island's young people. Alix Norman finds out more
Recently Cyprus ranked second in Europe for social media usage. The most frequent users were aged between 15 and 22, with 95 per cent of this group reporting daily and frequent usage. And yet this amount of digital content can be especially damaging to those in their formative years.
As adults, we're practised at handling the pressures of life, be they digital or real. We tend to know who we are and what we want; experience has taught us we can dismiss much of what we see and hear as nonsense. But teenagers are more susceptible. In these early years, the sense of identity is still forming. It's harder to see beyond the façade, to know what to believe.
"It can be so easy for young people nowadays to fall prey to unattainable perfectionism and unrealistic expectations," says Eleni Cosma. "At an age when you're still working out who you are and what you want, you need nothing so much as stability and support while you question your place in the world."
Eleni runs the Drama Department at The Senior School in Nicosia. She's passionate about providing her students with the solid foundation they need to successfully negotiate later life. And to that end, her department is staging a unique take on a classic – updated for the modern world.
"Today, Alice in Wonderland is seen as a masterpiece – a book that richly deserves its place in the literary halls of fame for its imaginative use of language, whimsical characters, and playful humour," says Eleni. "But when it first came out, many derided its absurdity – the 'nonsensical' elements that were criticised as too chaotic or confusing for young people.
"But 160 years on, our world has only become exponentially more chaotic and confusing, especially for teenagers," she adds. "Perhaps it's time for an updated version that tackles the 'nonsense' our young people face today?"
With Almost Alice, Eleni's students are doing just that, taking on everything from lockdowns to likes in an original musical production. Directly addressing the issues that might plague a modern-day Alice, we follow our protagonist as she stumbles into Wonderland, and finds the nonsense of life and fantasy overlap.
"Like many teenagers," Eleni continues, "she's on a journey of self-discovery – bombarded by conflicting information, struggling with who she is and what she wants; starting to learn to question what the world is telling her. 'Who are you?' asks the Caterpillar when she first arrives in Wonderland. And Alice can't answer. But as she learns from the other characters – the Mad Hatter teaching her that not all questions have answers; the White Rabbit that even grown-ups are often confused by the world – she begins to find her way.
As Alice's two worlds – reality and fantasy – intersect, her innermost worries are exposed: the fear of failure, the search for meaning, the overwhelming emotions that often dog teenagers. "Like the original, this modern-day Alice is struggling with her place in the world, learning what she can and can't accept. She's starting to challenge authority, to notice injustice," says Eleni.
"When The Red Queen disapproves of a classmate's hairstyle, crying 'off with his dreads!', Alice begins to question her sense of right and wrong. When a fellow pupil reveals that he adores detention because "it's the one hour of my day when I don't have to text back or surf the web', she starts to wonder if social media is as great as she's always believed."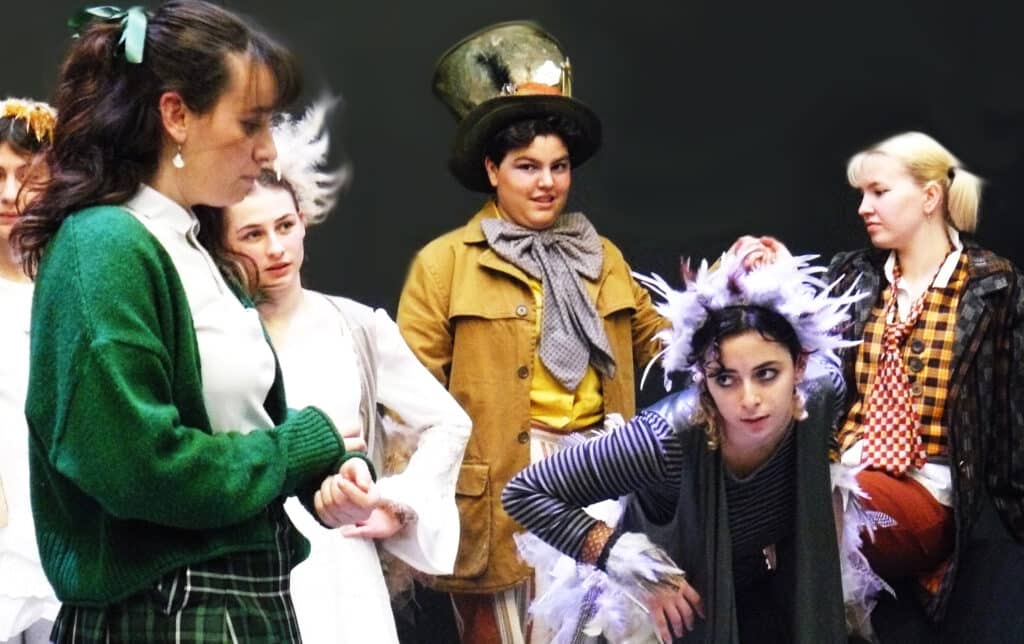 There may have been numerous adaptions of Alice in Wonderland over the years, but what sets this production apart is that both words and music were written entirely by past students.
"It is our own children who best know the challenges they face on an everyday basis, says Eleni. "While we, as adults, may have an idea of what they're feeling, what they're going through, we're often unaware of the specific pressures they face from day to day. It's often hard for kids to talk about these problems with their parents or teachers.
"One thing that's reiterated throughout the production is that it's okay to be 'almost Alice'; that it's fine to be a rough draft rather than a fully-formed character. Today's kids are overwhelmed with pressure – their parents tell them what career to pursue, their friends tell them what to think and feel, social media tells them what they should look like. All of this comes across very clearly in the musical, along with the fact that our teenagers need space to make their own decisions, find their own answers, discover their own likes and dislikes…"
Almost Alice was originally staged in 2015. "Back then, it was a small production," says Eleni, "written entirely by students who have since gone on to become professional actors, or are now at the world's most prestigious performing arts schools, including NYU Tisch and the Manhattan School of Music.
"But, for 2023, the production has been updated and lengthened. It takes in the post-Covid era, tackles additional issues," explains Eleni. "The message is still strong, and more relevant than ever. But now, the words and songs have been made more topical, addressing problems even more pertinently than previously.
"It's very thought-provoking," she adds. "And at times quite emotional. While the hilarity and humour of the original have been preserved, it touches on issues no 19th-century Alice would have faced, and does so with gentleness and understanding that will be welcomed by a modern audience."
This whimsical wander through wonderland will be staged at the Satiriko Theatre on the April 7 and 8. And audiences of all ages are encouraged to attend. "I think this might be the one play your teenagers want you to see," Eleni concludes. "The stage is a very honest space. And the hope is that Almost Alice will open family conversations that have been a long time coming. It can be hard to know what your kids think and feel, to understand the pressures they're under nowadays. If you're tired of wondering what's really going on in their lives, join us in Wonderland!"
Almost Alice takes place at the Satiriko Theatre on the April 7 and 8. For more information, visit the Facebook page 'Almost Alice Musical 2023' or the Instagram account @almostalice2023