We often get caught up in what we believe to be a good restaurant. But over recent years, the world has changed so much that the very definition of it has radically changed.
As far as I see it, a good restaurant, first and foremost, needs to be able to provide a good meal, decent service and a nice ambience.
Alas, the rush of our times, the increasing costs necessary to keep a 'traditional' restaurant open and, last but definitely not least, the pandemic have transformed that.
I do realise I need to change how I see things and this review is my way of welcoming a newer, faster, more efficient world of food.
Honest Bread, by definition, is a bakery. Yet, visit after visit, I found out that is so much more than that.
Led by George and Andreas, the place focuses on quality rather than quantity, the result being sold-out products, day in and day out. You have to get there early!
Years of experience abroad have cemented George and Andreas' knowledge of bread, pastries, sandwiches and, most importantly, sourdough.
Perhaps everything found here has become if not common, at least available outside Cyprus, but here we still have a long way to go.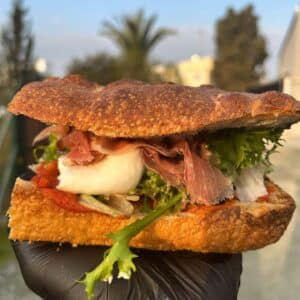 On to the food. If you're a fan of pies, and I really don't see why you shouldn't be, the choice needs to fall on the tahinopita. This one, I admit, is readily available throughout the island. Unfortunately, you will not find it as tasty, rich, satisfying and frankly huge as you would at Honest Bread.
After one bite, there was no looking back, meaning all other tahinopites are ruined for me forever.
Another interesting entry for me is the halloumi and tomato focaccia, which combines local ingredients and a rather cosmopolitan approach to the dough, which reminds me of the traditional 'focaccia barese', hailing from the southern Italian city of Bari, one of the country's street food capitals.
If, however, you think pies hardly represent a meal – I beg to differ, but it takes all sorts – Honest Bread also makes delicious sandwiches that change each day based on the availability of ingredients.
Should you be so lucky to find the burrata and prosciutto or the salmon on rye bread sandwiches, look no further. The remarkable quality of the bread magically enhances the fillings, whatever they may be.
Mention of honour for the zaatar and kefalotyri cheese croissant. Pungent and nutty, yet delicate due to the dough's consistency, it was a true revelation.
And finally, my personal favourites… sweets! I could honestly recommend them all, from croissants to Danish pastries, from cinnamon buns to pistachio swirls, everything is a joy to feast on.
However, of all the available choices, one stands tall, the cruffin!
A hybrid of a croissant and a muffin, it's made by proofing and baking laminated dough in a muffin mould. The result is sensational, particularly the ones with bueno cream and white chocolate and pistachio.
My advice, forget everything you think you know about a restaurant and head to Honest Bread instead. You will not sit at a table, you will not be greeted by a waiter. But you will walk out of the place with a brown paper bag and a huge smile on your face.
VITAL STATISTICS
SPECIALTY Baked goods
WHERE Athalassas Ave 146 Β, Strovolos, Cyprus
WHEN Tuesday to Friday 7am to 6.30pm, Saturday 8am to 2pm, Sunday and Monday closed
CONTACT 22 496697
HOW MUCH from €3 to €6 for all individual entries