By Andrea Kouyiali
The word 'authentic' encompasses so much when it comes to food. But it's not just the food, it's the place where it's found, the people that work there, the very aesthetic of the venue that you step into.
Strofi sti Gefsi is one such restaurant. Roughly translating to 'turn to flavour', the name could be an allusion to the many twists and turns on the road to the restaurant in Mandria. It's a cozy place, a Cypriot type of restaurant that has live music on Saturday nights and Sunday noon.
Overlooking the vast expanse of forest areas, with wooden chairs and traditional tablecloths in the interior, the place oozes traditional vibes, which is complemented by the warmth and friendliness of the staff. Perched up in Mandria village, just past Trimiklini, it is only a short drive from Limassol – and its exorbitant prices.
The menu is authentic Cypriot dishes – makaronia bechamel, chicken souvlaki, pork chops, fish and of course a meze option, which encompasses items such as pourgouri, keftedes, ravioli, souvlakia and sheftalia, halloumi and sausages – to name a few.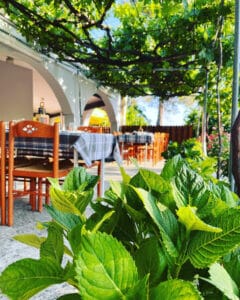 We ordered chicken souvlaki and pork chops, and were overwhelmed by the sheer quantity of food that we were presented with. It is a rare feat for either of us to not finish everything on our plates, no matter how stuffed we are but this was time it was impossible to wrap it all up.
The meal started out with appetizers including pitta bread, dips (tzatziki, hummus and the Limassol favourite pikla), wedges and a hefty portion of traditional salad.
When the main dishes arrived we were taken aback by the portion size. The chicken carried the perfect taste of charcoal grilled meat that has been aptly sizzled, while maintaining soft tenderness.
It was the same with the pork chop, that could barely fit into the plate it was served on. The meat was mouthwatering and coupled with a nice cold beer, it made for a perfect night of overeating.
The servings are simple – there's no artificial décor, no careful placements of artisan designs. It's authentically Cypriot, with huge portions of meat sitting on your plate, while the table is heavy with plenty of warm pitta, potatoes and a healthy salad.
Nearby tables that had the mezes did not see the food stop coming. It was dish after dish, at an unrelenting pace.
Even though we were stuffed, the unexpected dessert took us by surprise as we were offered traditional honey-soaked sweets (pischies). Again, the portion was huge, and the sweetness intense, especially as some were even coated in Nutella. The waitress was kind enough to bring us a coffee to help the sweetness go down (on the house we later discovered!)
We were once again, unable to finish them all but it made for a great night with live music, with the experience only amplified with the great staff and cooks.
VITAL STATISTICS 
SPECIALTY Cypriot food
WHERE Strofi sti Gefsi, Mandria Limassol
WHEN Closed Monday. Tuesday-Sunday, 10am-4pm, 6-10pm
HOW MUCH €15 – €20 per person
CONTACT 25 421221