30 per cent of the island's foreign visitors stay in the region of Ayia Napa. Alix Norman asks tourists what drew them to Cyprus and, in particular, to this legendary area?
Ask anyone abroad what they know about Cyprus, and they'll invariably say Ayia Napa. Famed for its nefarious happenings just as much as it's celebrated for its stunning beaches, the entire area is a bit of a legend…
Both Fig Tree Bay and Nissi make it into lastminute.com's top 10 for a summer escape, while partyhard.com suggests the region is one of the destinations for a raucous holiday. And hotels.com suggests the region's boozy bars and debaucherous discos make it the rowdiest resort on the Mediterranean Sea!
It's certainly a favourite with foreigners: nearly 30 per cent of all the island's tourists plump for the Famagusta region. And even us locals like to head east – while those from the UK are the most common visitors, the second largest number of tourists in the region hail from the island itself! Swedes and Germans come in third and fourth. And other European countries have made up the shortfall left by the Russians who, back in 2019, were Famagusta's most populous foreign contingent!
A decade or so ago, Napa was the new Ibiza, complete with gang crime and riotous revellers. Now more family friendly, it's still not without its share of notoriety. But, while Paphos has seen the biggest rise in international visitors (an increase of 83 per cent between 2021 and 2022, compared with Famagusta's 33 per cent), over 750,000 foreign holidaymakers still choose Napa and surrounds for their annual hols.
Which begs the question: why? What does this region offer that others can't, and why choose Napa over a gorgeous Greek isle or the stunning Spanish seaside? We took to the local bars and beaches to find out. Beginning, of course, on Nissi…
Tall and blonde, Swedes Hanna and Maja are the type of tourists who have been gracing the beaches of Napa since the 80s. "Maybe we are stereotypes," laughs 25-year-old Greta. "You come to Nissi Beach, you see Swedish people. But it is for a reason – in Stockholm it is like a story that everyone tells: the beauty of this beach."
"I think everyone in Sweden knows this place," adds Maja. "Everyone knows that if you want a beautiful beach you go to Napa and you go to Nissi – you save all year for this."
Both are visiting the island for the first time, drawn by the lure of the legend. Here for 10 days, they're staying in an apartment in town, and plan to do nothing but sunbathe, drink and dance. But under the next umbrella is the Carter family (complete with two toddlers and multiple floaties). And they're here for a different reason entirely…
"Honestly, we chose Ayia Napa because it was cheap," says 35-year-old June as she hands out juice boxes. "We looked at Spain and Greece, and then at Paphos. But the flights and hotel deal here were better. My mum suggested it too – she'd been to Napa and said it seemed very safe, and the hotels had a good day care service."
Having arrived two days ago, the family haven't yet gone far. But they've rented a car – "we drove to a place called Kalamies for dinner; it was gorgeous!" – and hope to see "the mountains and more of the coast. It's a nice change from Norwich!"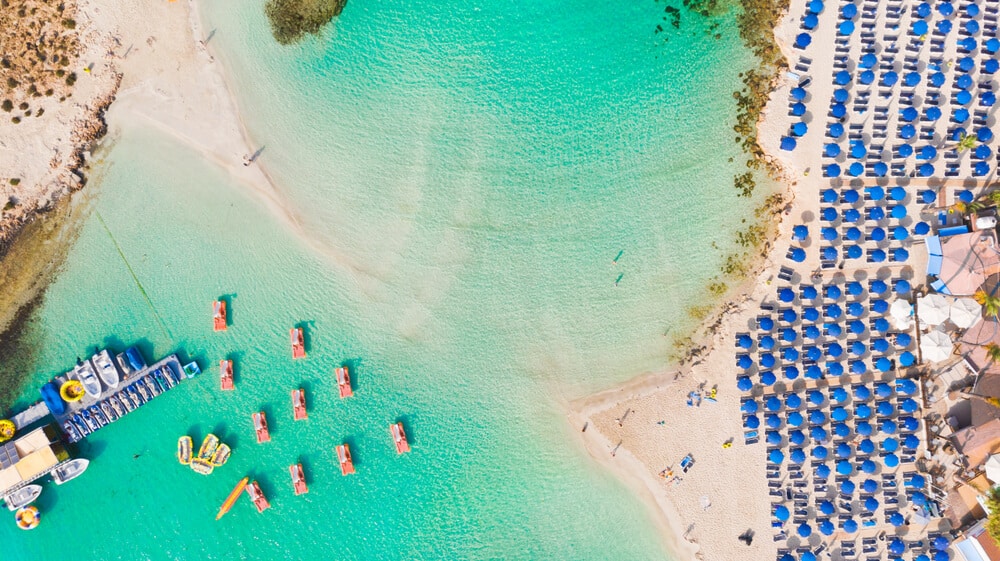 Further afield, at Fig Tree Bay, Welsh retirees Alice and George are also enjoying the scenic variety along with their pints. "Well Cyprus has everything, hasn't it?" says Alice. "I mean, you've got beaches and mountains and good food and decent beer. And everyone speaks English. I sound a bit like a travel brochure, don't I?" she laughs.
The couple first came to the island in 2015, drawn to Larnaca by cheap flights. Over the years, they've also tried Paphos and Polis. But it's Protaras that's won their hearts, for a variety of reasons…
"It's peaceful, and centralised," says George. "Everything you need is on the strip. And it's also familiar: we stay in the same hotel and the staff treat us like family. As you get older, it's nice to be remembered; that welcome keeps us coming back. Perhaps it would be the same if we'd originally chosen, say, Tenerife – but now we can't imagine going anywhere except Protaras."
Repeat visitors are a large part of the region's visitor demographic, especially among older travellers. But stretched out on Vryssi Beach are Jade and friends, first-time visitors thanks to a local wedding.
"The bride is London Cypriot," explains the 27-year-old. "Her parents moved back to their village, so she decided to get married here. It's worked out well for us," she adds to cheers from her friends. "We're all staying with her relatives, so it's a bit like a free holiday!"
But would they have visited Napa if it weren't for family ties? "Maybe," Jade muses. "It's a longer flight than Barcelona or Santorini, where we've been on girls' getaways before, so you need to stay here more days. But we do like that there's something for everyone: some of us went on a day cruise, others visited that underwater sculpture place, and a couple saw some ancient temple. And of course we all did a hen night in town, which was a blast!"
While Jade and co paint the town red, back in Ayia Napa harbour, 56-year-old Dieter is working with a softer shade of pink. "I like to walk and see the nature," says the German, who is sweating over his schnitzel. "And I like the sun; I think maybe Cyprus is the hottest place with the euro!"
As for why he chose this particular region, well, that was down to marketing. "I looked online at all the photos of Cyprus. And when I saw this area, I was enchanted. I said to my wife 'this is the place for us'. And look," he adds, poking his fork at the azure horizon. "I think you don't find these colours in other places. Maybe just here, in Napa."