PAUL LAMBIS meets a musician blending sound and video looking to work with a Cypriot talent to build on his love for Greek music
With over 2,000 live performances, award-winning violinist, singer and songwriter Petar Markoski has become a viral sensation with his music, ranging from classical to pop, traditional to rock.
"Music has always been a part of me, and it will remain my passion for life," he said.
Markoski's music videos are usually filmed in front of stunning scenery, which serves to establish the tone for his music while also transporting the viewer on an incredible journey. "Macedonia is a place that serves as an everlasting source of inspiration for my work," he said.
I recently met Markoski, who said he was interested in visiting Cyprus and performing with local artists.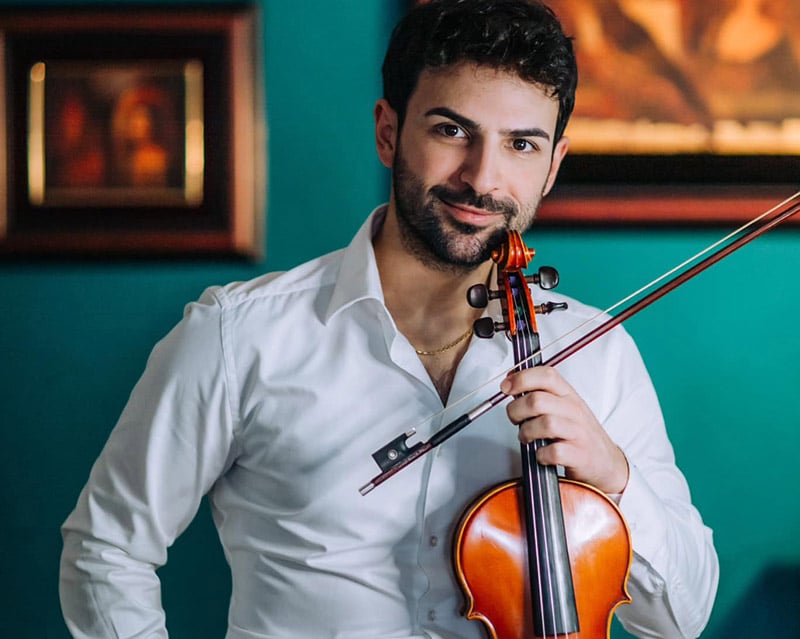 Markoski, born in Ohrid, Macedonia, began performing music at the age of seven. His grandmother was his major inspiration, convincing his parents to let him pursue a musical career. "At that age, I just wanted to be a football player, just like every other boy, however she persuaded me to audition for a music school but unfortunately, I was rejected twice as they believed I had no musical talent."
But his grandmother persisted, and after repeated phone calls and visits he was given another chance, and encouraged to play the violin. "A year later, I was competing in a national violin competition in Macedonia, and at the age of eight, I was the youngest violinist to win third place. It was the catalyst for me to take my studies more seriously and continue.
"The violin is one of the most rewarding and beautiful instruments to play," he added, although he admits mastering it was a long process. But with patience, dedication, and enthusiasm, he was able to form a bond with the storied instrument. "There is an emotional connection that one experiences with the violin, but the moment you feel as if someone is singing through the instrument, that is when you are ready to play."
Although Markoski initially focused on classical music, he gradually began to incorporate other musical styles into his repertoire. "I grew up listening to artists such as Frank Sinatra, Dean Martin, Elvis Presley, Abba, Julio Iglesias, Adele, Ed Sheeran, Bruno Mars and many more," he told the Cyprus Mail. "However, I understood the power of music and the impact of the violin especially when the traditional instrument is used to play modern music.
"I am also very interested in the authentic sounds from the Balkan region, and I would like to one day release an album with all these traditional influences with a modern twist," Markoski added.
He has participated in numerous festivals, performances, competitions, and concerts over the years, and recorded several songs that became number one hits on Macedonian radio and television networks.
After posting music videos online for approximately three years and building a loyal fan base, when he released a video of himself playing the violin cover of the Titanic Love Theme he shot to global music fame, surpassing one million views overnight.
Since that moment, Markoski has been investing in his music and videos to establish himself as a professional in the music industry.
"Working in the music industry got me into video production, which helped me a lot in complementing my music with a good video, which is important since it provides the visual aesthetic to the sound."
Markoski uses his hometown of Ohrid as a backdrop in the majority of his videos because he wants to show the world the beauty of his birthplace. "Ohrid is a small but historically significant town known for its 365 churches, one for each day of the year. This is why it is known as the 'Jerusalem of the Balkans'."
Although he has previously worked on music covers, Markoski has recently signed with one of the largest marketing agencies for performing artists and is looking forward to the next chapter, which will include recording original music and duets with international artists from other European countries, including Greece and Cyprus. "I love Greek music, and I feel very connected to it," he said.
"I hope to visit Cyprus soon and collaborate with a local artist who will either sing or play along with my violin performance. It will be a fantastic opportunity to bring together two beautiful cultures through the global language of music."
However, he believes the most important thing to remember on the journey to success is that it does not happen overnight. "It is essential to focus on yourself as an individual, to invest in yourself, to believe in yourself, and to keep evolving so that you can look in the mirror confidently and say, 'I am proud to be Petar Markoski, a violinist who is about to change the global music scene'."