At Wiggle, ALIX NORMAN meets the devoted couple who are determined to increase the island's levels of intimacy
Were you one of the one in 20 people in Cyprus who searched for 'sex toys' last year?
The number seems high, especially given our island's cultural taboos. But then the internet is fairly anonymous, and it's far easier to buy a vibrator online than it is to walk into a Strovolos sex shop and run smack into your second cousin!
Other countries are, of course, even more proactive regarding their pleasure. One in 10 people in the UK and the US searched for 'sex toys'; 7 in 100 in Greece, and 12 in 100 in Denmark and Sweden. Understandably, given culture, religion and disposable income, the least number of searches occurred in Africa (just one in 1,000 in Liberia, Nigeria and Chad), the Middle East, and the less-developed Asian nations.
But nevertheless, say Milly and Ben Jones, Cyprus has come a long way in the last few years. Sex toys are no longer the purview of dark and dodgy dive shops; hurried don't-tell-the-wife purchases to be hidden in the back of the shed!
Instead, the island is coming around to a more open way of thinking. Now, we're beginning to realise that sex toys are actually sexual aids – a welcome and healthy addition to intimacy.
The couple behind Wiggle, Milly and Ben have been married for years. They've experienced the ups and downs of "unknowing, uninformed learning together" as well as the "major physical and mental developments that affect one's relationship over the years.
"There have been moments when we could easily have grown apart," says Ben, referencing life changes such as post-partum, menopause, job loss and moving country. "And that obviously impacted the sexual part of our relationship. But as we have aged, our ability to communicate our desires has grown stronger. Being able to openly say 'I want to try this', or 'this fantasy turns me on' without the fear of judgement is huge!"
Wiggle.cy launched in May, and it's already set to be a go-to for singles and couples of any orientation and at any stage of life.
"Primarily we positioned ourselves as female-focused," says Millie. "But we're certainly not exclusively for women. Most other sex shops on the island speak more to men, and our more female-focused narrative is key to guiding everything from brand style to product selection.
"As a woman," she adds, "I've always felt that sex shops in Cyprus scream 'men only'; they're usually hidden away, and offer outdated merchandising and marketing rather than an enjoyable shopping experience in store or online. We've tried them all, and I hated every visit. Plus there's the fact that local sex shops focus on, well, sex. But there are whole other areas of intimacy involved when it comes to sexual wellness, women's health, information and resources."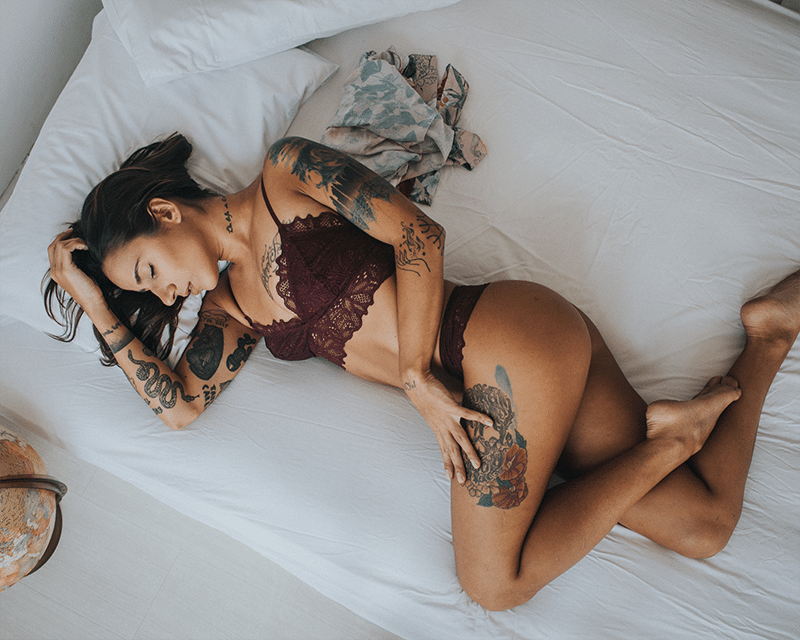 Unlike most shops that focus purely on merchandise, Wiggle is a space for anyone and everyone to find products, information, community and support. In 2014, a study on sex toy sales in the UK found that women buy sex toys just as much as men – a split of roughly 49 to 51 per cent. And men are actually more likely to be unsatisfied with their purchases (apparently, sex dolls are the most returned item of all – let's hope they're not being sold second-hand!).
Regardless of gender or proclivity, Wiggle is there for everyone on the island. "Whether you're going through a tricky relationship phase, learning to love your body after childbirth, dealing with the rollercoaster of menopause, or working through sexual health related issues, this is a space to explore pleasure, enable sexual wellness, empower intimacy and develop connections," says Ben.
"As well as providing a range of products for all tastes, we also offer information and support: our blog covers topics ranging from sexual and mental health to pleasure and everything in between, while our modern and comfortable Instagram has an aesthetic that sets us apart. Yes, we sell sex toys to Cyprus. But that's certainly not all we do!"
That said, the sex toys that are sold are definitely a cut above the usual. Wiggle imports globally recognised brands, including leading luxury sex toy brand Lelo, as well as toys from Ooh By Je Joue, Satisfyer, and Pipedream. For the most part, they're pretty – top quality, designed to reach the right parts, and in a range of fetching colours. Heavy black dildos are a thing of the past here; instead it's discreet bullets in shades of teal and emerald, smartwands in rose and gold, and stimulators in lavender and cerulean.
Of course there are also a fair few vibrators (variations of the ever-popular rabbit abound); any number of dildos (including a pride number in the colours of the LGBTQI+ flag), and more than a few anal toys. But there's also a wide selection of wellness products such as kegel balls, lubricants and candles; a rich selection of delicate lingerie (the kind women actually want, as opposed to the uncomfortable monstrosities their partners favour!); and products aimed specifically at those who enjoy a spot of bondage now and again.
There's a section aimed specifically at men (the masturbator egg looks rather different). And a delightful couples' category, complete with pasties, duo ring vibrators, and remote-control eggs. In short, it's stuff that's exciting to browse, rather than seemingly shameful. Products designed to reignite desire.
"Intimacy can be one of the first things that falls off the radar when life gets in the way," says Milly. "These days, everyone has so many personal and professional commitments, it can take a conscious effort to make time for yourself and your partner. But the last thing you want to be doing is trawling through endless pages of super-sized plugs and itchy knickers in the hope of rekindling intimacy!
"Instead, Wiggle is about promoting comfortable dialogue, providing exciting products, and helping you to explore what works best for you. And we're there for Cyprus, for anyone who needs us."
Wigglecy.com offers adult products and information to help everyone with their sexual journey. Shipping is within Cyprus only, and all items are discreetly packaged