Spending more time at home than ever before has seen out our beauty routines, in common with a lot else, change. ALIX NORMAN finds out how
Corona has changed our beauty routines – quite possibly for good.
For a start, Covid and make-up are Not A Good Mix. Lipstick has gone out the window – what point is a hot scarlet lip when nobody's going to see it beneath that mask? The same goes for foundation, tinted moisturiser, blusher… Because, thanks to masking up, it's only the eyes that have it: while sales of most make-up products have plummeted over the last year, purchases of eye make-up (shadow, liner, mascara, and brow pencils) have actually risen!
Of course a huge part of the falling make-up sales is due to the lack of in-store opportunities. If you've ever dropped by MAC or NYX, you'll know the joy of personally trying on a fresh shade of lipstick, or testing a silky new foundation on your jaw. Prior to the pandemic, our in-store make-up shopping accounted for 85 per cent of beauty product purchases – even the millennials and Gen Z (famed for their online retail obsession) bought over 60 per cent of their beauty products in person. But now, we're e-shopping our make-up; taking a chance on a delectable nude lipstick that might just, once applied, make us look like a washed up porn star!
Thankfully, says Limassol-based beauty blogger Christina Maria Kyriakidou of Secrets in Beauty, it's technology to the rescue! "A lot of make-up brands such as Bobbi Brown and Tarte have begun offering online matching services," the expert reveals. "You upload a photo or activate your phone camera, and you can colour match lipstick, foundation, blush – whatever you like – to your skin. I've tried it myself," she adds, "and as long as you get the lighting right" – Christina recommends natural daylight for this service – "it works really well."
Skincare is another corona-affected area. Maskne is now a Very Real Problem, and even those who have managed to remain unblemished are struggling. Still, skincare has become the rising star of the pandemic. Vogue USA reports that at-home beauty tools have become a key trend over the last few months, with facial steamers, jade rollers, and scrapers growing in popularity as people everywhere have more time at home.
Facemasks (the beauty kind, not the ones we've all grown to hate) may scare the cat, but they're a doddle when you're working remotely: just pop on a green clay concoction and cleanse while you type. Or go one better with a steamer – with more time in the house, searches for this cleansing, purifying beauty tool jumped 70 per cent last year. And face spatulas – a trend which involves some heavy duty scraping, but works like a charm on blackheads – are another increasingly popular purchase: as long as your Zoom call is audio only, you could be purging your skin of impurities during a meeting!
Christina works primarily from home at the moment, and admits to eschewing a full face of make-up and plumping for a colour correcting cream and a touch of lip balm at the most. "Skincare has always been my main passion," she acknowledges, "and before the pandemic, I would visit the salon twice a month for various treatments."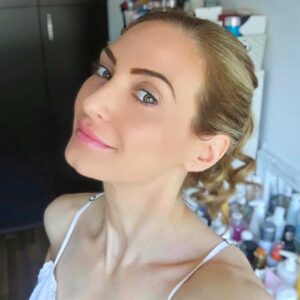 However, given the necessity of protecting her family, the salon is now a no-go for our beauty expert, who uses a jade roller and home microdermabrasion tools to keep her skin in good shape. "Skincare has definitely gone more DIY during Covid-19," she notes. "But that doesn't mean you need a slew of expensive tools. Just cleansing, toning, and moisturising is enough. Especially cleansing: even if you don't do anything else, cleanse thoroughly – if you apply costly lotions and potions to dirty skin, you're just throwing money down the drain; they simply won't work properly!"
Christina also mentions hair as part of our changing beauty routines. Under Covid, it's your hair, not your smile, which has become your most noticeable beauty feature. And with salon visits pretty much out of the question at the moment, haircare has gone all DIY and DIAH – do it at home.
"I used to visit my hairdresser every four weeks for a root touch-up, and once every couple of months for a trim, but that's now out of the question," says Christina. Instead, the beauty blogger focuses on twice-weekly at-home hair treatments.
"You don't have to spend loads of money. Just a little bit of olive oil in your conditioner can make all the difference," she reveals. As for the dreaded at-home chop, "I occasionally trim my split ends, and I've cut my daughter's hair," she says, "but I won't risk cutting my own. Instead, I'm looking on the pandemic as a good time to be patient with your locks, and focus more on quality than quantity! Let your hair grow, give it a break from colour and heat damage, air-dry naturally when you can. This is a good chance to allow your hair a healthy time out.
"In fact," Christina smiles, "taking a time out is a good message for our whole beauty routine! At the end of the day, beauty comes from the inside and radiates out: no matter your budget or brand, being beautiful is about taking the steps that make you feel good about yourself. And who doesn't want to feel better after the year we've had?! So if you fancy a break from endless treatments and a full face of make-up, that's fine; we're all doing it! Just remember to cleanse, tone, and moisturise!"
For more information on Secrets In Beauty, visit https://www.secretsinbeauty.com/