Agriculture is largely responsible for getting Cyprus to where it is today. A new theme park will reflect the history of cultivation on the island and provide a full experience, while being fully environmentally friendly. ALIX NORMAN finds out more
Fresh halloumi. Rich wines. Plump olives. Sweet carobs. And field upon field of aromatic herbs… This is the essence of Cyprus. Today, we may think of the island as a tourist destination or a business hub. But our real wealth was once measured in yields and harvests. And it's this land – along with its people and produce – that's set to be celebrated in a new theme park immortalising the crafts, passions and people who have made Cyprus what it is today.
Prastio Kelakiou Ecological Farm has been in the works for over a decade; a vision for even longer. "My grandfathers were farmers, they gave me my love of the land, inspired me to become an environmental chemist," reveals founder Costas Constantinos, who envisages the park opening within the next two years.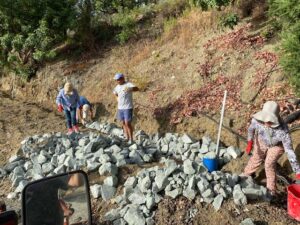 Costas has long dreamt of creating a theme park to showcase the traditions, ethos, values and unique beauty of Cyprus while, at the same time, promoting permaculture and sustainable agriculture. But it wasn't until he found the right land, 70 fertile acres in the foothills of the Forest of Kyparissia outside Limassol, that he was able to put his plan into action…
"While studying and working in the States, I'd been involved in several similar projects," Costas explains. "In California I helped set up a carob permaculture farm, then in Israel I worked on an agricultural integration project, I helped start an olive plantation in Argentina, which produced extra virgin olive oil."
The land for the park was chosen after careful consideration – "the aspect, altitude, soil: everything had to be perfect," Costas reveals – and then rested for four years to ensure it was fully organic. Because there are two sides to the Prastio Kelakiou Ecological Farm: this is a place which will not only celebrates the island's heritage, but also promote environmental education of cultivation and sustainability…
There will be olive groves, botanical gardens, organic grapes. There's going to be a winery, a distillery, an olive mill and an organic farm; a cheese plant, an archive of rare Cyprus seeds, a restaurant, and guest houses. And everything – no matter the cost or the effort involved, says Costas, who has financed the entire project himself – will be as eco-friendly as possible.
From traditional stone retaining walls, to naturally terraced vineyards, Costas has planned for a park which showcases the very best of environmentally-friendly methods of cultivation. "Irrigation and water treatment is already in place, and works through gravity rather than electrical pumping systems," he explains. "The buildings will utilise the natural incline of the surrounding hills and trees to heat or cool; so both the winery and the distillery have two storeys, the lower situated specially for cooling and ageing. We have three separate composting units designed to provide the plants with all their nutrients. And everything we use – even the food waste, which will be pasteurised to ensure no harmful bacteria remain – will be reused either as compost or animal feed."
Wherever possible, natural materials are the order of the day: "It's very important that we use materials and techniques close to nature," Costas clarifies. "Local stone, wood, and iron mainly; we're minimising the use of concrete and other man-made materials. Even the guest houses will be created from traditional materials," he adds.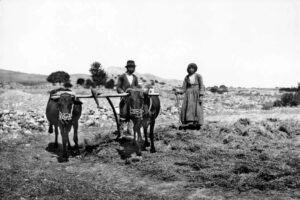 Meanwhile, the farms and plantations will be worked according to the seasons – "just as our ancestors did," says Costas. "September and October for wine and zivania; olives in the winter months; blossom distillation in the spring. There will be year-round workshops – cosmetic-making from natural ingredients, artisans showcasing traditional crafts such as basket weaving and candle making – for locals and tourists to enjoy. In fact," he adds, "I know so many people who fly from Cyprus to the Alps or the States to see permaculture and agrotourism in action; the dream has always been to demonstrate that this can also happen on a large-scale in Cyprus."
The park, he admits, has taken much time and effort. But much is already complete: the environmental impact and traffic studies have been carried out, the blueprints drawn up, the earthworks completed. Terraces and irrigation are in place, everything has been legalised, and the doors will open to visitors in late 2023.
"I've already poured so much work and money into this project," he smiles. "But there's a fantastic team behind the dream, and we have the support of the authorities: ministers, heads of departments, local mukhtars – we're now receiving the very last of the permits we need, and everyone wants this to happen.
"In Cyprus," he adds, "agriculture is in our genes. Our ancestors were farmers: they grew grain on the Mesaoria, carobs and olives on the coast, grapes in the mountains. We come from the land, and people seem to have forgotten this – forgotten what the rich, beautiful land of Cyprus has done for them, and how important it is for us to protect and sustain our environment. Almost everyone who went abroad for their education has done it on the back of the land, on money their forebears made from farming. And with the Prastio Kelakiou Ecological Farm, we're taking this rich agricultural heritage and showing our children – and visitors – a sustainable, environmentally-friendly way to preserve and protect our culture, our crafts, and our land for the future."
The Prastio Kelakiou Ecological Farm is set to open to visitors and guests in 2023. For more information, visit https://www.decostalabs.com/