By Ella Walker
As you'd expect, there's many a plum-coloured, tear-shaped fig in Yasmin Khan's new cookbook, Ripe Figs. More so though, there is strength, pain, hope, heroism, loss, and lots and lots of olive oil.
"I get through too much olive oil," says the London-based food writer with a laugh. "I definitely get through those big one-litre bottles probably more than I'd like to admit."
It's a crucial component in Eastern Mediterranean cuisines; even treated reverentially as a seasoning, not just a lowly cooking medium. "I love that," says Khan, 40. "I just have a bottle of olive oil I bring to the table in the same way I'd have salt and pepper." Those liberal sloshes of olive oil – be it in a Cypriot-style chocolate and orange mousse, or dressing barbecued sardines in vine leaves – embody the generosity and hospitality Khan chronicles in the book, through gleaned recipes and moving reportage.
It took four separate trips to the Eastern Med – each two to seven weeks long, over the course of a year – for Khan to pull together the stories she shares from cooks, restaurant owners, volunteers, migrants and refugees across Turkey, Cyprus and Greece. These encounters sit between ideas for hot yoghurt soup, sour cherry cheesecake and Afghan spiced pumpkin.
Ripe Figs, she hopes, will help change the persistently negative narratives around migration. "Don't get me wrong, with the climate crisis, we are going to see huge numbers of people moving because they have to," says Khan, but "it's also really important to realise that throughout human history, for the thousands and thousands of years we've existed on this planet, we have always moved; people have moved through empires, for trade, for agricultural reasons. This notion of statehood and nation states is pretty modern." Camps and human rights abuses seen at borders, are, "I think, trying to stifle something that has naturally existed for our species," she adds.
"Amidst this really difficult situation that many of the people I was speaking to found themselves in, we could always find ourselves smiling or laughing when we started sharing recipes, or when we were working in the kitchen," Khan recalls. "Food and cooking; it's one of the few ways you can escape the reality of what is going on around you. It can provide huge solace and comfort."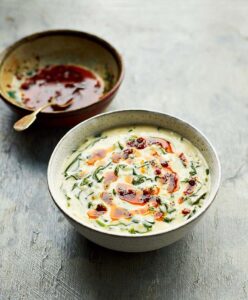 Hot Yogurt and Spinach Soup
(Serves 4)
85g short or medium-grain white rice
1l hot chicken stock
500g full-fat natural yogurt
1 large egg yolk
1½tbsp cornflour
200ml lukewarm water
1tsp dried mint
200g spinach, roughly chopped
Salt and white pepper
40g salted butter
1½tbsp dried mint
1½tsp pul biber (Aleppo pepper), or other mild chilli flakes
Rinse the rice under running cold water for a few minutes so the starch washes out, then place it in a large saucepan. Pour in the hot stock, cover and simmer for 12–15 minutes, until the rice is cooked.
In a bowl, whisk together the yogurt, egg yolk, cornflour and measured lukewarm water until smooth.
When the rice is cooked, take a ladleful of its cooking broth and add it to the cold yogurt mixture, whisking as you do so to warm it up. Then take the saucepan with the rice in it off the heat and very slowly, half a ladle at a time, spoon in the yogurt mixture, whisking all the time so it doesn't split.
Return the soup to a medium-low heat and add the mint and half a teaspoon each of salt and white pepper. Simmer for five minutes until the soup has thickened.
Add the spinach and cook for a further five minutes, then taste to adjust the seasoning to your preference. In a separate small saucepan, melt the butter for the topping with the dried mint and pul biber.
When you are ready to serve, ladle the soup into warmed bowls, drizzle a couple of teaspoons of the hot chilli-mint butter over each portion and serve immediately.
Sour Cherry Cheesecake
(Serves 8)
200g digestive biscuits
100g unsalted butter, melted
600g full-fat cream cheese, at room temperature
200g strained full-fat Greek-style yogurt
200g caster sugar
3 large eggs, lightly beaten
1tbsp plain flour
1tbsp vanilla extract
1tsp finely grated unwaxed lemon zest
1tbsp lemon juice
For the topping:
400g frozen, pitted sour cherries
150g caster sugar
1tbsp cornflour
Line a 23cm springform cake tin with baking parchment. Put the biscuits in a food processor and blitz to crumbs. Mix the crushed biscuits with the melted butter, then spoon into the prepared tin, pressing down the base to form an even layer. Transfer to the refrigerator to set.
Beat the cream cheese and yogurt until smooth. Whisk in the sugar, eggs and flour, then the vanilla, lemon zest and juice.
Preheat the oven to 160C. Pour the filling into the chilled biscuit base and bake for around one hour. You can tell it is cooked when it looks set but still has a wobble in the middle. Now turn off the oven, open its door and leave the cheesecake to cool for 10 minutes without touching it. Remove it from the oven and leave to cool completely, then chill for four hours.
To make the topping, place the frozen cherries and sugar in a saucepan over a medium heat. Stir frequently to begin with, so the sugar doesn't catch. Once the cherries have defrosted and the sauce come to the boil, add the cornflour and simmer for five minutes. Set aside and leave to cool.
To serve, either spoon the topping all over the cheesecake, or slice the cheesecake into pieces and place a dollop of cherries on top of each serving.
Ripe Figs: Recipes And Stories From The Eastern Mediterranean by Yasmin Khan is available now