Half a million lakes, 4500 rivers, and over 13,000 kilometres of coastline… Quebec is a watery sort of place! Even its name pays tribute to its aqueous nature: 'Kebec' in Algonquin means 'where the river narrows'. Canada's largest province is a bit of a natural paradise. The Big Five (the grey wolf, blue whale, snowy owl, black bear and the moose) still range (swim and fly) free in Quebec and there are enough trees to cover Sweden twice over!
Quebec City is both the capital and the oldest French speaking community in North America; even today, 95 per cent of Quebec's population register as French-speaking.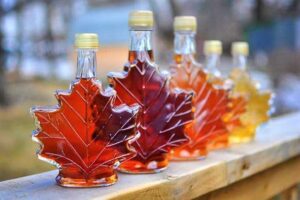 The Gallic influence is prevalent in everything from architecture to education. And, of course, the food. Québec's cuisine is descended from that of 16th-century France, though harsher conditions drove immigrants to adapt the traditional fare. Chaudrées charentaises (named for Charente-Maritime in France) has evolved into the fish chowder quiaudes of the local Gaspesia peninsula, and the tourtes salées of the French city of Poitiers have become the tasty meat pie tourtières of Quebec.
Many Québecois still make pâté marmite; soupe aux gourganes (based on gourgane beans, a strain of fava bean), and pot-au-feu, an iconic French stew made with beef, root veggies, and cloves. Blood sausage remains popular, as does ragoût de pattes de cochon, or ham hock stew.
French-style pastries and desserts also remain a staple. Bakeries serve gorgeously Gallic crêpes, beignets (a delicious deep-fried pastry), and croquignole biscuits (a sort of elongated meringue), along with maple syrup-laced dumplings, known as grands-pères.
But perhaps the most famous regional dish is a little more modern: poutine, or fresh-cut chips served with cheese curds and gravy. Apparently, it first appeared in 1950s in rural Quebec, making its way across the province and out into the wider world by the 1990s. And yet poutine is still not the most famous foodstuff to come out of the province… That accolade goes to maple syrup. Quebec is the biggest producer of maple syrup in the world, accounting for 72 per cent of global sales.