By Prudence Wade
When Rukmini Iyer moved back in with her parents during the first lockdown of 2020, she accidentally found herself with the most honest recipe testers she could have hoped for.
"My mum doesn't really hold back on constructive criticism," the food writer and cook admits. "I think her words are, 'If I don't tell you, then who will?'"
But that honesty came in useful, with Iyer saying it was "really helpful to get her feedback" – particularly as she used the time to write her latest cookbook dedicated to veggie and vegan barbecue recipes.
As well as being a way to bond with her family, Iyer fell in love with the therapeutic elements of barbecuing. "It was probably just being outside a lot," she confesses. "I wrote the book during the first lockdown – I was in my parents' garden and I didn't want to spend any time indoors, because it felt strange to be in that lockdown situation.
"I was even doing all the prep outside. I was taking a chopping board, all my veg, a couple of little bowls, doing all the prep outside and sitting and waiting for the barbecue to light. It was maximising being in open space."
As the summer gets nearer, many of us will be looking to fire up our barbecues as an easy way to see friends and family outdoors. Iyer's book offers an alternative to the meat fiestas we're used to, and she hopes it will encourage barbecue novices to give green dishes a go.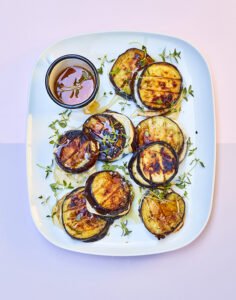 Aubergine and Goat's Cheese Burger Stacks
Serves 4
2 large, evenly sized aubergines
2 x 100g rind-on goat's cheese wheels
A handful of fresh lemon thyme sprigs
Olive oil, for brushing
Sea salt flakes
Freshly ground black pepper
Runny honey
Crusty bread rolls, to serve
Cut the aubergines into 1cm slices, and the goat's cheese into very thin rounds. Sandwich each piece of goat's cheese between two similarly sized slices of aubergine, along with a sprig of thyme. Brush both sides of the aubergine with oil and add a tiny pinch of sea salt flakes and black pepper.
Once your barbecue is ready, place the aubergine stacks on the grill and cook for 10–15 minutes per side, until the aubergine is cooked through and the cheese has melted. You can flip them every five to six minutes or so and give them a brush with olive oil.
Transfer to a serving platter, drizzle with honey, scatter over the remaining thyme, and serve with crusty rolls on the side.
Squash with Charred Carrots, Red Onions, Coriander Seeds, Pistachios and Lime
Serves 4
600g squash, cut into 2½ cm slices (no need to peel)
150g baby carrots, whole and unpeeled (or 3 medium carrots, peeled and halved)
1 red onion, quartered, core intact
2 teaspoons olive oil
1 teaspoon coriander seeds, crushed
1 teaspoon ground cumin
1 teaspoon sea salt flakes
50g pistachios, roughly chopped
For the dressing:
2 tablespoons extra virgin olive oil
1 lime, zest and juice
2 teaspoons coriander seeds, crushed
½ teaspoon black peppercorns, crushed
1 teaspoon sea salt flakes
Tip the squash, carrots and red onion into a large bowl, and mix with the oil, spices and sea salt flakes.
In a separate bowl, mix the extra virgin olive oil, lime zest and juice, coriander seeds, crushed black pepper and sea salt flakes. Taste and adjust the salt as needed, and set aside.
Once your barbecue is ready, lay the squash slices on the grill, and cook for 25 minutes on each side, covered if you can. The carrots and the onions should only take about 15 minutes per side, so pop them on 10 minutes after the squash and take them off 10 minutes before the squash.
Once the vegetables are all cooked through, transfer them to a platter and gently mix with the lime and coriander-seed dressing. Scatter with the pistachios, and serve hot or warm.
The Green Barbecue: Vegan & Vegetarian Recipes To Cook Outdoors & In by Rukmini Iyer is available now