It would be cliche to reiterate how important location is for a business, particularly one operating in the service industry but a recent visit to Limassol's Hobo Mediterraneo hammered that point home.
Hobo, as it is more commonly known, is located in the Limassol marina complex. Surrounded by other restaurants, bars and shops, it has the benefit of offering a view of the sea and the marina's numerous berthed yachts and boats. Leaving any existential questions about the acquisition of wealth aside, it is very pleasant to enjoy a drink or a meal in. This is the restaurant's trump card, particularly when seated in Hobo's exterior area.
We arrived 20 or so minutes earlier than our reservation time and there was no table set out for us. In fact, no table had been reserved at all. While this ultimately worked in our favour as we had the freedom to essentially pick any table we wanted and the staff were nice enough to point this out, this may not always be the case. Moreover, after we had ordered our drinks, the wrong bottle of wine arrived which the waiter had already opened in front of us. While they immediately offered to replace it with the correct bottle, it does raise the point of the customer not having to ensure that their drink is indeed the right one. These are very minor gripes and did not ruin the experience at all but they need to be pointed out.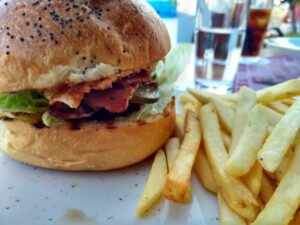 In terms of the food, the first main dish we ordered was the Wild Mushroom Tagliatelle, which was indeed both well made and well presented. The pasta was cooked perfectly and the combination of the wild mushrooms and the creamy sauce, alongside the parmesan flakes and parsley stems worked very well together. A case of every individual ingredient complementing the others. One note on the pasta options. The five pasta dishes available on the version of the menu we received, which includes an intriguing saffron prawn linguine dish, all contained cream in them. Creamy garlic sauce, creamy white vodka sauce, carbonara sauce, and so on. I just found it somewhat strange that no pasta dish with a more traditional tomato-based sauce was on offer.
The second main dish was the Chicken Caesar Burger, which contained an unbreaded grilled chicken fillet, caramelised onions, bacon, lettuce, pickled cucumber and caesar sauce. The bun was studded with poppy seeds and the burger came with classic fries on the side. The caramelised onions were particularly well made, with a smoky flavour hinting at the addition of some smoky paprika or something like Worcestershire sauce while I appreciated the fact it was not absolutely dripping with caesar sauce.
Replete we did not even think of looking at a dessert menu.
VITAL STATISTICS
SPECIALTY Beverages, sandwiches, burgers, grilled meat and fish
WHERE Limassol Marina, Limassol
WHEN 9am-10:30pm
HOW MUCH €12 for a burger, €12.50 for pasta
CONTACT 25 051555