Always an international place, Ibiza has been claimed over the centuries by pretty much everyone: the French, Greek and Roman empires, as well as crusading Norwegians, and British sailors heading from Gibraltar to Menorca. Originally known as Ibozzim, the island was dedicated to Bes, the God of music and dance (pretty apt given its current reputation as a party place), and enjoyed a bit of hedonistic reputation with travellers far and wide. They came, they conquered, they danced and sang and ate. And, over time, their own national dishes were incorporated into the local cuisine…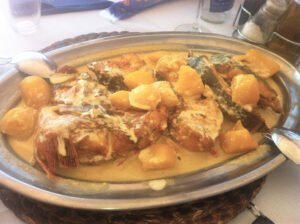 Seafood is popular all over the Mediterranean, and Ibiza is no exception. This autonomous community of Spain is just under 600 km2. Paellas de Marisco is an iconic Spanish dish that's been adapted by the locals: here, along with crab legs and lobster, you'll find Ibiza shrimp, local grouper (or sirvia) and Mediterranean monkfish. Fish stew becomes bullit de peix, modified to local marine life (usually smaller whitebait type fish, mixed with potatoes and rice). And the seafood grill that's so popular in countries with a coastline has been translated to parrillada de pescado, which typically consists of the day's catch: bacalao, mero, and rodaballo, along with prawns, squid, lobster, and octopus.
More meaty dishes also make the menu. Sobrassada is the unofficial island sausage, made from ground pork, paprika and spices, while botifarra is the local blood sausage, enjoyed for centuries. Then there's sofrit pagés – a traditional Balearic stew that's a hearty mixture of meats such as chicken, lamb, and our aforementioned sausages, along with potatoes, peppers, and artichokes. And Arròs de Matança: a rice dish which includes local meat, saffron and wild mushrooms, and comes in as many varieties as there are Ibizan families.
For breakfast, it's probably ensaïmada (a light, fluffy pastry dusted with icing sugar and filled with cream or pumpkin), or a pastry that's easily recognised from one end of the Mediterranean to the other… the flaó! Semi-circular in shape, this confection is usually filled with local sheep or goat cottage cheese, along with raisins, almonds and a little honey.