The newest freediving World Record was set right here in Cyprus earlier this month. Alix Norman finds out what it takes to be a champion freediver
Freediving World Champion Jennifer Wendland can hold her breath for seven minutes – longer than it takes to read to the end of this article! Granted, that's in a static position – when she's diving, the number halves. But it was still enough to secure her a freediving World Record, achieved right here in Cyprus earlier this month!
Once a profession (freedivers harvested pearls in the Middle East, sponges in Greece, and even conducted submarine warfare as far back as 330BC) rather than a sport, freediving has soared in popularity of late. And Jennifer is one of its most ardent enthusiasts.
"People are fascinated by the aquatic potential humans can develop," explains the 35-year-old German, who hails from Essen. "And since the ability to relax is one of the most important aspects of freediving, it can also be good contrast to hectic modern life!"
As freediving grows in popularity, so too do specific destinations with ideal conditions. Thanks to its year-round warm waters, still seas, lack of depth currents, superb visibility, easy access to the water, and excellent freediving safety standards, Cyprus is rapidly becoming a favourite for training and competitions. And now, it's the location of the latest World Record attempt…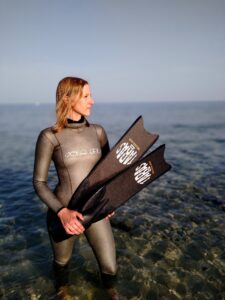 "I've been to Cyprus before," says Jennifer, "securing a bronze medal in the 2015 AIDA (Association Internationale pour le Développement de l'Apnée) World Championships. So Cyprus was always a place of fond memories for me. Also, it's the home of world-renowned freediver Savvas Savva, who owns the Free2Dive Freediving Centre in Limassol and organises international competitions. His safety standards are excellent; his organisational skills second-to-none. So though I came to Cyprus this summer purely for training, in the end, with Savvas' help, I decided to go for the World Record!"
Diving to a depth of 93 metres on a single breath of air, and aided only by her fins, Jennifer set a new World Record in the Women's CWTB (Constant Weight Apnea With Bifins) discipline on July 2, surpassing the previous record by a whole metre.
"One metre more is enough to set a World Record," she explains, "and I didn't want to make the attempt harder than needed. Freediving," she continues, "is an exacting discipline. And each attempt at a record requires a lot of preparation and training. So during the winter I'd set the foundation for deep diving: endurance, strength, flexibility and technique. In the last two months I added some depth training, and gradually increased my depth."
Although Jennifer only started training in this discipline about a year ago – "I'm not a full-time freediver; I work as a B2B Retail Coordinator in E.ON" – she's long been a devotee of the sport. "While doing my Master's, I started underwater rugby. And when I discovered I was quite good at holding my breath, I took a freediving course…"
Although a complete beginner at the time, Jennifer came very close to the German National Record in distance diving in the pool! "My instructor encouraged me to explore my capabilities. But freediving is not a big sport in Germany – our lakes are cold and dark; visibility is very poor; and, anyway, there's not that much interesting stuff to see in them! So I began to spend three or four months of the year travelling the world to access depth training and competitions."
Today, thanks to the understanding of her employers, Jennifer visits freedive destinations all over the world. "My main training spots include Egypt and Cyprus – Limassol in particular. Not only are conditions perfect here, but the island is also a natural gem: lovely people, excellent food, gorgeous mountains and remote beaches. Plus, we have access to excellent equipment and services…"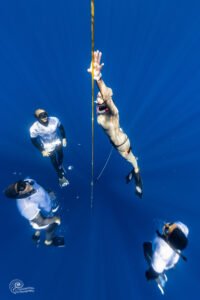 To attempt a World Record, freedivers require one organiser, two judges, two or three safety divers, a doctor, a paramedic, and an ambulance on stand-by. Then there's the diving boat, the evacuation boat, a dive line with counter-balance, sonar and lanyard for safety, and oxygen in case of emergency.
"You also need your own personal equipment," Jennifer reveals, "which consists of a nose clip, goggles or mask, fins, lanyard, neoprene suit and weights, along with a few cameras to document the dive. Then, after months of training, you're ready…"
On the morning of the dive, Jennifer practised mild stretching and meditation. "Directly before the attempt, I simply relax on the surface and enjoy the waves and the water. Generally, I'm very focused and relaxed before and during the dive. Although attempting the World Record did make me a little nervous…"
The record-beating dive, however, was a very joyful experience: "I even enjoyed the company of some jellyfish when I got to a depth of 80 metres! And then, directly afterwards, I couldn't believe I'd done it. There was so much happening, including the doping test, formalities and media, that I only realised what I'd achieved the next day, when I had time to myself!"
Although this is the only women's freediving record to be set in Cyprus, it's not the first. "In 2004, Venezuelan Carlos Coste visited Cyprus and became the first AIDA Depth Individual World Champion – the first recorded human to go below 100 metres on one breath," says Jennifer. "But my record certainly won't be the last to be set here!"
An ideal location for a sport that's constantly pushing the boundaries of human ability, Cyprus will be hosting the AIDA World Championships this September. And Jennifer will return once more, this time in company of hundreds of other freedivers…
"The freediving community is very open and supportive, and attracts mostly relaxed and curious people," she reveals. "There's a misconception that freediving is an extreme sport for adrenaline seekers. But adrenaline is the last thing you want during a dive: it elevates heartbeat and increases oxygen consumption.
"Instead," she concludes, "freediving requires you to be absolutely honest with yourself, enjoy a high level of awareness, and possess a desire to explore your limits. You need to adhere to very strict safety rules; when you dive, there's a whole team to ensure you're safe. And you spend months on endurance, weight lifting, swimming techniques, breathing tables, mental training and equalisation.
"The biggest danger in freediving is," she concludes, "your own ego. That, and the traffic on the way to the beach – which can be quite enough to take anyone's breath away!"
For more information, visit AIDA International or Free2Dive