Yes, yet another review of a pub. Don't mistake it as a sign of repetitiveness or lack of effort. It's just that Nicosia is incredibly flush with choices when it comes to pubs.
There are more pubs in Nicosia then in many other European countries I've had the luck to visit. And the choice is really vast.
From German pubs featuring Weiss beers, pretzels and a wide range of regional sausage varieties, to classic British pubs – to be fair, less than one would imagine, considering the historical ties the country has with the UK – every preference is being catered for.
However, American-style pubs take the crown in the capital. And one, in my opinion, has a slight edge on all others – B.R. Hub.
Located in Strovolos, B.R. Hub ticks all the boxes in terms of food, drinks, atmosphere and location.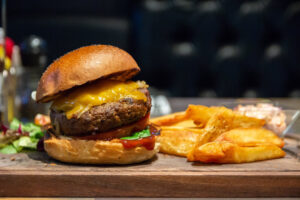 Granted, all dishes are somewhat familiar to pub-goers. Loaded nachos, burgers, BBQ ribs and buffalo wings are staples of the American-style pub all over the world. However, that does not necessarily translate into an easy choice for whoever cooks them.
Allow me to explain. People like me who do not shy away too often from places similar to B.R. Hub have learned to understand what constitutes a good pub dish and, more often than not, disappointment creeps in at the end of the meal.
Well, that did not happen after my meal at B.R. Hub. That does not mean that everything was flawless – the music was great, but too loud for my taste and my table waited too long to be served – but overall, the pub passed the test with flying colours.
First, the food. Choice-wise, it is impossible not to find something for every palate. I'm not usually a fan of oversized menus. As far as I see it, too much choice often lowers the bar in terms of quality.
However, along with my other three dining companions, we did not find a single significant fault in any of the dishes we ordered.
The rack of ribs I ordered was juicy and did not come completely drenched in BBQ sauce, as happens in so many other places. The double cheeseburger another person chose was nothing more than solid, but it was ordered medium-rare and, would you believe it, it came medium-rare! Trust me, that's often and annoyingly overlooked in pubs.
My other two dining companions went for much lighter and slightly less popular dishes, but I must say that the maple-syrup glazed salmon and the grilled chicken breast fillet, marinated in a herb and lemon sauce were both worthy of praise, both for appearance and texture.
We all agree that drinking is key in pubs, However, in most place I have been recently, exception made for highly specialised establishments such as Brewfellas in Nicosia or 1900 in Larnaca, I found the beer choices tired and repetitive.
B.R. Hub in that sense was a breath of fresh air. Among the many treats on offer, I recommend the St Sebastiaan Grand Cru, a golden, heavy fermented abbey beer with a distinctive fruity aroma, and the Chimay Red, a distinctive and slightly bitter amber beer brewed by the Cistercian monks from the Abbey of Scourmont in Belgium.
Yes, it's just a pub, no more, no less. But, if you do decide to go to one, choose appropriately. Do yourself a favour and go to B.R. Hub.
VITAL STATISTICS 
SPECIALTY Pub food
WHERE Athinon 22, Strovolos, Nicosia
WHEN Daily 9am-12.30pm
HOW MUCH €6 to €8 for starters, €10 to €27 for mains, €4 to €6 for desserts
CONTACT 70087018