These are 'the perfumed isles', renowned for the sweetly-scented plants that fragrance the air. Honeyed ylang ylang, rich vanilla, spicy clove – all grow in abundance, and are sought after for perfumes around the world.
Beautiful it may be, with its lush vegetation, soaring volcanic peaks, and pristine beaches lapped by the turquoise seas of the Indian Ocean, but the Union of the Comoros suffers from sky-high income inequality. With a growing population and few natural resources, poverty is rife. And the topography certainly doesn't help: much of the land is either inaccessible or too steep to farm. So local foods tend to be of the fairly basic type: cassava porridge, couscous, rice, goat, and a simple bread, known as mkatra foutra.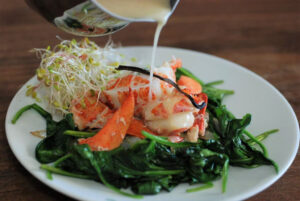 Made from all the usual constituents (flour, water, sugar, yeast, and salt), mkatra foutra enjoys a few unexpected ingredients, namely coconut milk or coconut cream – a nice substitute for the lack of a local dairy industry. Baked on a griddle brushed with ghee, the dough is traditionally dusted with sesame seeds, and the finished bread goes down a treat with the various local coconut-based curries.
Those who can afford meat are most likely to plump for the nation's unofficial dish, mshakiki. Made from cubes of beef steak (marinated in a tasty mix of ginger, garlic, grated papaya, chili powder, turmeric, oil, tomato paste, lemon juice, and curry powder) this succulent dish is typically paired with grilled breadfruit, bananas, or cassava, and is a favourite across the entire region.
Seafood is obviously pretty big on the isles, and those who can't spring for beef or goat tend to rely on what they can catch: fish, shrimp, and crab. Served over white rice, le me tsolola stew (made from green bananas, onions, and local fish such as mahi mahi, all cooked in coconut milk) is a daily meal for many; on special occasions, meat – usually beef – is added as a treat.
Lastly, if you're celebrating, you're likely to serve up langouste a la vanilla. Made with lobster meat, shallots, and spinach drizzled in vanilla sauce, this dish owes much to island traditions: the name comes from the French who occupied the nation pre-independence; the vanilla is just one of the many 'perfumed' plants for which the isles are renowned.