In a story about the way some dogs are treated on the island one local writer is hoping to raise awareness and funds. ALIX NORMAN meets her
One day in October, the iron gate of the dogs' cage was opened, and the bewildered animals were bundled into a tiny crate in the back of a noisy truck. The excitement of being free soon gave way to fear and discomfort as Ella tried to adjust to the cramped quarters, shaken and rattled along a road leading up a mountain path.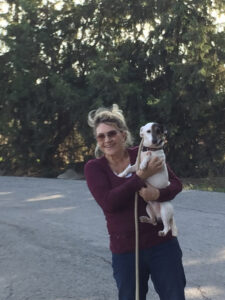 Once at the top, the back of the truck was opened, and the dogs were let out. Suddenly, a frightened bird rose up from the undergrowth into the blue sky and a shot rang out. Ella was terrified. She ran as fast as she could: away from the bird, the hunter, the guns and of course, her family…
This is the story of Ella, The Cyprus Hunting Dog – a puppy who has been bred, as have so many others in Cyprus, purely to hunt. She's not a beloved pet, not a family friend; she's raised on bread and water, and lives in a stifling concrete cage. But, unlike the other puppies in the litter, Ella isn't hunting dog material – she's terribly gun-shy. On her very first outing, she bolts from the sound of shots. And her owner, the hunter, quickly abandons what he imagines to be a useless animal…
"It's a book that aims to raise awareness of the fact that dogs should be treated with respect and care," explains author Jennifer Gardner. "Working dogs that can't do their job are often abandoned to starve and die. But these animals have no voice, so someone has to speak for them."
With Ella, Jennifer is speaking up, bringing attention to a serious local issue. "There are many hunters who love their dogs and would be horrified to lose one while hunting," she suggests. "But others are unconcerned if their animals disappear; left to fend for themselves and basically abandoned. And that's what happens to Ella…"
Named for the Greek for 'come', Ella is the star of this just-released children's book, a perfect gift for the caring under-12s. A delightful tale, which Jennifer hopes will both raise awareness of animal cruelty and generate funds for local dog sanctuaries, it conveys an important message.
"The book introduces young children to the idea of kindness towards animals, to the concept of shelters and their inmates. And this is important in a market flooded with breeds; shelters are full of loving dogs that need a home, and they're run by good people doing a great job rescuing the hundreds of strays that turn up injured, maltreated and often starving. So the message here is, why spend thousands on buying a dog when you could give a much-needed home to a loving creature?"
With 80 per cent of the €5 cost going directly to local dog shelters, Ella is also a worthy purchase from an author who has dedicated her life to helping animals. "For 17 years in the Far East, I was involved with the Soi (Street) Dog Foundation, darting, collecting, and neutering stray dogs," Jennifer reveals. "In the 70s and 80s, I founded the Bahrain Society for the Prevention of Cruelty to Animals; back then, you'd find dead or injured desert dogs on the side of every road. And in Cyprus, my home on and off for the past 20 years, I've seen first-hand the overcrowded cages, stifling conditions, and oft-maltreated animals."
While animal rescue work is often upsetting, there is, however, a silver lining. "One of the great joys of rescuing dogs is finding them their forever home, full of the love and attention they deserve. Of course it takes a lot of effort to make this happen," Jennifer smiles. "Shelters don't run themselves; they need money to keep up the good work. And that's where Ella comes in…"
In 2020, six months into the organisation of a huge fundraiser for PAWS, Covid hit. "Everything had to be cancelled," Jennifer laments. "And the thousands of euros we would have made for the local shelter was gone, overnight. So instead, I sat myself down and decided to think of another way we could raise those much-needed funds; a way which didn't require social contact."
The result was Ella, an enchanting book – complete with captivating illustrations from local artist Gary Adnams –penned in just a few weeks. "In Cyprus, I'd seen so many Ellas – hunting dogs who had been abandoned by their owners," Jennifer sighs. "The unlucky ended up dead: overcome by thirst or starvation, or run down on the side of the road. But the lucky few who made it to the shelters were my inspiration for the book. Because Ella does find her way to a sanctuary, and eventually her forever home…"
Along the way, our canine heroine has all sorts of mishaps: stone-throwing children, fierce pets, and heartlessly indifferent humans. But she also encounters a host of endemic creatures (including a nervous mouflon, a colourful chameleon, and a slippery snake!), and the odd unexpected kindness that will both delight and inform the young reader.
"Ella is one of the fortunate few," Jennifer concludes. "She meets a friendly couple who, though unable to adopt her, do get her to a sanctuary. At first, she's scared by the other dogs. But she gradually begins to respond to the kindnesses of the volunteers. And she watches, day by day, as smaller and prettier dogs find loving owners…"
Ella had accepted the fact the shelter might be her home for years. But, one sunny day, a lady walked by and peered more closely. Ella wagged her tail. Her soft brown eyes sparkled with hope. This, she thought, was her chance. And she was right! The kind lady hugged Ella, helped her into the back of her car and off they went: surrounded by love.
Ella, The Cyprus Hunting Dog is available from thrift shops and shelters across the island. The book costs €5, of which €4 goes to local shelters. For more information, email [email protected]