ELLA WALKER chats to the irrepressible Poppy O'Toole about her debut cookbook
Poppy O'Toole knows all the kitchen hacks. Whether it's how to slice a plant's worth of cherry tomatoes in half simultaneously (this involves a Tupperware lid and a steady hand) or how to peel garlic bulbs without getting garlicky hands.
Her debut cookbook, Poppy Cooks, is infectious and come-at-able.
Were it not for the pandemic though, things likely wouldn't have turned out they way they have for the Londoner. O'Toole, 27, has worked in restaurant kitchens since she was 18, but lost her job when Covid kicked in and restaurants locked down. Then she began posting videos on TikTok @poppycooks.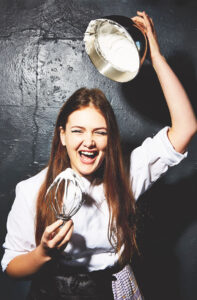 Her page is both a clever, witty recipe vault – from her go-to tomato sauce to her perfect roast chicken – and an unapologetic ode to the humble potato. O'Toole is 'Queen of Potatoes' and a potato TikTok acolyte – mashed, roasted, crispy, golden, buttery, any which way, she loves them. "They've been everything for me," she says, quite seriously. "I find them very versatile. They can go in nearly everything. They go with nearly everything." They are, in fact, a cheap meal in a skin.
Now, a "crazy" 18 months and 1.8 million followers on, her potato related antics and all-encompassing enthusiasm for home cooking has landed her that cookbook. One designed to have you making classics (steak and chips, lasagne) and basic staples (white sauce, vinaigrette) as well as dishes that pop with fun (prawn tacos, potato bhaji butty).
Poppy Cooks, she hopes, is more an uplifting learning tool than just a recipe book, that will "build confidence" and teach you simple skills you can use in multiple ways. "People get embarrassed a little bit to ask these questions, because they should know how to chop an onion apparently," she says, "but you don't, no one really always knows this sort of thing." Be embarrassed no more, she seems to say.
tikka salmon recipe
By Ella Walker, PA
[STANDFIRST] A speedy weeknight dinner that'll impress.
"I'm a tikka kinda girl. I'm ashamed to say that as much as I try to pretend to be a food connoisseur, I order a Chicken Tikka Masala every single time from the curry house," admits food writer Poppy O'Toole.
"This twist on a tikka brings it to a gorgeously fresh piece of salmon. Once wrapped up in your flat bread with lashings of mango chutney and cucumber salad, you'll never turn back."
Tikka Salmon
Serves 4
400g/14oz boneless salmon fillet (skin on)
3tbsp tandoori masala powder
2tbsp Greek or coconut-milk yogurt
Juice of 1 lemon
1tbsp olive oil
Salt and black pepper
For the cucumber salad:
Juice of 1 lime
½ cucumber, sliced into ribbons
A small bunch of coriander chopped
A small bunch of mint chopped
A pinch of flaky salt
Preheat the oven to 200C/Gas 6. Line a baking tray.
Pat the fish dry with kitchen paper, then place it on to the lined tray.
Mix all the remaining salmon ingredients in a bowl to create a marinade, then use this for smothering your salmon. You want a nice, thick layer.
Leave the salmon to marinate at room temperature for 10 minutes, then put the tray in the oven and bake the salmon for 20 minutes, until opaque and cooked through.
Meanwhile, make the cucumber salad. Mix together the lime juice, the cucumber ribbons and both the herbs. Season with the salt and set aside.
Once the salmon is ready, smother flat breads (sea below) in mango chutney, top with gorgeous flakes of pink salmon and cover with your cucumber salad. I like to add an extra kick with some slices of chilli, and texture with extra-crunchy Bombay mix. That's it. Fold and eat.
Easy Flat Breads
Makes 4
250g plain flour, plus extra for dusting
250g Greek yogurt (or 125ml cup warm water + 2 tbsp vegetable oil, if you're vegan)
1tsp onion seeds, poppy seeds or sesame seeds
1tsp baking powder
Salt and black pepper
This is literally so easy… in a bowl mix all the ingredients – flour, yogurt, seeds, baking powder and seasoning – into a dough. Knead for about three minutes, to a soft but not sticky ball. Cover with a clean tea towel and leave for 10 minutes to rest.
Cut the ball into four equal pieces and use a rolling pin to roll each one out to a thin round. You're aiming for them to be about 12cm in diameter – but don't worry if they look rustic in shape. Set aside the rolled-flat flat breads on a lightly floured surface.
Place a large, dry frying pan over a high heat. Leave it to get hot, then throw in the first flat bread – no oil, no butter, nothing… just dry, hot heat.
Once bubbles start to form in the dough (about 30 seconds) and you've got a little bit of char on the underside, flip over the flat bread and cook the other side for about 30 seconds, to get a little bit of char there, too. Keep warm while you do the same with the remaining three flat breads. That's it, remove from the pan and serve (or cool and tightly wrap to store).
Poppy Cooks: The Food You Need by Poppy O'Toole is available now