A tiny Caribbean island, Anguilla is consistently ranked as the Number 1 Caribbean island, ahead of better known destinations such as Bermuda and the Bahamas.
Consisting of one main island (named for its shape; 'anguilla' means eel in Latin) and several uninhabited islets and cays, it's a corner of paradise inhabited by a mix of ethnicities: the descendants of enslaved people transported from Africa, as well as Americans, Chinese, Indians and Mexicans. This being a British Overseas territory, there are also more than a few Brits, and several sporting figures who are well known in the UK hail from Anguilla.
Here, you can literally wade out into the shallows to catch your lunch: natural land-based resources have always been few, but the sea provides in plenty…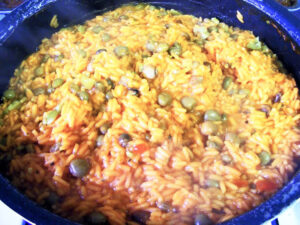 Marine cuisine is definitely the order of the day in Anguilla, with prawns, shrimp, crab, mahi-mahi, red snapper, marlin and grouper on every menu. Salt cod is a favourite (either by itself, or packed into stews, casseroles and soups), as are seafood soups and bisques made with spiny lobster and conch, or fresh local fish.
In terms of starchy staples, it's the johnny cake, a dense cornmeal flatbread made without milk or eggs, which was once a popular food for those journeying (hence the name) across the Caribbean and eastern seaboard. But there are plenty of fruits and veggies to go round as well: Anguilla produces tomatoes, peppers, limes, onions, garlic, squash, sweet potatoes, breadfruit, and callalloo, a leafy green native to Africa.
The island is also known for its pigeon peas which, when served with rice, constitute the national dish. A bit of a misnomer, these peas are actually a type of bean, a perennial legume grown all over the tropics. Soaked overnight, and then boiled and seasoned with lime, thyme, and butter, they're ever popular in Anguilla.
Traditionally, goat has been the most commonly consumed meat, cropping up in curries, soups and sandwiches. But these days, imported beef tends to be the preferred option, with barbecued and jerk style meats a popular snack food across the island. To wash it all down, there's Caribbean style rum.