The TV presenter and The Saturdays singer loves a roast and genuinely enjoys weaning, she tells ELLA WALKER
Dinner round at Rochelle Humes' house sounds fun. The TV presenter and singer, 32, is married to JLS star Marvin Humes, 36, and together they are a kitchen dream team.
Humes – who has written her first cookbook, At Mama's Table – tends to be on food, while Marvin is on drinks. "He is indeed master of drinks, he can make a mean cocktail," says Humes proudly, partial to a Tommy's Margarita herself.
Humes was born in Barking and got her first showbiz break with S Club Juniors. "My mum was quite that cook where, although we tried different things – she was very good at making us try different things and not say we didn't like it until we'd tried it, which is exactly what I do to my kids – but my mum was quite regimented," she says, recalling the food she ate growing up. "[Mum] was busy and she was on her own with us, working lots of different jobs, so it was very like: on a Wednesday, we had shepherd's pie."
It was when Humes left home that she really got into cooking. "I learned a lot of recipes when I moved out," she remembers. "I realised the world's your oyster and I just find cooking so therapeutic and it was nice. I think it's the first thing that makes you feel like you can run a house, if you can cook a meal."
Now a mum of three herself – to Alaia-Mai, eight, Valentina, 4, and one-year-old Blake – as well as being forever on the telly, Humes cooks to relax. "I love nothing more at the end of the day," she says, "I do it to unwind."
A combination of family life and her love of food motivated At Mama's Table. "I just love flavour. I love food that's well seasoned, well thought about," she explains, with the idea behind the recipes being that they're nutritious, family-friendly and not a time-drain either.
She even enjoys weaning. At Mama's Table is filled with tips for making meals work for adults as well as tiny babies. "It's my favourite part," she says. "It just always feels like such a fun process and a fun time. I really miss it when it's over. Introducing them to flavours and different things they've never had before always just feels so special."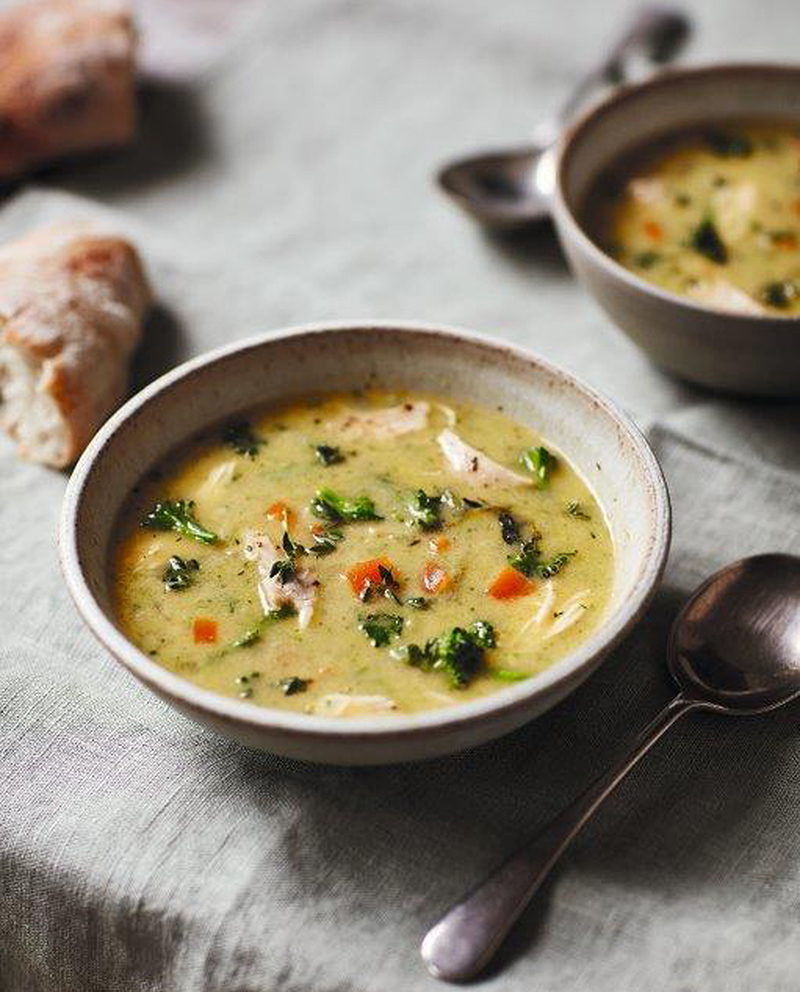 Leftover Roast Chicken and Veggie Soup
Serves 4
1tbsp olive oil
2 onions, finely chopped
1 garlic clove, crushed
2 large carrots, peeled and roughly chopped
3 sprigs thyme, leaves picked
1.4L/2¼ pints chicken stock
200g/7oz frozen peas
300g/10oz leftover greens, roughly chopped (broccoli, cabbage, spinach and brussels sprouts all work well)
200g/7oz leftover roast chicken, shredded
Sea salt and freshly ground black pepper
Crusty buttered bread, for dunking
Heat the olive oil in a large pan over a medium heat. Add the onion, garlic, carrots and thyme, and cook, stirring occasionally, for 15 minutes until the carrots are soft and onions are golden.
Add the chicken stock to the pan and stir to combine. Bring the mixture to the boil, then reduce the heat to a simmer and leave to cook for 15 minutes.
Add the peas, leftover green veg and shredded, cooked chicken to the pan and stir to combine. Season with salt and pepper to taste, then leave to cook for five minutes.
If you like a chunky soup, ladle half of the soup into a blender and blend until smooth, then return to the pan with the unblended soup. If you like your soup smoother, blend all of the soup in batches to your preferred consistency.
Ladle the soup into bowls and serve with buttered crusty bread alongside for dunking.
Teriyaki Salmon
Serves 4
6tbsp teriyaki sauce
Juice of 1 lime
4 x 100g/3½ oz skin-on salmon fillets
250g/9oz brown rice
200g/7oz fresh or frozen edamame beans
200g/7oz tenderstem broccoli
5tsp sesame oil
¼ garlic clove, grated
Put the teriyaki sauce and half of the lime juice in a wide, shallow bowl and mix to combine. Add the salmon fillets, skin-side up and set aside to marinate while you prepare the rice and veg.
Cook the rice in a pan of boiling water, according to packet instructions, until tender.
When the rice is almost ready, bring a pan of water to the boil over a high heat, the add the edamame beans and tenderstem broccoli, reduce to a simmer and leave to cook for five minutes until tender.
Heat one teaspoon of the sesame oil in a frying pan over a medium heat, then add the salmon, skin-side down, and half of the marinade. Cook for five minutes until the skin is crisp, then turn the salmon fillets and add the remaining marinade to the pan. Cook for another three to five minutes until the salmon is cooked through.
Meanwhile, combine the remaining lime juice, sesame oil and garlic in a small bowl and set aside.
Drain the rice and vegetables and divide between four serving bowls, then top each with a fillet of the salmon. Spoon the lime and sesame dressing over the vegetables in each bowl, then serve.
At Mama's Table by Rochelle Humes is available now