It seemed quite fitting to visit a restaurant called Gerrard's on a night when Liverpool faced Everton. The restaurant gradually filled up with the raucous noise of Liverpool fans ahead of the late-night kick-off, with table after table taken by a generally international crowd, a mixture of Cypriot and foreign residents of Limassol.
They say the first impression is the best impression and the person I assume is the manager lived up to that promise by doing their best to relocate us from the outside area to the restaurant's warmer interior. While not a major thing, it was still appreciated on what proved to be an extremely busy night.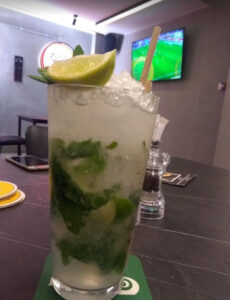 Gerrard's has a dedicated cocktail menu so we put the claim of well-made cocktails to the test. While both choices were quite simple, a gin and tonic and a mojito, they were both well-executed. The mojito was especially nice, fizzing with zesty lime and fresh mint leaves, although perhaps drinks that come with crushed ice have met their match with the introduction of paper straws. It is simply impossible to sip such a drink through a paper straw roughly half a minute after it has been served. Just a note to myself to go for drinks that don't need a straw.
Onto the food, the first thing you notice is that the kitchen is visible from the dining area so customers are able to view the cooking staff while they work. Again, a small thing but it implies confidence in their hygiene policy. We started off with a small plate of chicken goujons which I really recommend for their well-executed simplicity either as a starter or as an accompaniment to your beer during a game. Freshly made, piping hot, breaded but still tender on the inside.
For our main dishes, we went with a simple cheeseburger, a plate of German sausages and a side salad. I quite liked the actual plates everything was served in; the lipped stoneware they use gives everything a home-like feel.
The cheeseburger, which came with fries was good, the beef patty was not too thick despite its 200 grammes and was not overcooked. It also included melted cheese, lettuce on the bottom, tomato on top, all covered in a soft, seedless brioche bun. Again, a simple dish but well-made. The German sausages were also very nice and came with a delicious pretzel roll, as well as three dipping sauces, two of them being different kinds of mustard. While I wouldn't change anything about this, I can't help but be tempted by the idea of a pretzel with the sausages served inside it, hot dog style, rather than on the side.
We enquired about desserts but they are not available at the moment. As was explained, the restaurant opened very recently and everything is still being finalised. Despite the strong start in terms of clientele, the menu is expected to expand in the coming weeks. All in all, a very pleasant experience and a venue to which I will be returning in the future.
VITAL STATISTICS
SPECIALTY Pub food
WHERE B1 Navarria Agios Tychon, Limassol
WHEN Daily
HOW MUCH €12 for a burger, €6 for a starter, €8 for a cocktail
CONTACT 96 572122, 95 722723