Socialising while drawing is the attraction of the Cyprus version of an international movement that is gaining ground. Alix Norman finds out more
Urban Sketchers is a global community that's been around since 2007. Dedicated to the practice of on-location drawing, this non-profit connects those who love to draw from life: always on location, never from memory. It's a fantastic idea that makes art accessible to all – even those who admit to having no talent whatsoever. Because, above all, Urban Sketchers aim to be inclusive: "There's no judgement here," says Joanna Joseph. "There are no teachers and no students and no fees involved, and it doesn't matter how good you are, everyone is welcome."
36-year-old Joanna, an architect by way of Nicosia and Haarlem, has been a member of the Sketchers during her travels. And now she's brought the activity to Cyprus, where it's quickly gaining momentum.
Currently, the fledgling group – "we're not an official chapter yet; I believe in order to register we need three administrators" – runs from a Facebook page called 'Urban Sketchers Nicosia Cyprus'. And despite the fact there have been just three meetings to date, the group is growing nicely, offering participants "a sense of community and a chance to work on their drawing skills while socialising.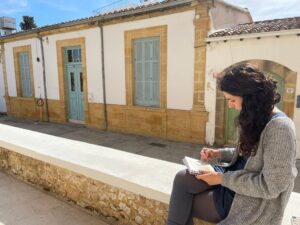 "Unlike other forms of art such as acting and dancing, sketching is usually a solitary pursuit," Joanna acknowledges. "But this way it becomes a fun social activity – just like when we were toddlers in art class!" The practice, she adds, also has a meditative quality that grounds the mind in the present and connects it to the body. And at the same time, sketching in a group allows one to discover locations and meet people you might not otherwise encounter…
"I first became aware of Urban Sketchers when I was living in Barcelona," Joanna recalls. "I was doing capoeira at the time and a colleague was also part of the local sketchers group." Joanna befriended the artist and, though she didn't join the group, began sketching with him. "Then, when I moved to Amsterdam and was on the lookout for creative events and workshops, I joined the local chapter in the Netherlands. It was inspiring to see such vastly different styles, and a great way to get tips from other people, whether it was about technique or brands of pens.
"Interestingly, the founder of the Amsterdam group was from the States: when he moved country and found there was no local chapter of Urban Sketchers, he created his own meetups: letting people know where and when he would be sketching, and inviting everyone to join him. And that's often how it begins…"
Joanna launched the Cyprus Facebook group in January, putting out the word and then waiting to see who turned up. "At the first meeting, there were just two of us," she smiles, "and we met in the Nicosia Municipal Gardens. But by the second meeting, we'd grown to six: three architects, one artist, and two children of architects; a blend of Cypriots and Brits. Most of us have had a little experience in sketching," she notes, "but we're pretty rusty!"
What sets this gathering apart from other drawing groups is, says Joanna, its inclusivity. "Background, nationality, skill level – none of that matters. We aim to be inclusive to everyone. I feel that a lot of people who might like to sketch in company – I myself rarely sketch alone; it's much more fun with a friend – hesitate because they may be self-conscious about their art skills. But nobody should miss out on something enjoyable because they feel they're not good enough. And anyway, the way to get better at something is to practice! So this group isn't about showing off talent: we support each other and draw together, truthful to the scenes we witness and making a record of time and place by capturing what we see through direct observation. And then we show the world, one drawing at a time."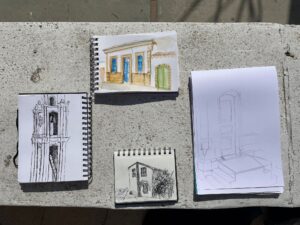 Join the Facebook group, and you'll see some of the sketches completed at the first three meetings. They range from simple pencil drawings, to more complex ink renditions, to simply coloured depictions. "The medium is completely up to the individual," says Joanna. "Each person brings their own sketchpad and materials, we spread out – this is a wonderful activity during the pandemic, because you don't need to be close to anyone – and we sketch for roughly two hours. And then, we all look at each other's work; always complimenting, never criticising. It's like a mini art show every time!"
At the end of each meeting, photos of the artwork are posted to Facebook. "Something," Joanna adds, "which I believe strengthens our connection both to each other and our city. There's such a strong storytelling element to this type of urban sketching," she acknowledges. "Nobody sees a scene in quite the same way – we all bring much of ourselves, of our experience and knowledge, to our sketches."
For the moment, the group meet every second Sunday at an agreed-upon location in Nicosia. "We decide at the previous meeting where we'll go next," explains Joanna, "and look for somewhere that's public, outdoors, and free, with a place to sit. We also post the upcoming location to Facebook; in the future, I'd like to have a way for non-Facebook users to hear about the events too."
Although the group is Nicosia-based for the time being, Joanna would be happy if the idea spread to other cities on the island. "That's often how Urban Sketchers groups begin," she concludes. "Someone like me hears about the idea or experiences urban sketching elsewhere in the world. And then they decide to bring it to a new city. In my case," she laughs, "I just wanted an active Urban Sketchers group in Nicosia so I could join. And if I had to create it so be it!"
To join the local group, visit the Facebook page 'Urban Sketchers Nicosia Cyprus'. For more information on the global organisation, visit https://urbansketchers.org/