If you were asked to name the best city for foodies, you'd probably plump for Paris or Rome. But according to the five million readers of Travel + Leisure, the best city for those in search of absolutely delectable cuisine is in Mexico. It's called Oaxaca. And there are grasshoppers on the menu!
A place of strong tradition and colourful celebration, the city is most known for its rich and varied cuisine: distinct flavours and combinations that are found nowhere else in the world.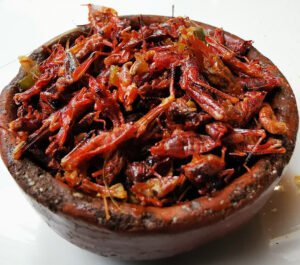 Grasshoppers (or chapulines) are just the start. Cropping up as a deep-fried filling (seasoned with chili and lime) in corn tortillas, these insects are apparently an acquired taste: although reminiscent of salt and vinegar crisps in terms of flavour, the texture takes some getting used to.
A popular street food, tlayuda is another unusual speciality. A traditional Oaxacan dish, it's a toasted tortilla spread with refried beans, avocado, lettuce or cabbage, shredded meat (most often chicken, beef tenderloin or pork), asiento (unrefined pork lard), salsa and the unique Oaxaca cheese or quesillo – a white, semi-hard cheese that's similar to unaged Monterey Jack but with the texture of mozzarella.
Tamales make the menu, of course. But here they're known as tamales oaxaqueños, and they're a favourite at feasts. Containing pork loin in green sauce, or shredded chicken in mole sauce, the difference comes in the cooking: traditional Oaxacan tamales must be steamed in banana leaves!
While lesser-known regional specialties include ice cream flavoured with rose petals, and squash flowers squished into everything from empanadas to quesadillas to local soups, the city is most famous for its drinks. And though Oaxaca may be a global coffee producer, it's chocolate (often mixed with almonds and cinnamon) that's long been the preferred beverage.
The most iconic Oaxacan drink is, however, mezcal – tequila's more smokey cousin. Distilled from the indigenous agave, it comes in any number of varieties including floral Arroqueño, fruity Tobalá, and chalky Karwinskii. Widely enjoyed as an aperitif, it's said to produce body-wide euphoria – exactly the sort of feeling that might persuade any foodie their upcoming meal is simply world-class!