Solitary bees, which make up the vast majority of Cyprus bee species, are the island's best pollinators. With World Bee Day approaching, ALIX NORMAN asks what can we do to help
According to the Earthwatch Institute, the most crucial species on earth is the humble bee. Bees are responsible for pollinating 70 per cent of the crop species on the planet, which then feed 90 per cent of the world's population! And if we lose our bees, we not only lose the flora they pollinate, but also the terrestrial fauna that depend on those plants: birds, insects and small mammals for a start. This then ricochets up the food chain; larger species are left without a food source and, ultimately, our planet (to put it mildly, and in the vernacular) is screwed!
But this is happening. And it is happening now. Worldwide, bees are actually dying off at an astonishing rate due to a combination of pesticide use, drought, habitat destruction, nutrition deficit, pollution, and global warming. Which is why, this year, World Bee Day is asking every one of us around the world to 'Bee engaged: Build Back Better for Bees'.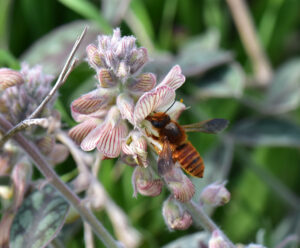 Taking place every year on May 20 (the birthday of Anton Janša, the pioneer of modern apiculture), World Bee Day is a concerted global effort to save the bees. Supported by the UN, this fourth annual Bee Day calls for global solidarity to counter the threats to our most important pollinators, with events designed to raise awareness of the issue. But while the date may be an important annual occurrence, every day should be bee day. Especially given that present extinction rates are up to 1,000 times higher than normal.
Even in Cyprus, an island that ranks third in the region (after Lesbos and Sicily) in bee species richness, we're seeing a considerable decrease in numbers. "From our current research, we know there are 369 verified bee species on the island," says Andri Varnava, a PhD candidate at the Cyprus University of Technology. Currently completing her thesis on the Biodiversity and Ecology of the Wild Bees of Cyprus, Andri has been working with bees since she was a child: both her parents and grandparents are beekeepers, and she's always had a love for life's little pollinators…
"What most people don't realise," she adds, "is that all except one of the island's bee species are what we call solitary bees. Unlike the honeybee, or apis mellifera, these species don't live in hives. They live in nests built into the ground or into dead wood. Depending on the species, they may live in small families with one female and a few males, or in groupings which may have several females and any number of males. And, though they don't produce honey, they're actually the island's best pollinators!"
While birds, butterflies, wasps, birds and even bats number among the island's pollinators, it's these solitary bees that do most of the work, Andri explains. "All the wild flowers for which Cyprus is famed; the herbs in the hills; the plants in your garden; the trees in the orchards and many of the crops in the fields – these are mostly pollinated by solitary bees. They're simply incredible!"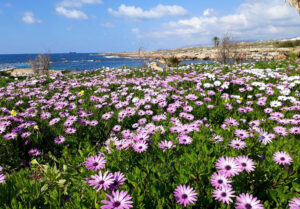 It's now, in spring and early summer, that these bees are working their hardest, flying from flower to flower to find pollen to feed their young and, in the process, helping to propagate the island's flora. "Cyprus is a biodiversity hotspot, especially in terms of flora," Andri continues. "Many of our solitary bees specialise in pollinating specific endemic plants, so if we can protect our bees, we're also protecting the island's unique endemic diversity."
Research into the solitary bees of Cyprus began over 70 years ago with Cypriot entomologist George Mavromoustakis, whose collection of 11,000 specimens paved the way for future research. "And it's very important that we continue to study the island's bees," says Andri. "What's happening worldwide is also happening here in Cyprus: we're losing bees fast."
The degradation and fragmentation of natural bee habitats, urbanisation, climate change, and – in particular – the frequent use of pesticides are all decimating local bee populations, Andri reveals. "The intensive use of pesticides on farms and in fields is one the main factors impacting our bee population; although we have no definite figures, studies are currently in progress, and we know we have a huge problem."
Andri suggests that education and research are the best ways to protect our bee populations. "Monitoring programmes, which assess the most significant pressures on pollinators and identify effective conservation practices, are being emplaced. And public awareness is increasing, with many great places offering information on local bee species."
The Apianthos Organic Botanical Bee Park promotes natural beekeeping methods. CyHerbia Botanical Park has recently launched a designated bee programme complete with bee hotel and educational activities. And the Antelia Bee Park highlights and promotes the history of Cyprus bee species. There's also the Ecophysis Bee and Nature Centre in Vavla, which offers year-round bee tours and workshops, and the multi-generational BeeKind dynasty who produce bee-friendly products and promote sustainable beekeeping practices across the region."
Authorities are also getting behind the effort to protect the island's bees. The Department of Agriculture recently launched a year-long campaign to promote awareness of local pollinators. The Honey Road (which takes in the villages around Ora) offers beekeeping tours, workshops and honey-tastings. Akrotiri's Centre for Environmental Research and Education promotes awareness of local bee populations.
But private citizens also have a crucial role to play in protecting the bees, Andri acknowledges. "Building your own bee hotel is a simple and effective way to offer solitary bees a home. You can also plant bee-friendly herbs, like lavender, rosemary, chamomile, mint, thyme, calendula and pink rock rose; trees such as apple, almonds, and citrus; and flowers of any sort.
"Even a little pot of flowers on your balcony will help the bees," she adds. "The bees will come. They will feed. And they will pollinate. And you'll know you're doing your bit to help – not just on Bee Day, but every day of the year!"
For more information on World Bee Day, visit https://www.worldbeeday.org/en/