Day trading means buying and selling digital assets on the same day. While trading can be a very lucrative and exciting way to make money in the cryptocurrency market, it can also be a risky and stressful way to trade. With cryptocurrency prices changing daily since the start of this aggressive bearish sentiment and even Bitcoin (BTC) falling to $19,000, day trading seems too risky for investors. When looking for alternatives, hold-to-earn and play-to-earn cryptocurrencies like Gnox (GNOX), Sandbox (SAND), and Decentraland (MANA) seem to be the top choices. Their ability to reward holders is the main reason for their current price surge and future success.
Gnox (GNOX)
Gnox is a new DeFi protocol based on the reflection model. Reflection tokens are tokens meant to give holders benefits, making Gnox a perfect hold-to-earn token. The possibility of earning passive income greatly motivates stressed investors and boosts the token's price. The main idea behind GNOX is yield farming services.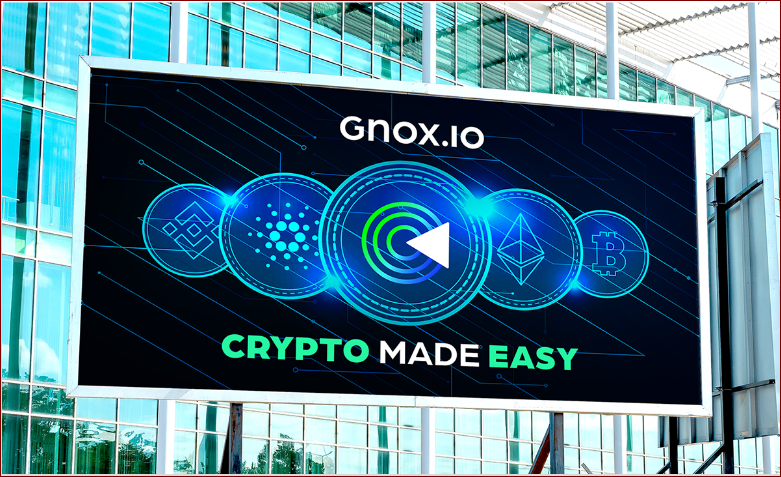 How does yield farming work with GNOX?
As the world of cryptocurrencies and blockchain technology evolves, so do the ways users earn a return on their investment. A popular method for it is yield farming. Speaking of GNOX, an innovator in the field, the yield farming mechanism allows users to earn rewards by providing liquidity to the GNOX liquidity pool. To do this, users simply invest in GNOX's liquidity pool and hold GNOX tokens. In return, they get rewards from Gnox. The longer they hold, the higher their profit percentage. GNOX collects a small acquisition tax to run the system, some part of which is redistributed to owners in return.
While DeFi is complex for many novice traders, GNOX is changing the bar by creating an accessible, easy-to-use wallet that automatically generates returns after every GNOX trade.
Hold-to-earn tokens like GNOX are easy solutions to get through this tough bear market, and the recent performance of the token proves that. GNOX is up 60% and is gaining popularity every day.
Sandbox (SAND)
The Sandbox is a community-driven multiplayer virtual world game where users are eligible to create their worlds and earn cryptocurrency.
It is one of the top games implementing a play-and-earn (P2E) model, allowing players to create and monetize assets in-game.
The sandbox protocol allows anyone to design characters, develop games, or earn SAND tokens by completing tasks. Although SAND has declined during the current bear market, its exciting and unique approach attracts many investors. Have fun, play, and earn with SAND.
Decentraland (MANA)
Decentraland (MANA) is another virtual reality platform enabling users to create, experience, and monetize content and applications.
In this virtual world, users buy land, which can later be driven, built, and monetized. Since Decentraland is not just an online game, but a complete virtual universe, there are many ways to make money.
You can work for a company and get paid, create art or clothing, sell them for profit, or buy and sell LAND.
MANA has a bright future in today's increasingly popular NFT industry and Metaverse. The latest price chart also shows a slight price recovery. So, if you are looking for another fun and exciting way to invest and earn cryptocurrency, then MANA is the right choice.
Conclusion
While play-to-earn SAND and MANA are more appealable choices to younger generations, GNOX's hold-to-earn perspective targets a larger crypto audience and offers wider opportunities.
For more about GNOX:
Join Presale: https://presale.gnox.io/register
Website: https://Gnox.io
Telegram: https://t.me/gnoxfinancial
Discord: https://discord.com/invite/mnWbweQRJB
Twitter: https://twitter.com/gnox_io
 
---
DISCLAIMER – "Views Expressed Disclaimer: Views and opinions expressed are those of the authors and do not reflect the official position of any other author, agency, organization, employer or company, including NEO CYMED PUBLISHING LIMITED, which is the publishing company performing under the name Cyprus-Mail…more
---