I've said it already and I will say it again. I love witnessing the evolution of Nicosia's culinary scene. I can't claim to know what the capital offered over the past decades, but I have lived in the city for the last five years and seen first hand how the food landscape is changing.
Along with new restaurants opening with impressive regularity, old and established ones are also elevating their menus, adapting to new trends and adopting fresh techniques while using superbly fresh and sophisticated ingredients.
It is the case of Mayiopoula, a true institution in Nicosia, which has been around long enough to be so labelled, managing to remain at the top of the capital's scene mostly thanks to the creative minds running the kitchen. Mayiopoula is best suited to a special occasion as prices are on the high end of the restaurant spectrum.
An unusually breezy June evening provided just the right chance to invite my delightful dining companion to what I hoped would be a great dinner out. I was not disappointed!
The menu is extensive and needs to be carefully studied before choosing the dishes. I am not a huge fan of the maxi choice, but in Mayiopoula's defence, most of the entries can be shared, an added bonus when dining in pair.
The first dish to arrive on the table was the crispy goat cheese salad, with kataifi, baked beetroots, honey, candied walnuts, basil, watercress leaves and shaved fennel accompanied by a sherry vinaigrette.
If a good beginning bodes well, then it is safe to say we were off to a great start. The kataifi, criminally underused in Cyprus, gave the salad a completely new meaning, subtly numbing the strong taste of the goat cheese.
On to the (many) sharing dishes. We ordered a Greek-style sea bass ceviche, with cherry tomato, baby radish, fennel and frozen grated feta. This was perhaps the best dish of the night, with the fennel and the unusual consistency of the frozen feta contrasting with the sweetness of the raw fish.
We also went for a plate of pasta with braised pulled short rib with red wine, truffle potato mousse, marinated truffles and grated graviera cheese, followed by sautéd baby calamari with braised and pureed artichokes, squid ink sauce, parsley and lemon zest. Both excellent entries, especially the first one thanks to the choice of paccheri as the type of pasta.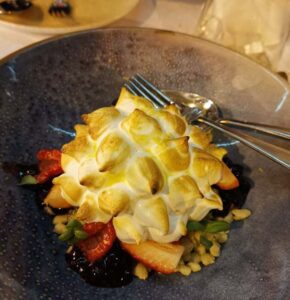 Dessert is always tricky. I am often either too full or too satisfied with what I have already eaten to order. However, I couldn't resist the baked lemon tart, with lemon ice cream, almond crumble and meringue served with berry sauce and fresh seasonal berries. Safe to say I could eat it again, every night for a whole year… and I would still enjoy it as much I did the first time I had it. Breathtaking!
My advice? Eat alfresco. The inside décor, sophisticated though it is, might feel a tad too stuffy, a vibe that magically disappears on the breezy and surprisingly large covered patio. Take my word for it, make an occasion and head to Mayiopoula as soon as you get the chance. I bet you will long for a second visit as soon as you'll step out to return home.
VITAL STATISTICS
SPECIALTY Mediterranean fusion
WHERE Mayiopoula, Panteli Katelari 16A, Nicosia
WHEN Tuesday to Friday noon-3pm and 7-11pm, Saturday 7-11pm, Sunday noon-4pm, Monday closed
CONTACT 22 665577