Sandwiches are a kitchen staple and another gift to the world from the British. Our writers track down the best ones in Cyprus…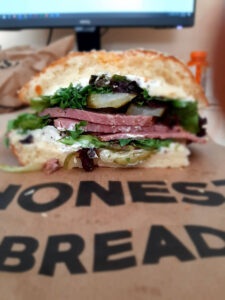 Theo Panayides, Honest Bread
Let's be clear: the best sandwich in town is the one you have at three in the morning, after a hard night's self-indulgence, at some fluorescent place with a TV showing South American football in the background. This used to be easy to accomplish in Nicosia but has now become harder, for some reason (rumour has it the laws have changed), most of the old sandwich shops around Eleftheria Square now shut by one o'clock. You can still have a DIY sarnie at the big bakeries – Zorbas, Pandora et al – but they feel a bit cold and corporate.
Context is key, in other words – which is why we'd like to nominate the pastrami and cream cheese in a sesame brioche bun, by Honest Bread. The place is a small artisan bakery and quite hard to find (it's in the back roads of Strovolos), adding a certain cachet, and of course the sandwich is wonderful. The pastrami – very peppery smoked beef – comes in big honest chunks, set off by lettuce and the quadruple threat of the soft sweetish bun, remarkably crisp, juicy sour gherkins, a mild mustard spread and a thin layer of cream cheese. The mix of flavours and textures is extremely satisfying. If only the place stayed open till three in the morning.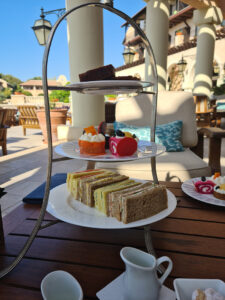 Sarah Coyne, Elysium
Nothing is easier than making a sandwich, so when going out for one, it needs to be an experience that cannot easily be repeated at home. Cue the sandwiches that are part of the Afternoon Tea at the Elysium Hotel in Paphos, an utter treat for celebrating a birthday or anniversary, or anything else. Their gourmet sandwiches have been respected for many, many years.
I could happily forfeit all the cakes and the scones on the Elysium cake stand in favour of their quaint finger sandwiches. They are made with a variety of flavoured breads, including Saffron and Lemon, Rye and Wheat and a Tomato Bread option, all matched to the different fillings.
As part of a traditional afternoon tea, these fillings include Honey Roast Ham, Oak Smoked Salmon, Egg Mayonnaise and Cucumber and Cream Cheese. My favourite is the Oak Smoked Salmon, as the quality is superb. It is bought whole, filleted, cured and smoked in-house. We could never buy this quality of salmon ourselves, nor could we bake the matching bread. Far easier to sit on the Elysium terrace, relax and enjoy.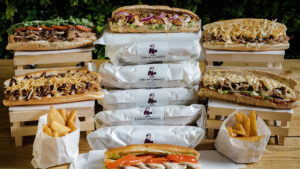 Jonathan Shkurko, Lord of Sandwich
Few countries around the world are as mocked as the UK when it comes to local cuisine. But credit where credit is due, the UK must be thanked for creating what is perhaps the most versatile and popular food in the world. The mighty sandwich. Or more specifically, we should be thanking the 18th century English aristocrat John Montagu, 4th Earl of Sandwich, who liked to eat his food between bread held in one hand while he could get on with whatever with the other.
And Montagu gets the credit he deserves at Nicosia's Lord of Sandwich, in the Ayios Antonios market.
My favourite is the Lord of Tersefanou sandwich, with pulled pork, bbq sauce, crispy frystixx (bear with me) and coleslaw. Frystixx, which are trademarked – not joking, the TM sign comes right after it on every menu, physical and virtual – are chopped French fries, a most ingenious way to serve them.
Throughout the menu, Lord of Sandwich offers fresh ingredients and a vast choice of quirky-named sandwiches, Montagu himself would have been proud of.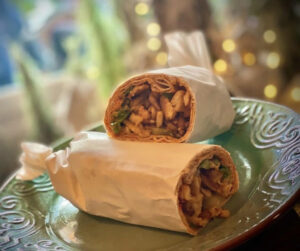 Nicole Constantinides, Elysian Plant Based Kitchen Bar
Living in Cyprus as a vegan is hard enough, but finding a decent vegan sandwich is close to impossible. But, then I came across Elysian Plant Based Kitchen Bar, located in the heart of Nicosia. It is the first plant-based restaurant in Nicosia with a large brunch, lunch and dinner menu.
My favourite dish is the BBQ Chick'n Gyro, made from soya chunks in a Lebanese pita bread with a choice of different bread options (gluten free option available at an extra cost), with red onion, homemade mayonnaise, lettuce and a delicious US BBQ sauce bringing all the flavours together to form this mouth-watering sandwich! It is so simple but yet flavourful. Elysian has really nailed this one!
I treat myself to this a few times a month and I never regret spending the money (€5.50 small, €8.50 giant). If you haven't tried this sandwich/gyro already make sure you do, it is a MUST try! Who doesn't love a good sandwich, nothing beats it!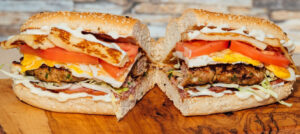 Kyriacos Nicolaou, To Steki Tou Andrea
When tasked with picking the best of anything, it is easy to get bogged down by indecision. And if I had written this a few years ago, I would have gone with one or two shops that exclusively serve sandwiches. Unfortunately for the admittedly storied establishments that came to mind, they have been supplanted by To Steki Tou Andrea in Limassol's Ayios Athanasios.
Serving its sandwiches in fresh koullouri bread, they offer a number of variants, including chicken sandwiches, all-encompasing specials, cold cut sandwiches, club sandwiches (a personal favourite), as well as a few that will really put your capacity to the test. One sandwich, ominously dubbed the F16, involves a double roll filled with chicken, roast pork, bacon, lountza, ham, cheese, halloumi, caramelised onions, lettuce and salad.
While we're veering away from the subject here, I would be remiss not to mention their homemade ice creams, under their Gellato Mio brand. Combining these with the sandwiches mentioned above is a surefire way to obliterate your diet plans but your palate will thank you.