What began on a damp morning in a Neo Chorio kitchen has developed into three varieties of small-run gin that is the taste of the island. ALIX NORMAN settles down for a G&T
Think about the last time you arrived in Cyprus. You stepped off a plane in Larnaca or Paphos, breathed in the thick, hot Mediterranean air, and thought 'Yes! I'm home.'
Every place has a unique aroma, a taste to the air that connects directly to the most primitive parts of our brain. In Cyprus, it's a salt-sweet blend of herbs and spices, rich earth and briny seas. A taste, a smell that the makers of Soli gin have bottled: the uniquely salt-sweet botanicals that tell our nose we're back where we belong. In essence, a spirit that's a love letter to the island…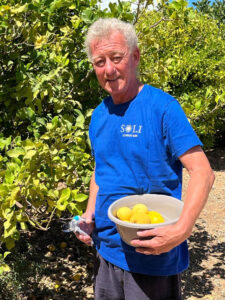 A craft gin, Soli is the perfect blend of elements that make Cyprus, Cyprus. But it's not made by locals. Instead, it's the brainchild of two expat couples who have, for a long time, been under the island's spell. "Soli gin," says Ron Oakeley one of the brand's two founders, "is an homage to the island we love; the story of Cyprus in a bottle."
Actually, make that three bottles. Because Soli comes in three varieties: Premium Edition Founders, London Dry, and Soli Pink. All are cut with pure Paphos spring water, distilled in a traditional copper still, and contain up to 18 indigenous botanicals, including bitter orange, coriander, orris root, terebinth, honey, and basil. And, of course, local juniper – the base botanical of any gin. In fact, the making of Soli began when Ron and fellow founder Tim Lacey stumbled across a grove of Akamas juniper. But the story behind this gin is a little more complex, involving a friendship spanning 40 years, a shared passion for the perfect gin and tonic, and an enchanted island…
"Tim and I have known each other for more than four decades," says Ron. "We've worked together, enjoyed each other's company, and shared many a G&T over the years. And we've both also had a lengthy relationship with Cyprus – our two families have been coming here for about 30 years and we always knew the island would, one day, be our forever home. There's something entirely unique about this place – it weaves a spell on the senses, an enchantment that's hard to resist!"
But while the duo share a long friendship, the idea of creating a gin that encapsulated the very essence of Cyprus was, Ron reveals, more of a eureka moment. "One brisk autumn afternoon, Tim and I were walking our dogs through the Akamas when metaphorical lightning struck! We were, I recall, discussing our love of Cyprus, and what made the island so appealing to the senses. And suddenly, we came across a grove of juniper trees – gin's most essential botanical. Well, add to that the botanicals in both our gardens – rosemary, pink peppercorns, terabinth, and hibiscus to name just a few – and we realised we could bottle the essence of Cyprus…"
Both in their 60s, Tim and Ron have enjoyed long, successful careers in business; Ron in oilfield supply and Tim in solar energy. But as retirement age approached, both were looking for a new project, a labour of love rather than a money-making venture. Creating the ultimate Cyprus gin fit the bill, and research and development was soon underway.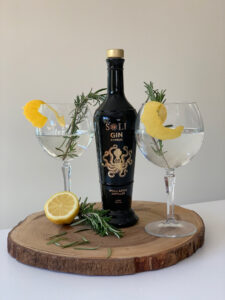 "Tim and I went on a gin-making course, covering the entire process from scratch," Ron reveals. "We learnt about distinct botanicals and how each was used in the distillation process, the effect they have on the quality and taste of the gin. We sampled countless local gin varieties – not the hardest part of the process," he laughs – "and brainstormed long into the night."
While wives Julie and Marion, and Tim's daughter Emma plumbed the island's rich history for bottle design and logo, Tim and Ron denuded their own gardens for herbs and spices, foraged locally in orchards and fields, and spoke at length with experts on Cyprus' terroir. "And when we knew we had something truly magical in the making," says Ron, "we bought a table-top copper still…
"The alchemy began on a damp Saturday morning in a Neo Chorio kitchen," he recalls. "Here, we began developing our first iterations: the essence of Cyprus writ in gin! It wasn't an easy journey, and it wasn't quick. Weeks of experimental distillations, months of tastings, years of patience went into perfecting our three gins. I always think," he adds, "that gin is the alcoholic equivalent of the artist's blank canvas. Like a painter tentatively testing every stroke, brush, and colour, we experimented with different base spirits, botanicals and distillation times. And then, one bright summer morning, we woke up to our latest batch and knew we'd done it: we'd crafted a gin that epitomised Cyprus!"
Of course a table-top still was no way to produce several thousand bottles. Even small-batch gins require professional equipment, so Tim and Ron approached the Kamanterna winery in Stroumbi. And so unique was their product that the local distiller agreed to dedicate a still to the new brand.
Today, Soli produces three singular gins: Soli Premium Edition Founders, Soli London Dry, and Soli Pink. Each encapsulates the essence of Cyprus, the aromas and tastes that typify the island. And each is available in limited runs, from the producers as well as in supermarkets such as AlphaMega and Philippos.
"We have done exactly what we set out to do," Ron concludes. "We've bottled Cyprus; written a liquid love letter; crafted a spirit that – no matter where you are in the world – evokes this island home. We have clients writing to us from London, telling us that first sip banishes grey skies with the warmth of the Cyprus sun; customers who've taken a bottle of Soli back to America or Australia, but sip the spirit and imagine themselves in the island orchards of their youth. And many a local buyer who just enjoys a drink that blends perfectly with the tastes and scents of their surroundings.
"And all," Ron notes, "are people like us. People who enjoy an excellent gin, and share our passion for the unique way in which this island appeals to the senses. People who call Cyprus home."
For more information visit https://www.soligin.com/