In a friendship that spans two decades, one Turkish Cypriot and one Greek Cypriot are proving the hard way that every step is a step towards reunification. Alix Norman meets them
In 2018, two Australian Cypriots completed an epic trek across Cyprus: a 400km journey from the Karpas Peninsula in the east to the Rock of Aphrodite in the west. Five years on, the duo are returning to the island, this time to walk a route that crosses and recrosses the Buffer Zone in a symbolic "stitching together of Cyprus…
"Four years ago, Stavros and I set out on foot with a singular purpose: to highlight our mutual belief in a free and united island and inspire the next generation and bring peace to a divided nation," says Yalcin. "We share a deep love of Cyprus, of its beauty and its people. To us, the island is home. And we can't wait to walk it again."
On paper, 55-year-old Yalcin Adal and 38-year-old Stavros Georges couldn't be more different. Though both were born in Cyprus, Turkish Cypriot Yalcin lives in Melbourne, where he's a cyber security architect at the Bureau of Meteorology; Stavros, meanwhile, is 17 years younger, a Greek Cypriot restaurateur based in Brisbane. But the two have enjoyed an unlikely friendship that has spanned more than 20 years…
"We originally met at a reconciliation event in Australia," explains Yalcin, who is currently on the island visiting friends and family while scouting the route for the upcoming trek. "I was interviewing Stavros about the myth of the 101st window belonging to a former queen of Cyprus, which has the power to grant wishes. In the course of my interview, Stavros stressed that he'd always wanted to visit the window, purely to wish that the people of Cyprus end discrimination, and reconcile to form one, peaceful community."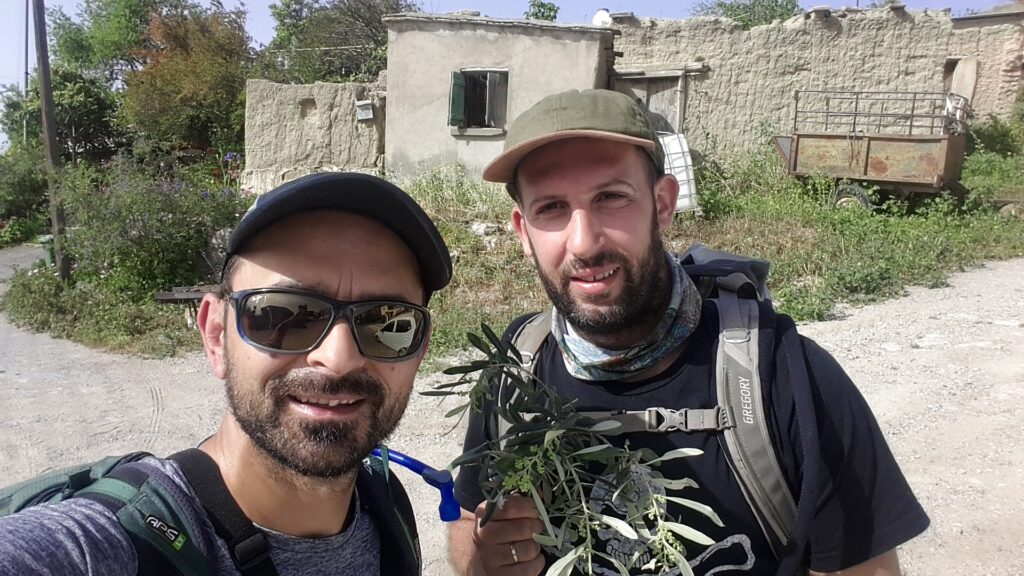 This desire resonated deeply with Yalcin's longing for a united Cyprus, and a lasting friendship was formed. "But we never forgot our common hope," he adds. "Our desire to find the 101st window, and together wish for the people of the island to unite in peace. So, on March 21, 2018, we set out at dawn from Apostolos Andreas; our purpose to find the window and call for an end to the division of Cyprus.
"We started in the very east, where the sun first hits the island: a fitting beginning to our trek," says Yalcin. "And we walked for a total of 15 days. Each day brought us beautiful sites, new friends, exciting adventures: a lamb born in front of our eyes; sweeping vistas from Kantara, Buffovento, St Hilarion, and the Queen's Summer Palace" – where the two found what they believed to be the 101st window, and together wished for peace.
"We experienced endless hospitality from friends new and old. At one point, we were stopped by two Turkish Cypriots. As we were talking, one of their phones rang; the ringtone was 'Dilirga', a folk song shared by both Turkish and Greek Cypriot communities. Stavros began singing the words to the song in Greek, one of the gentleman joined in in Turkish, and their voices echoed across the mountains. It was a very special moment!"
Coming into Nicosia, the pair stopped at the grave of Yalcin's uncle. "He had been a victim of the war in 1974," Yalcin reveals. "Stavros and I embraced over his resting place, shedding tears for those the island had lost. And then, as we crossed the Green Line, we were greeted by a joyous celebration of unity: folk dancers, choirs, mayors from both sides. My mother made a speech," he recalls, "in which she referred to Stavros as her own son. And that really summed up how we felt – that we are all brothers and sisters on this island, regardless of on which side of the divide we were born."
Carrying an olive branch, walking – and sometimes staggering; "we had help from a physio pretty early on!" Yalcin laughs – the two finished their epic journey on April 5, 2018 at Aphrodite's Rock. "There was such a great sense of achievement," Yalcin recalls. "Enormous relief washed over us physically, mentally, emotionally: there was an incredible amount of love for our families, for all the people of the island. We had created a bond that felt eternal."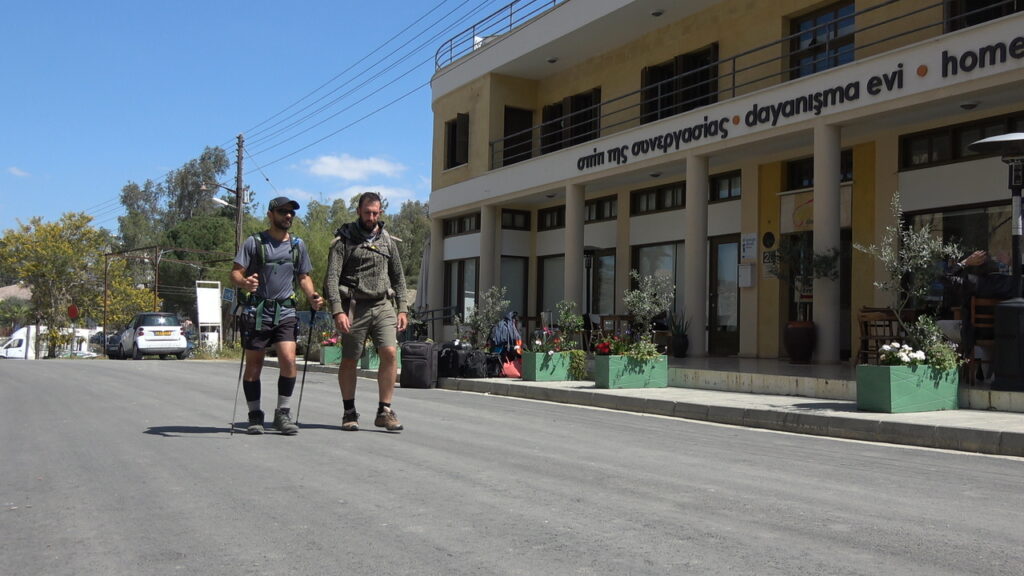 Four years on, this bond has only strengthened. And in September 2023, the two will again be walking the island in the name of peace. But this time, their route will take them from north to south and back: zig-zagging through all nine checkpoints in a 200-kilometre, seven-day trek.
"We will begin in the Famagusta area," says Yalcin, "and then criss-cross the Green Line in an effort to weave peace into the very fabric of the island. In 2018, we spent the majority of our trek focused on the beauty of Cyprus, its mountains, forests, historic sites and, of course, the 101st window. But this time, we're highlighting healing and our shared heritage by focusing on the Buffer Zone. It's a chance to give a voice to all Cypriots, no matter where they were born," says Yalcin. "And we also hope to raise awareness further afield…"
The timing of the walk coincides with the 50-year anniversary of diplomatic relations between Cyprus (the walkers' homeland) and Australia (their current country of residence). And with help from the Australian High Commission in Cyprus, Yalcin and Stavros have planned numerous events en route.
"There will be scheduled public events at bicommunal centres along the way, including Famagusta Avenue Garage, Mağusa Suriçi Derneği, and Home for Cooperation. And, in addition to social media posts and live broadcasts along the way, we're also looking at scheduling time to walk and talk with those who'd like to accompany us for a stretch.
"We want to reach out and speak to as many people as possible through our journey," Yalcin concludes. "Like the first trek, this walk is being undertaken for all Cypriots – and for all those who love Cyprus. No matter where you're from or where you live, if you love Cyprus and hope one day to see our island unified in peace, then this walk is for you."
For more information on both journeys, visit the Facebook page 'Journey into Cyprus – East to West'